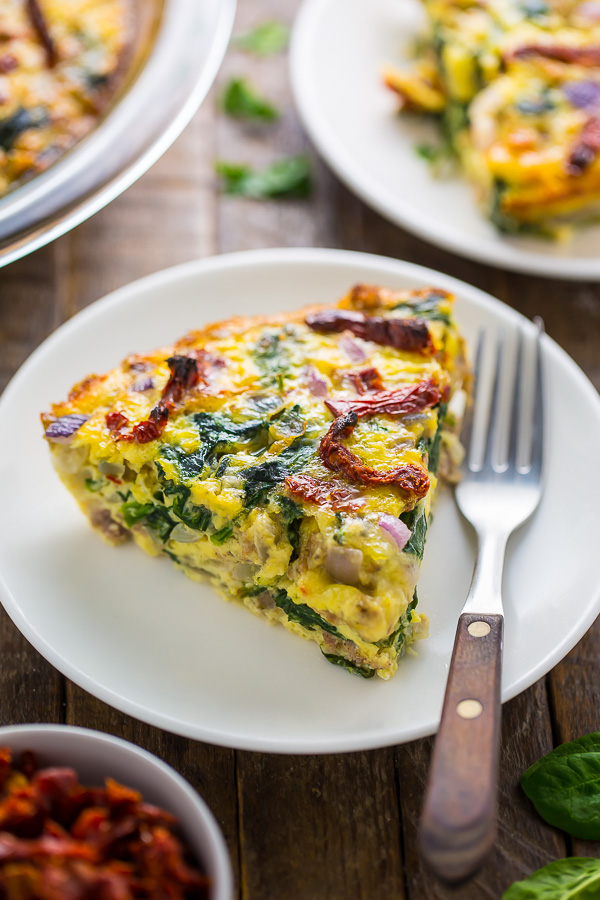 Crustless Quiche with Spinach, Sausage, and Sundried Tomatoes
Yield 9" Quiche
Crustless Quiche with Spinach, Sausage, and Sundried Tomatoes is perfect for brunch or dinner!
Ingredients
(1) 8 ounce package ground sausage
1 teaspoon olive oil
2 medium red onions, diced
(1) 10 ounce package frozen chopped spinach, thawed and well drained
6 large eggs
2 cups shredded mozzarella cheese
1/4 teaspoon salt
1/4 teaspoon ground black pepper
1/2 cup sundried tomatoes
Instructions
Preheat oven to 350 degrees (F). Lightly grease a 9" pie plate or quiche pan; set aside. In a medium-sized skillet over medium heat, brown sausage until no longer pink. Using a slotted spoon transfer the sausage to a bowl and set aside. In the same skillet add the olive oil (keep the sausage grease in there - it adds flavor!) and onions and saute until tender, about 8 to 10 minutes.
Add in the spinach and cook until all of the excess moisture is evaporated, about 5 minutes. Remove pan from heat and set aside. In a large bowl vigorously beat the eggs for 1 to 2 minutes. Add in the cheese and beat well to combine. Stir in the spinach mixture, sausage, salt, pepper, and sundried tomatoes, mix well to combine. Spread evenly into prepared pie plate or quiche dish. Bake for 40 minutes, or until a knife inserted in center comes out clean. Slice and serve at once!
Courses Breakfast
Cuisine American
Amount Per Serving
% Daily Value
Recipe by Baker by Nature at https://bakerbynature.com/crustless-quiche-with-spinach-sausage-and-sundried-tomatoes/