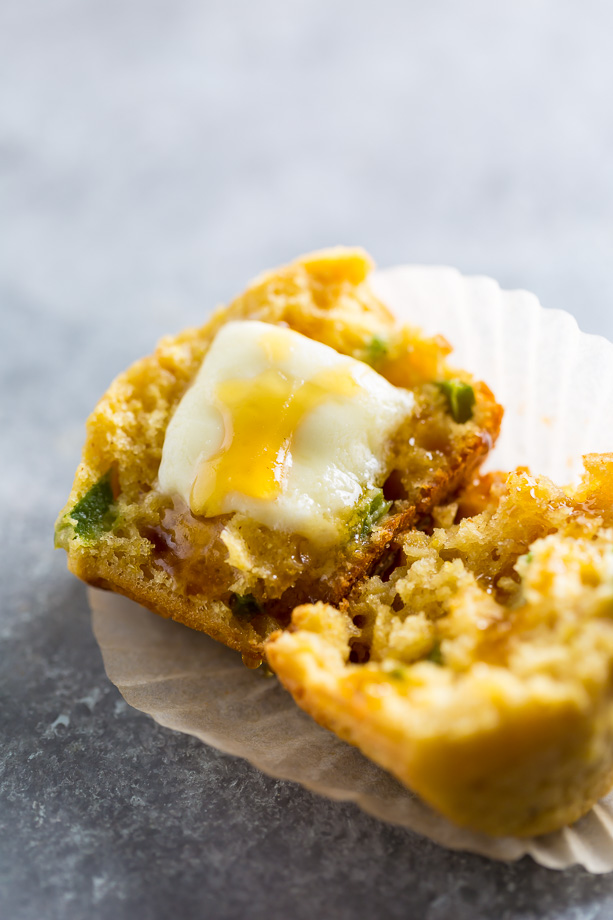 Honey Jalapeno Cornbread Muffins
Yield 12 muffins
Moist and flavorful Honey Jalapeno Cornbread Muffins!
Ingredients
1 cup yellow cornmeal
1 cup all purpose flour
1/2 cup light brown sugar, packed
1 tablespoon baking powder
1/4 teaspoon salt
1/2 cup buttermilk
1/2 cup full-fat sour cream
1 large egg plus 1 egg yolk, at room temperature
1/4 cup honey
5 and 1/2 tablespoons unsalted butter, melted until browned, cooled slightly
2 small jalapeno peppers, seeded and minced
Instructions
Preheat oven to 400°F. Line 12 regular muffin cups with non-stick liners; set aside. In a large bowl combine the cornmeal, flour, brown sugar, baking powder, and salt. Make a well in the center of the dry ingredients. Add in the buttermilk, sour cream, egg, egg yolk, and honey. Use a fork to lightly mix these ingredients together, then use a rubber spatula to fold the wet ingredients into the dry ones, stirring just until incorporated (do not over mix). Fold in the browned butter and jalapenos and stir until just combined. Divide batter equally among prepared muffin cups. Bake for 15 minutes, or until a cake tester inserted into the center of a muffin comes out clean. Place the pan on a cooling rack and cool for 10 minutes. Serve warm, with extra honey and butter.
Courses Breakfast, Sides, Snacks
Cuisine Southern
Recipe by Baker by Nature at https://bakerbynature.com/honey-jalapeno-cornbread-muffins/