Homemade one-bowl chocolate cupcakes are rich, moist, and come together in a jiffy. Topped with a decadent chocolate buttercream, these cupcakes are as good as it gets! A must try for anyone searching for their perfect chocolate cupcake recipe!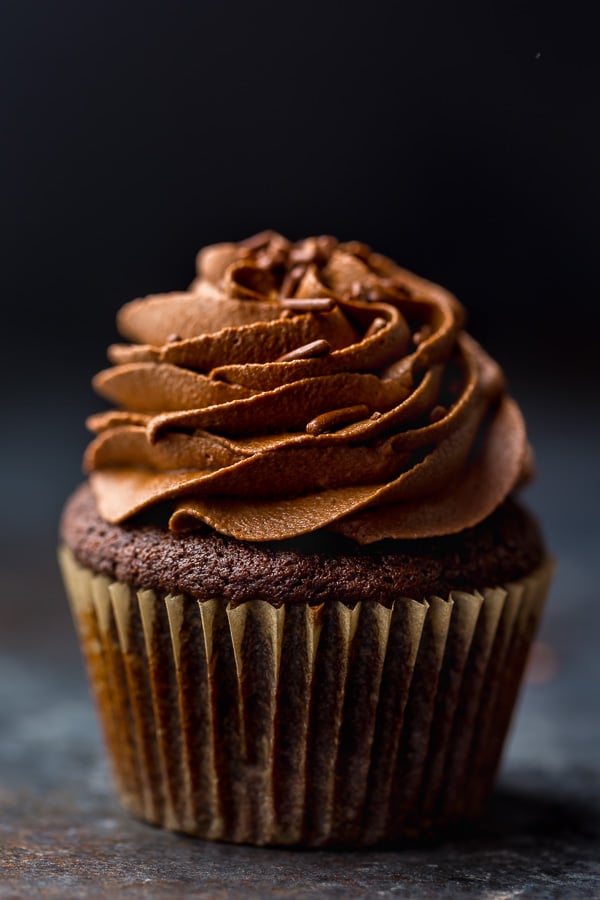 One-Bowl Chocolate Cupcake Recipe
Happy Friday, everyone! Can you believe this Thursday is Christmas?! Craziness. I am going to be spending this afternoon finishing up my shopping (or I should say, starting and finishing my shopping…) and making a few last minute treats for gift baskets. If all goes well in the kitchen (fingers crossed!), I should have a few fun edible gift ideas for you on Monday 🙂
Question: Have you completed your holiday shopping yet? Or are you a last minute shopper like me?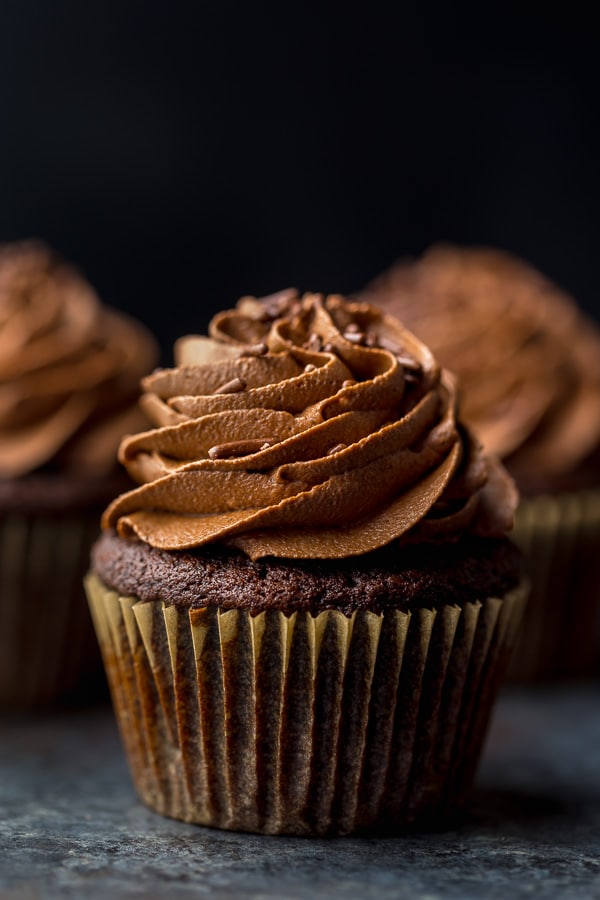 How to Make Chocolate Cupcakes
Let's get down to it and talk business! Lucky for us —> our business of the day is cupcakes! Chocolate cupcakes; topped with rich chocolate buttercream; made in one-bowl. Sounds too good to true, right?! But it's not 🙂
These cupcakes were 100% inspired by a woman named Lynda Salley (Hi Lynda!) who commented on my perfect "one-bowl" vanilla cupcakes with vanilla buttercream frosting. She left a comment asking how she could convert the recipe into chocolate, and my first thought was… uuuummmmm, I dunno. My second thought? Get your butt in the kitchen and find out!
And that, my friends, is just what I did!
After 3 botched batches —> I found the one! This recipe is an adaption of my super decadent chocolate cupcakes, which are, indeed, pure chocolate cupcake perfection. The base is moist, slightly crumbly, and loaded with chocolate flavor. The buttercream is luscious, rich, and silky smooth. I wanted to bring all of those aspects to this recipe, and then make it even better by creating it all in one bowl.
Now, let's talk about the whole one-bowl element. Many of my readers a BIG fans of one-bowl recipes. I typically receive around 30 emails a week requesting more one-bowl desserts! And I don't blame you. I totally get it. Around the holidays the last thing you want is a recipe that includes a mountain of dirty dishes. So this one is for all of you that requested more one-bowl treats 🙂
Suggestion: to truly make this recipe one-bowl, simply wash the dish you make the cupcake batter in and re-use it when making the buttercream.
More Chocolate Cupcakes Recipes: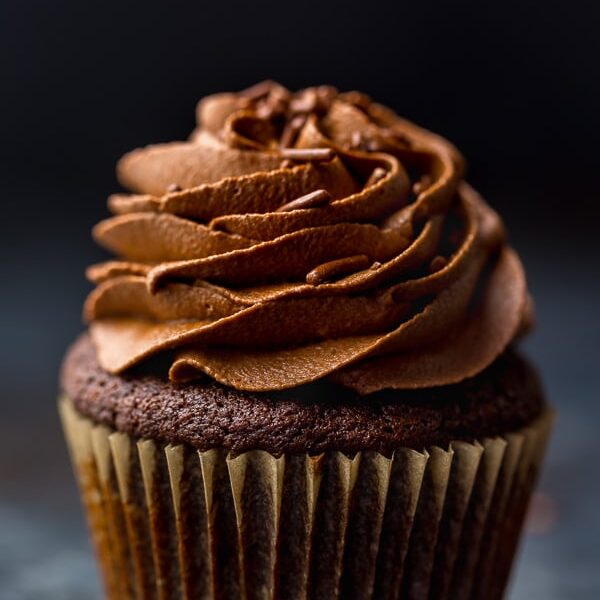 One-Bowl Chocolate Cupcakes
Ingredients
For the Cupcakes:
1/2 cup VERY hot coffee OR hot water (I prefer just boiled water or coffee here)
1 stick unsalted butter, cut into small cubes and brought to room temperature
1/2 cup semi-sweet chocolate chips
2 large eggs + 1 large egg yolk, at room temperature
1 cup granulated sugar
1 teaspoon vanilla
3/4 cup + 2 tablespoons all-purpose flour, not packed
1/2 teaspoon baking soda
1 teaspoon baking powder
1/2 cup unsweetened cocoa powder
1/2 teaspoon salt
1/2 cup full-fat sour cream
2 tablespoons coconut OR canola oil
For the Fudgy Buttercream:
1 stick unsalted butter
3 cups confectioners sugar
3/4 cup unsweetened cocoa powder
2 tablespoons sour cream
3 tablespoons half and half (this is sold in the dairy aisle in most stores)
1/4 teaspoon salt
1/2 teaspoon vanilla
Instructions
For the Cupcakes:
Preheat the oven to 350 degrees (F). Line a 12-cup cupcake/muffin tin with cupcake liners and lightly spray the liners with non-stick spray (optional but it does help them peel right off).

In a large bowl combine the hot liquid (coffee or water) with the softened cubes of butter and chocolate, whisk vigorously until completely combined. *The chocolate and butter need to be completely melted into the liquid before moving onto the next step.

Whisk in the eggs and yolk, one at a time, then whisk in the sugar and vanilla.

Place a fine-mesh strainer over the wet ingredients and to it add the flour, baking soda, baking powder, cocoa powder, and salt; stir together and allow it to fall into the wet ingredient - you're basically sifting the dry ingredients into the bowl with the wet ingredients. Stir with rubber spatula until *just combined.

Add the sour cream and oil and fold into the batter, stirring until combined.

Divide the batter among the 12 liners in your prepared pan, filling each cup 3/4 of the way full. Bake for 16-18 minutes, or until a toothpick inserted in the center comes out clean. Cool *completely before frosting.
For the Fudgy Buttercream:
Sift together the confectioners sugar and cocoa powder, whisking well to ensure it's bump and lump free!

Using a handheld mixer OR a stand mixer fitted with the paddle attachment, beat the butter on medium-high speed until creamy; about 2 minutes.

Reduce speed to low and slowly add the sifted sugar/cocoa powder, alternating with the sour cream and half and half, then add the vanilla and salt. Once all of the ingredients have been added, beat on high speed until light and creamy and combined; beat for at least 1 minute on high.

Frost cooled cupcakes and top with any decorations if desired.

Cupcakes stay fresh at room temperature in an airtight container for up to 4 days.