Oreo Cookies and Cream Donuts are baked, not fried, and ready in just 20 minutes! So good with a cup of coffee! Loved by kids and adults!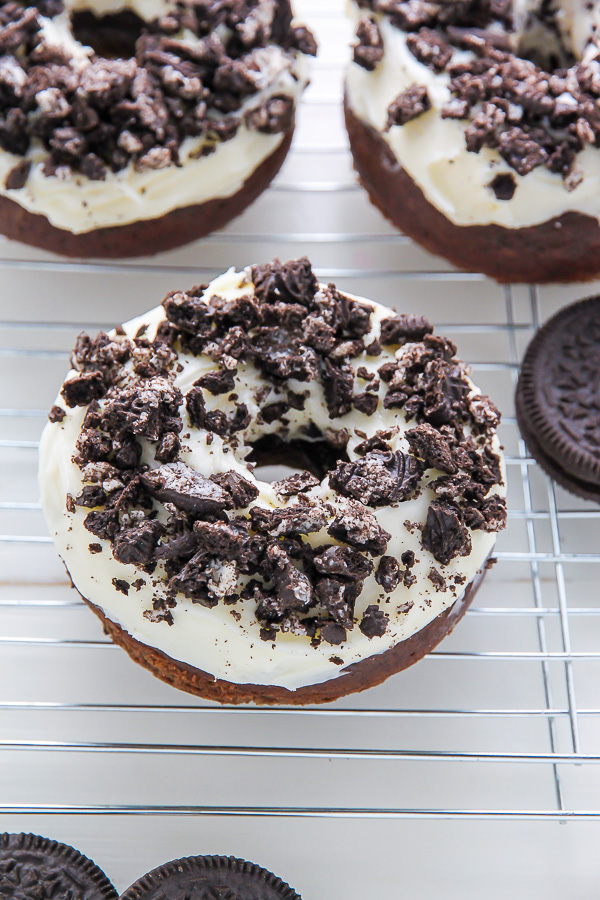 Baked Oreo Donuts
Hello, hello! Today we have a fresh batch of fluffy chocolate donuts topped with creamy vanilla frosting and plenty of crushed Oreo cookies. I think it goes without saying… these donuts are incredible! So let's get down to business…
But first! Lemme take this bite ♥♥♥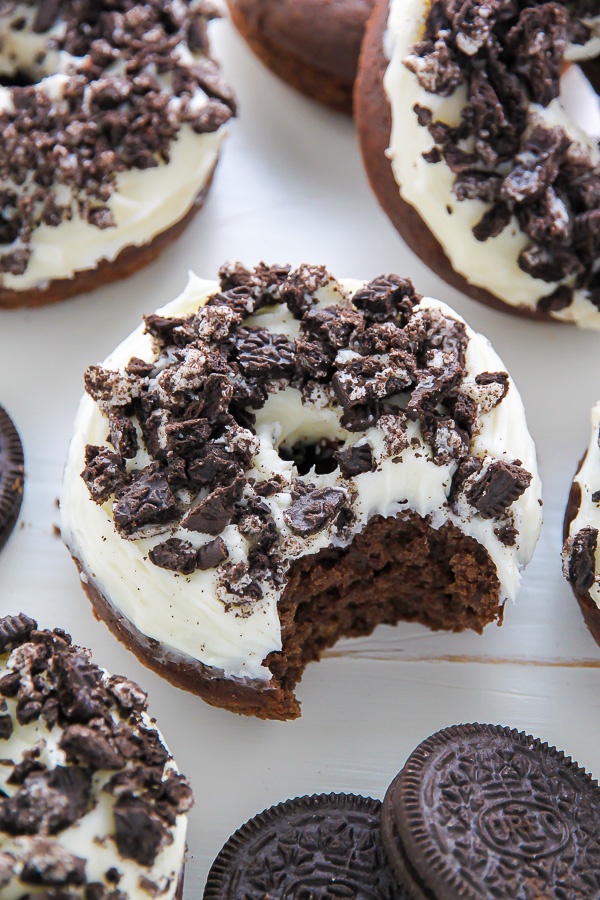 Oreo Donuts Recipe
Alright, alright! So to make these chocolate donuts you're going to need flour, brown sugar, salt, cocoa powder, baking powder, vanilla extract, an egg, butter, and milk. I used whole milk for these donuts, but almond, skim, reduced fat, or soy will all do the job.
The batter is super duper easy to make and comes together in just one bowl! The two most important things to keep in mind are:
Not to over mix the batter, especially once the wet and dry ingredients have been combined.
Not to over bake the donuts. They only need 9-10 minutes in the oven. They should be fluffy and lightly spring back when gently touched.
Here's a little before and after action for ya ↓
While the donuts bake, you can make the cream cheese frosting! For this you will need softened cream cheese, softened butter, vanilla extract, confectioners' sugar, milk (again, whole, almond, skim, whole, reduced fat, or soy work). You'll also need to chop up some Oreo cookies for topping! Good luck not eating half of the package while you wait for the donuts to cool… 😉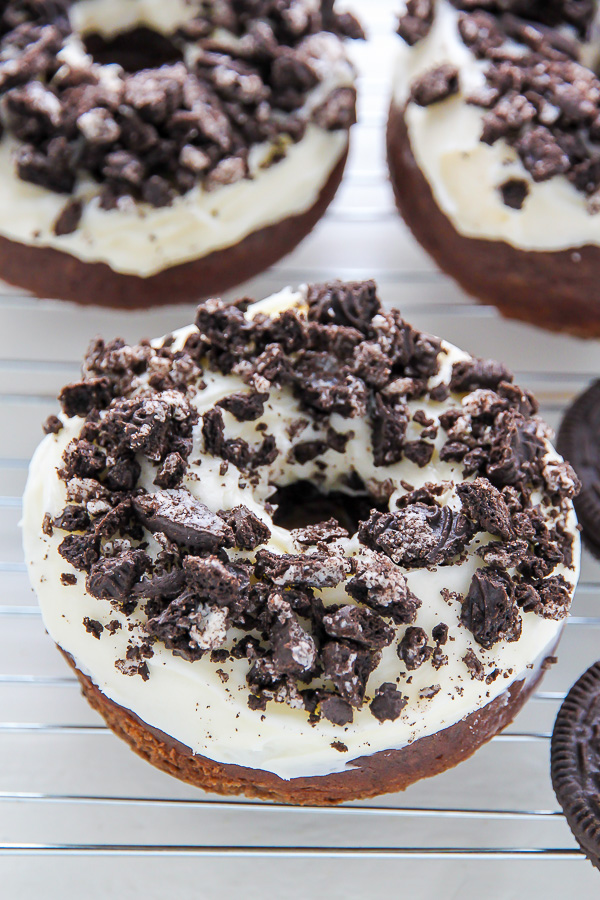 These cookies and cream donuts are so simple to make and are ALWAYS a crowd-pleaser! Trust me – if you're serving a crowd, make multiple batches. I've seen friends eat up to three of these donuts in one sitting 😉 Enjoy!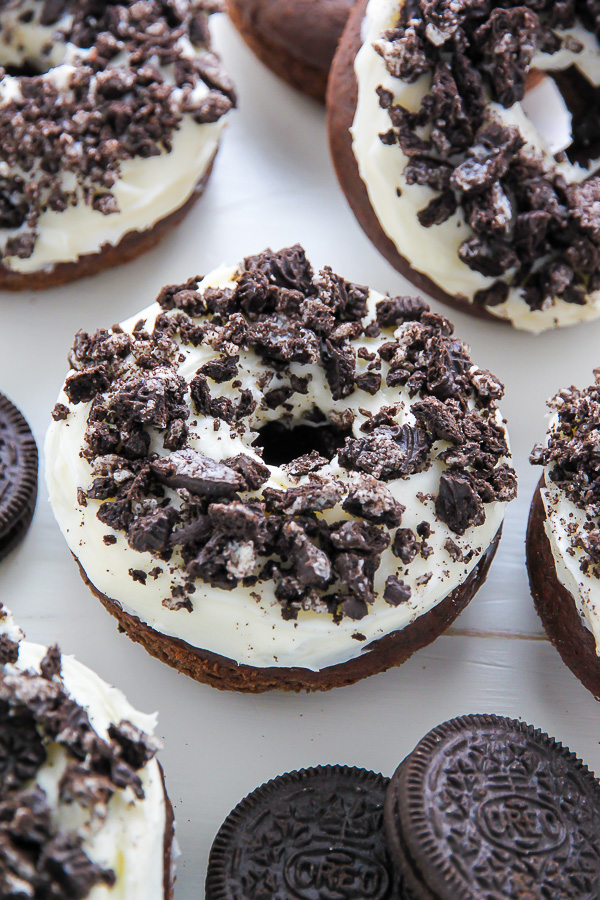 If you try this recipe, let me know! Leave a comment below and don't forget to snap a pic and tag it #bakerbynature on Instagram! Seeing your kitchen creations makes my day. ♥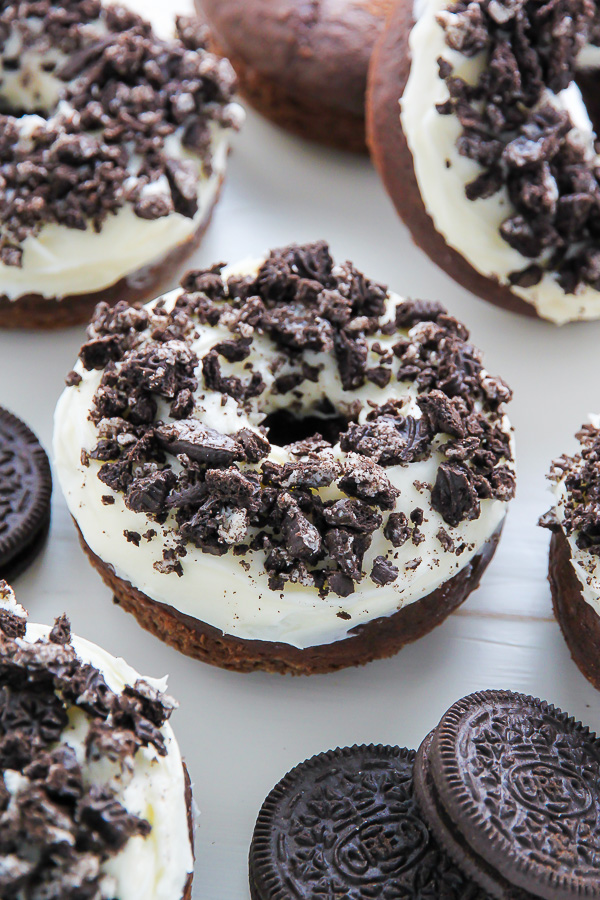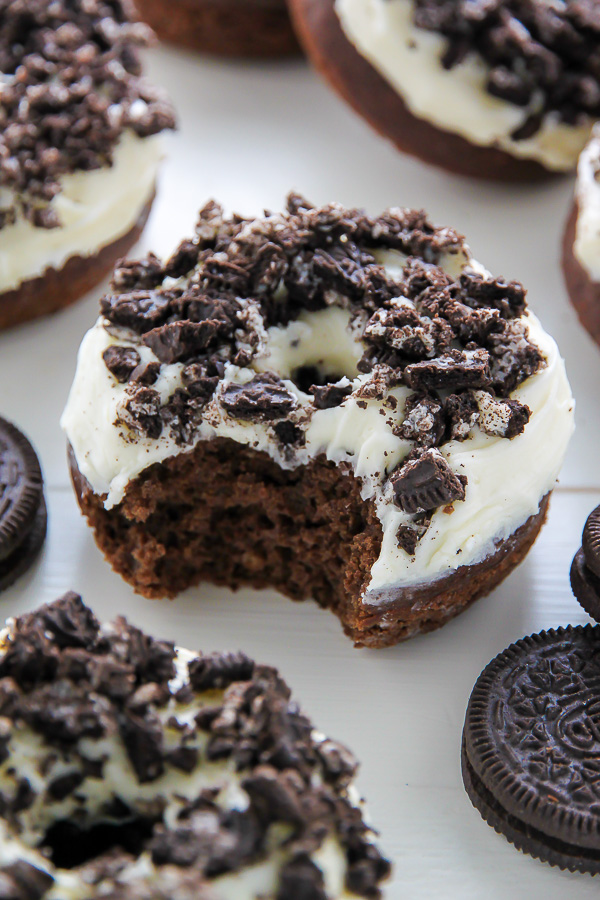 More Oreo Recipes: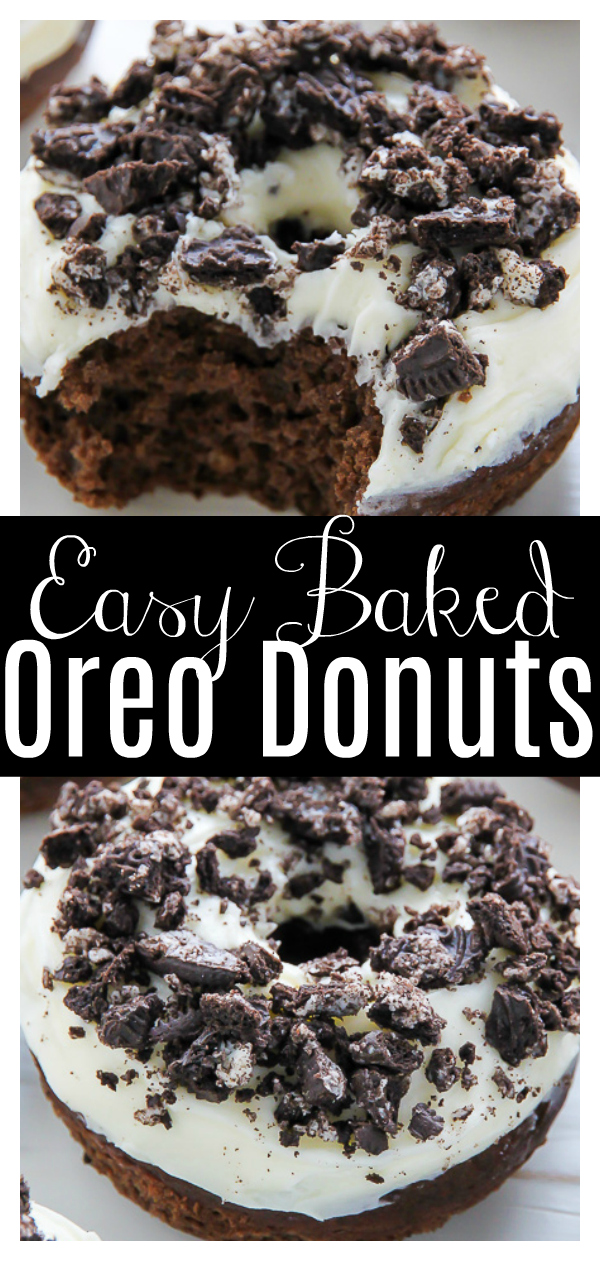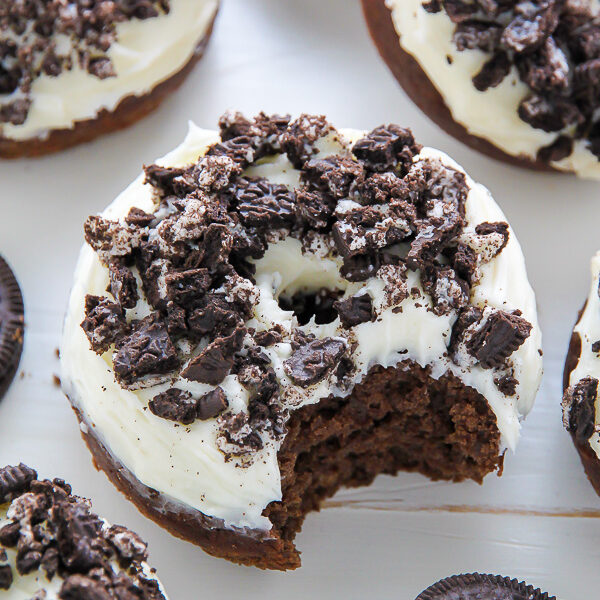 Oreo Cookies and Cream Donuts
Homemade Oreo Cookies and Cream Donuts are baked, not fried, and ready in just 20 minutes!
Ingredients
For the Chocolate Donuts:
1 cup all purpose flour
1/2 cup light brown sugar, packed
1/2 teaspoon salt
1/4 cup cocoa powder, sifted
1 teaspoon baking powder
1/2 teaspoon vanilla extract
1 large egg, at room temperature
2 1/2 tablespoons unsalted butter, melted
1/2 cup milk (almond, skim, whole, reduced fat, or soy will all work)
For the Cream Cheese Frosting:
4 ounces cream cheese, VERY soft
2 tablespoons unsalted butter, VERY soft
1/4 teaspoon vanilla extract
1 and 1/2 cups confectioners' sugar, sifted, more as needed
1-2 tablespoons milk (almond, skim, whole, reduced fat, or soy will all work)
1 cup Oreo cookies, chopped, for decorating
Instructions
For the Chocolate Donuts:
Preheat oven to 350 degrees (F). Generously grease a donut pan; set aside.

In a large bowl whisk together the dry ingredients. In a separate bowl whisk together the wet ingredients, then gently pour them into the dry ones. Fold ingredients together until just combined.

Spoon mixture into prepared doughnut pan, and bake for 9-10 minutes, or until the donuts spring back when lightly pressed. Be careful not to over bake here!

Allow doughnuts to cool a few minutes in the pan before transferring to a wire rack to cool completely.
For the Cream Cheese Frosting:
In the bowl of a stand-mixer fitted with the paddle attachment, or in a large bowl using an electric handheld mixer, beat the cream cheese, butter, and vanilla extract on medium-high speed until completely smooth; about 2 minutes. Reduce the speed to low and gradually add the sifted confectioners' sugar. Add in the milk. Once the milk is combined beat frosting on high-speed for 1-2 minutes.
Assembly:
Spread the frosting on top of each cooled donut then sprinkle each with a few teaspoons of chopped Oreo cookies. Serve at once! Donuts are best eaten the day they are made.