Crispy, saucy, and supremely flavorful Sesame chicken! Oven baked and ready in less than an hour.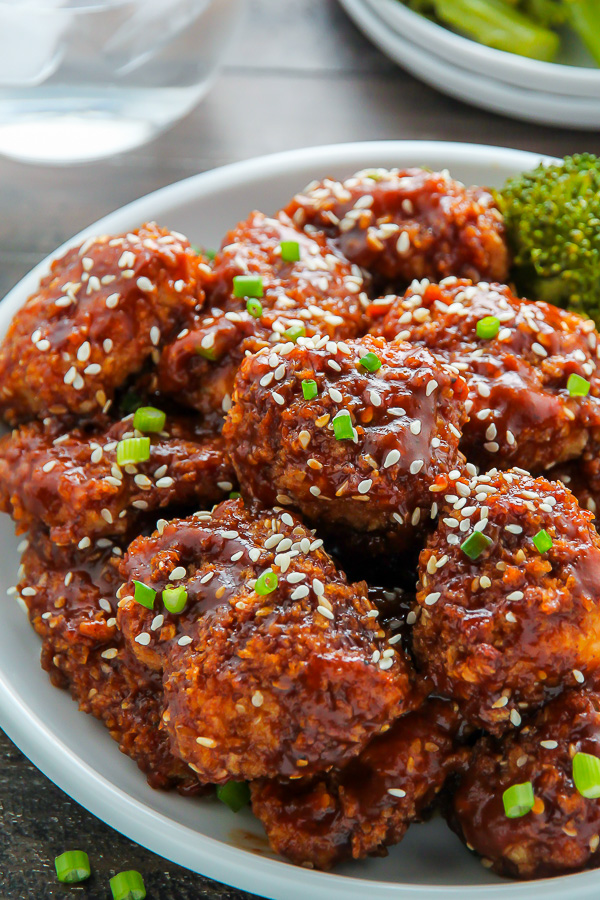 And just like that, it's Monday again! How was your weekend? Did you do anything exciting? Sleep in? Make pancakes? I'm still in Germany, so we spent most of the weekend eating, exploring, and well… eating some more. The highlights include an epic barbecue bacon burger with rosemary sweet potato fries, tons of pizza, and too many pastries to type this early in the morning. Stretchy pants are definitely my friend today.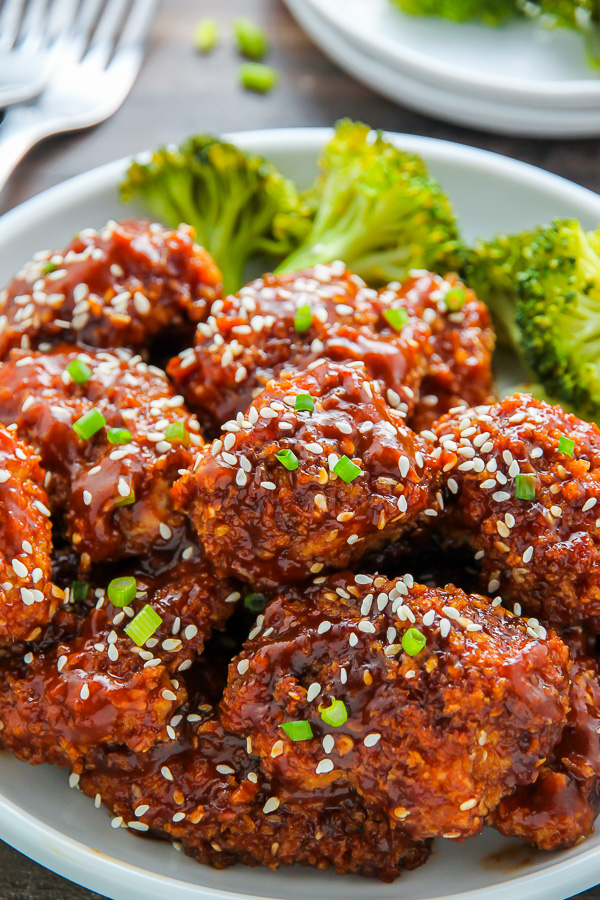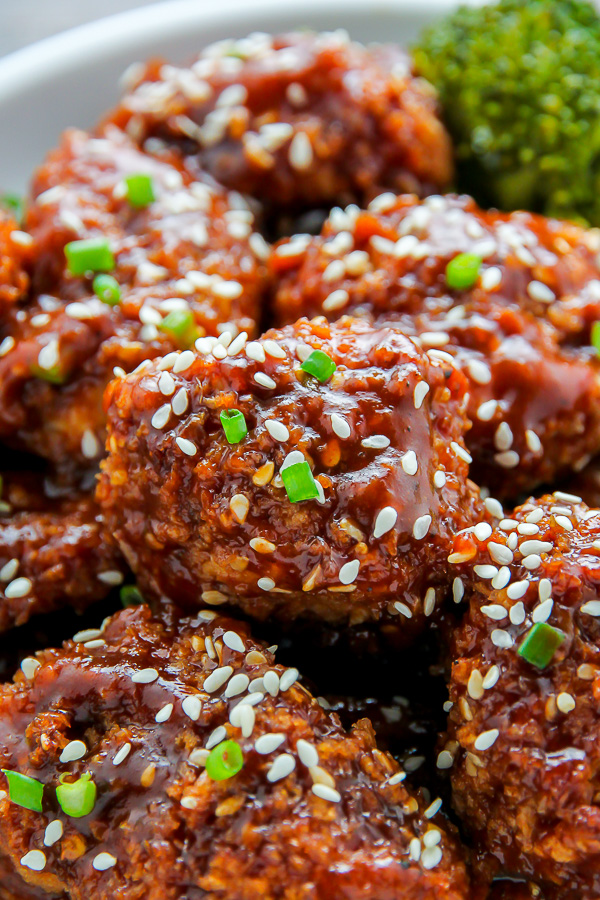 Moving along! It's been way too long since I've made you dinner! 3 months too long. 
May I make it up to you with a big plate of saucy, sticky, seriously delicious sesame chicken? I promise this one is worth the wait.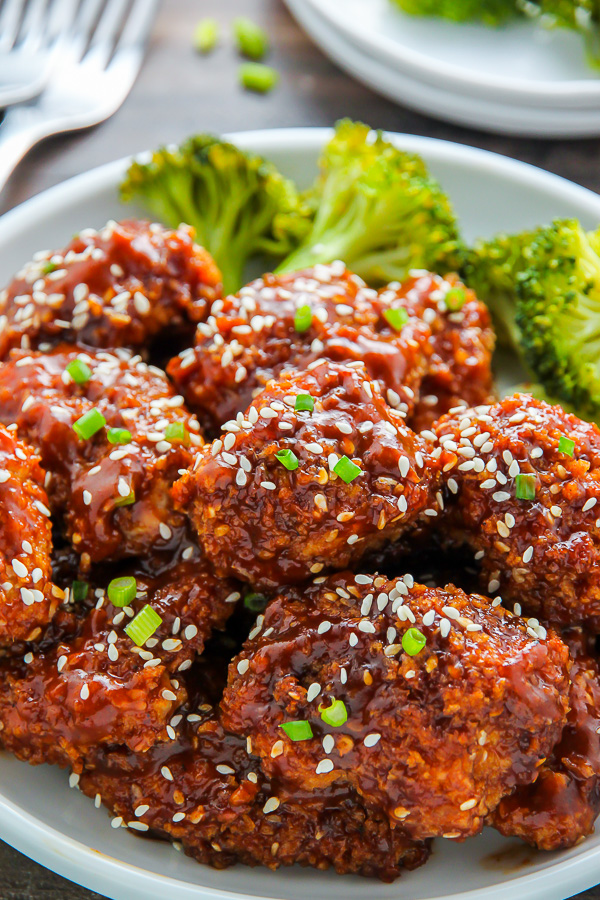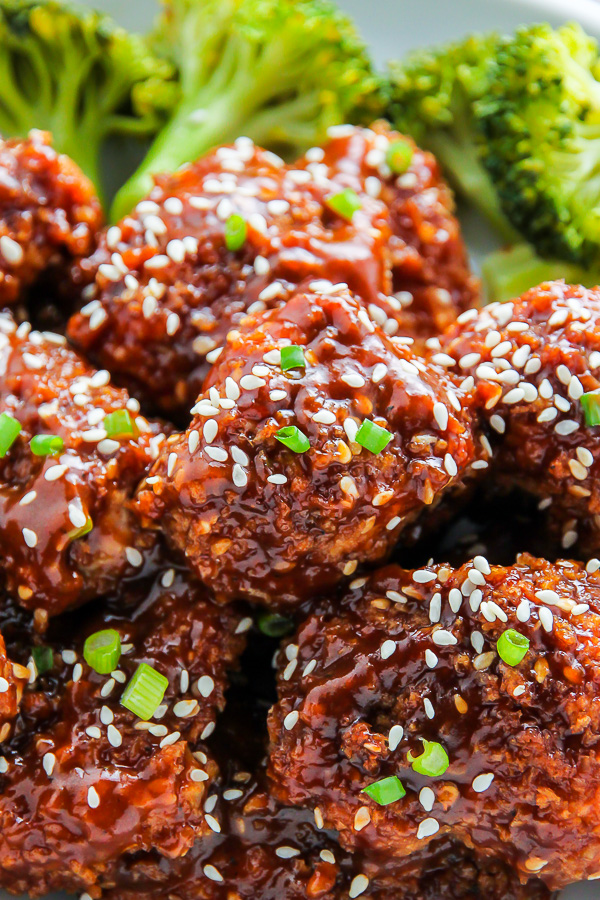 There are two parts to this sesame chicken: the sticky sesame sauce and the crunchy baked chicken. Let's begin with the chicken. To make this you will need boneless skinless chicken, eggs, flour, panko bread crumbs, salt, garlic powder, and onion powder. Panko bread crumbs are a Japanese style bread crumb easily found in most grocery stores. If you cannot locate them, try an ethnic grocery store, or order them online. You will coat the chicken in the flour, then the eggs, then the panko mixture. This process may sound a bit daunting, but in reality it should take more than 5 minutes.
You will bake the chicken on an oven safe wire rack. This step provides super crunchy chicken and you won't have to flip it over half way through the cooking process.
While the chicken bakes, you can make your sesame sauce. For the sauce you will need low-sodium soy sauce, water, sesame oil, brown sugar, rice vinegar, fresh ginger, garlic, cornstarch, sesame seeds, and scallions. All of these ingredients should be easy to find at any grocery store, and once you have them in your pantry, they should last you a long time.
When the chicken is done baking, you'll place it in a large bowl and coat the chicken evenly in the sticky sauce. NOM ↓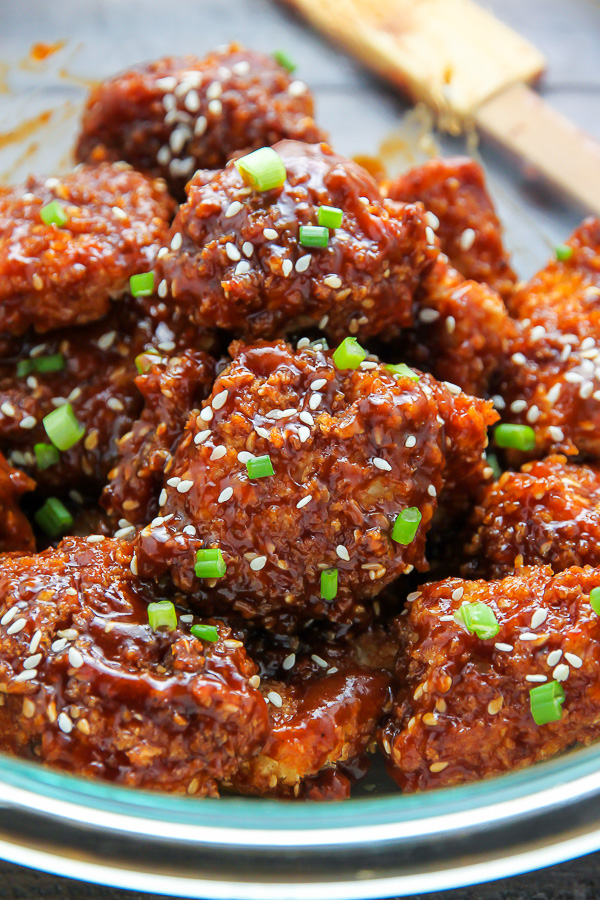 I love serving this with steamed broccoli and brown rice, but it would also go nicely with a green salad and almost any steamed vegetable.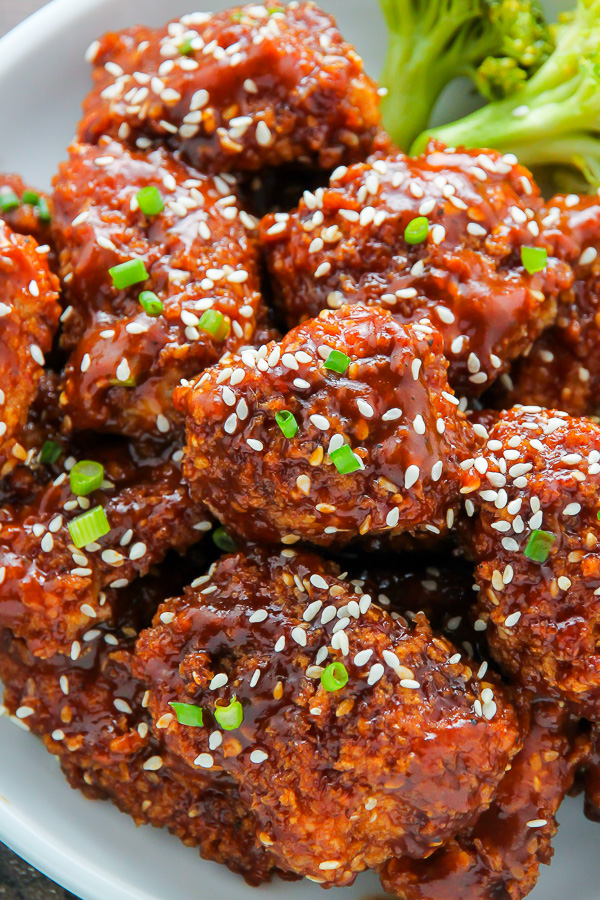 If you try this recipe, let me know! Leave a comment below and don't forget to snap a pic and tag it #bakerbynature on Instagram! Seeing your kitchen creations makes my day. ♥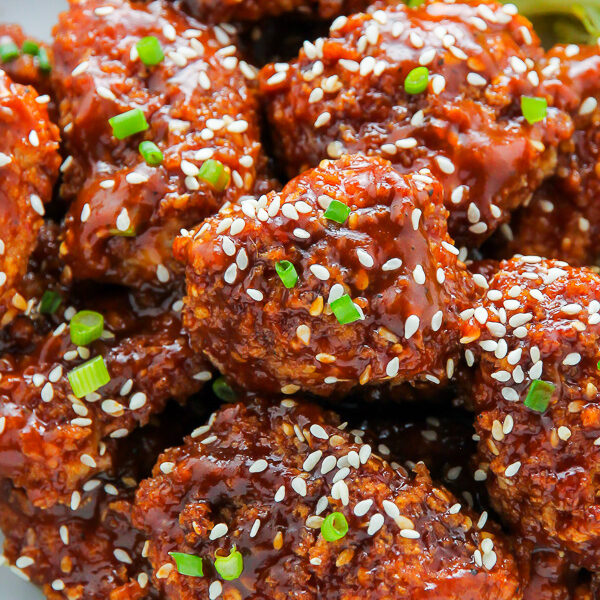 Oven Baked Sesame Chicken
Oven baked sesame chicken is crunchy, saucy, and so delicious.
Ingredients
For the oven baked chicken:
1 and a 1/2 pounds boneless skinless chicken breasts, cut into 1-inch cubes (don't worry if they're not exact; just do your best)
2 large eggs, beaten
1/3 cup all-purpose flour (you may also use whole wheat flour)
1 and 1/2 cups panko (Japanese) bread crumbs
1/2 teaspoon kosher salt
1/4 teaspoon garlic powder
1/4 teaspoon onion powder
For the sesame sauce:
4 tablespoons low-sodium soy sauce
2 and 1/2 tablespoons water
2 tablespoons sesame oil
3 tablespoons light brown sugar, packed
1/4 cup rice vinegar
1 tablespoon fresh ginger, grated
3 cloves garlic, minced
1 and 1/2 tablespoons cornstarch
1/4 cup sesame seeds
1/4 cup scallions, chopped
Instructions
For the oven baked chicken:
Preheat oven to 400 degrees (F). Place an oven safe wire rack on top of a large baking sheet; set aside.

Cut the chicken into 1-inch cubes; set aside.

In a shallow medium-sized bowl combine the eggs with a tablespoon of water; beat well and set aside.

Sprinkle the flour out onto a clean plate and set aside. In a medium-sized bowl combine the panko bread crumbs, salt, garlic powder, and onion powder; whisk well to combine.

Cut chicken into 1-inch cubes. Roll chicken pieces in the flour. Shake off any excess flour (they should be just lightly covered), then dip each piece in the egg. Allow any excess egg to drip off and back into the bowl, then roll the chicken in the panko mixture until it's completely covered. Repeat this process until all chicken pieces have been covered. Place chicken pieces on prepared baking rack and bake in preheated oven for 20 minutes, or until golden brown and cooked all the way through. While chicken bakes, make your sauce.
For the sesame sauce:
In a small saucepan over medium-low heat combine the low-sodium soy sauce, water, sesame oil, brown sugar, rice vinegar, fresh ginger, and minced garlic. Bring the mixture to a light simmer. In a small bowl whisk together the cornstarch and a teaspoon of water until smooth. Add cornstarch mixture into the sauce and cook until just thickened. Stir in sesame seeds.

Once the chicken is cooked through and golden brown, place it in a large mixing bowl and pour the sauce over top. Toss the chicken to coat evenly in the sauce and sprinkle with scallions. Serve at once. I love to serve this chicken with steamed broccoli and/or rice.
You may also enjoy: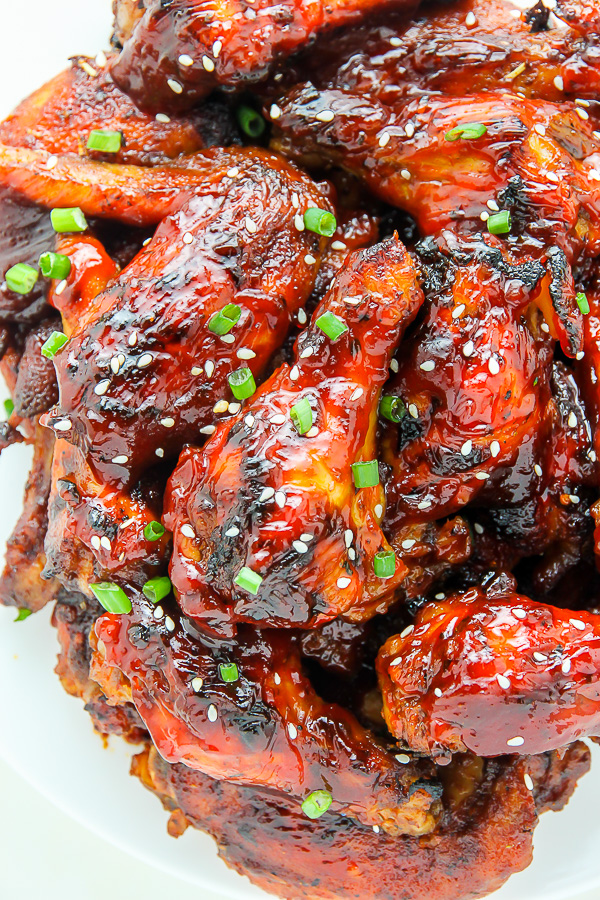 20-Minute Shrimp and Broccoli Lo Mein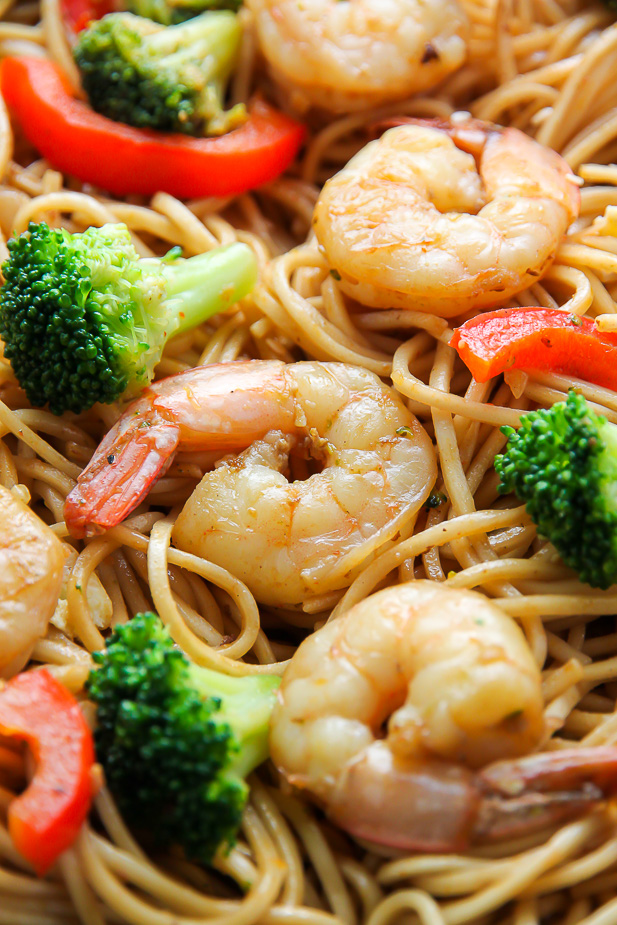 Maple Sriracha Roasted Cauliflower