The only thing better than regular white chocolate macadamia nut cookies is BROWN BUTTER White Chocolate Macadamia Nut Cookies! They're thick, chewy, and so flavorful thanks to the brown butter addition. Loaded with creamy white chocolate and crunchy macadamia nuts, these are a classic!
White Chocolate Macadamia Nut Cookies
Do you remember your first Summer job? For me it was working at Subway. Yes, like the sandwich shop. I was freshly 16 and already knew I wanted to do something involving food. <—- That job, however, lasted all of 6 days. Ha.
But still! I learned a lot in those days. I learned that waking up at 5 am in order to make it in on time for the 6 am shift is brutal and not at all something I'm cut out for; I learned the definition of HANGRY (so hungry you're angry) because that's pretty much all people are when they're on a 30 minute lunch break and waiting for you to make them a sandwich; I learned there are these magical things called White Chocolate Macadamia Nut Cookies… and then I quit to spend the rest of my Summer learning how to bake my own. Obviously that last little life lesson was the most important 😉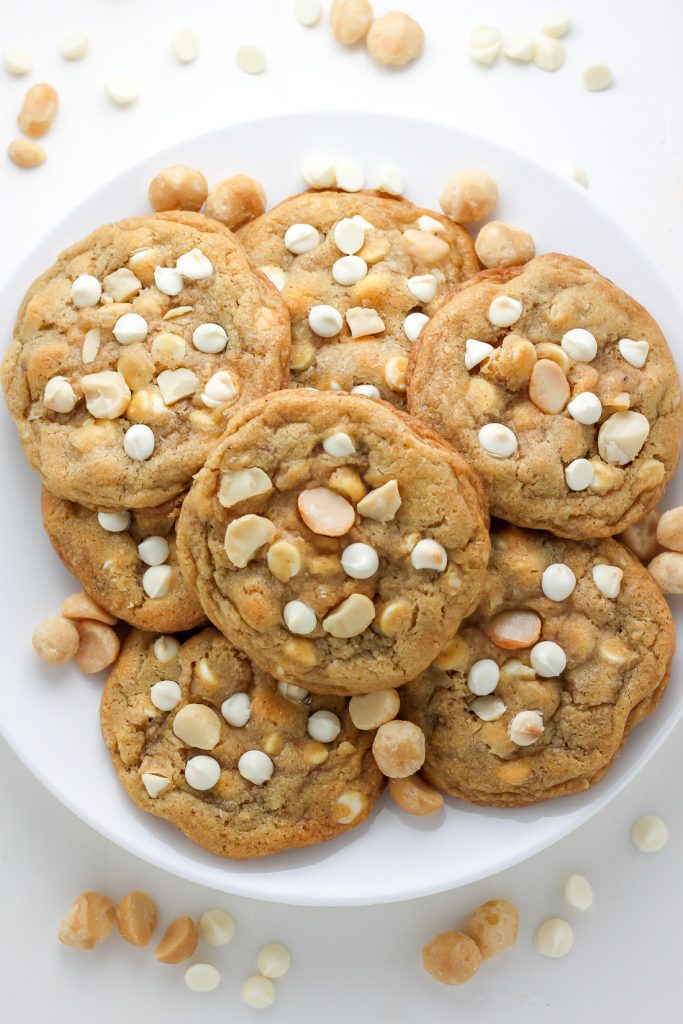 This recipe is literally the recipe I developed (with the help of my loving mom) when I was 16 – with one little twist: BROWN BUTTER.
Brown butter is something I didn't discover until my twenties, and I'm pretty sure I'll spend the rest of my life playing catch up with it. Proof of this can be found in my brown butter blondies, bite-sized brown butter cookies, brown butter raspberry swirl muffins, butter m&m cookies, brown butter honey pistachio cookie bars, brown butter snickerdoodle donuts, brown butter banana bread, and brown butter gingersnaps! <— Told you; I'm OBSESSED!
What is Brown Butter?
Brown butter, simply put, is regular butter – salted or unsalted – that's been cooked just long enough to toast the milk solids, transforming it into a magically flavorful and delicious sauce. It will be a deep golden brown, like the photo you see below!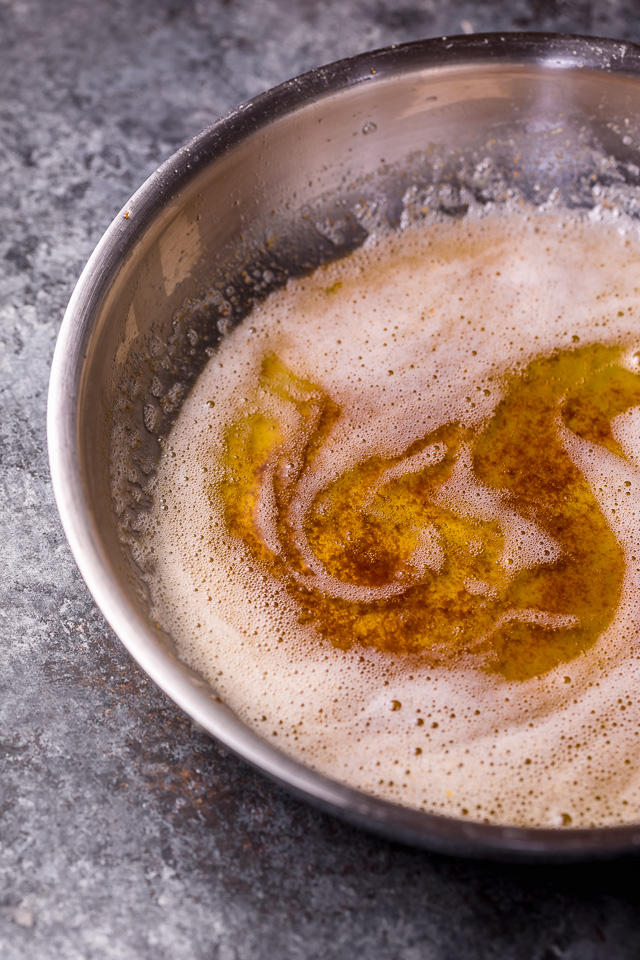 For this recipe it's important to remember you MUST bring your brown butter back to room temperature before using it in the cookie dough. If you don't, your cookie dough will be gloppy… and gloppy cookie dough does not bake into the thick and chewy cookies we want.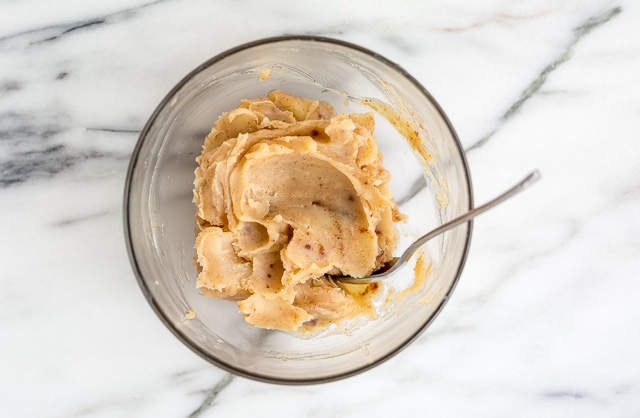 So now that we know what brown butter is – and how we're going to use it in this recipe – let's move on to the cookie ingredients! For these cookies you'll need all the basics (flour, baking soda, salt, butter, sugars, eggs and vanilla) plus two key ingredients that really make these cookies shine: white chocolate chips and macadamia nuts. I like to use these Dry Roasted Macadamia Nuts with Sea Salt
and these Vanilla Milk Chips
, but feel free to use any brand you know and love.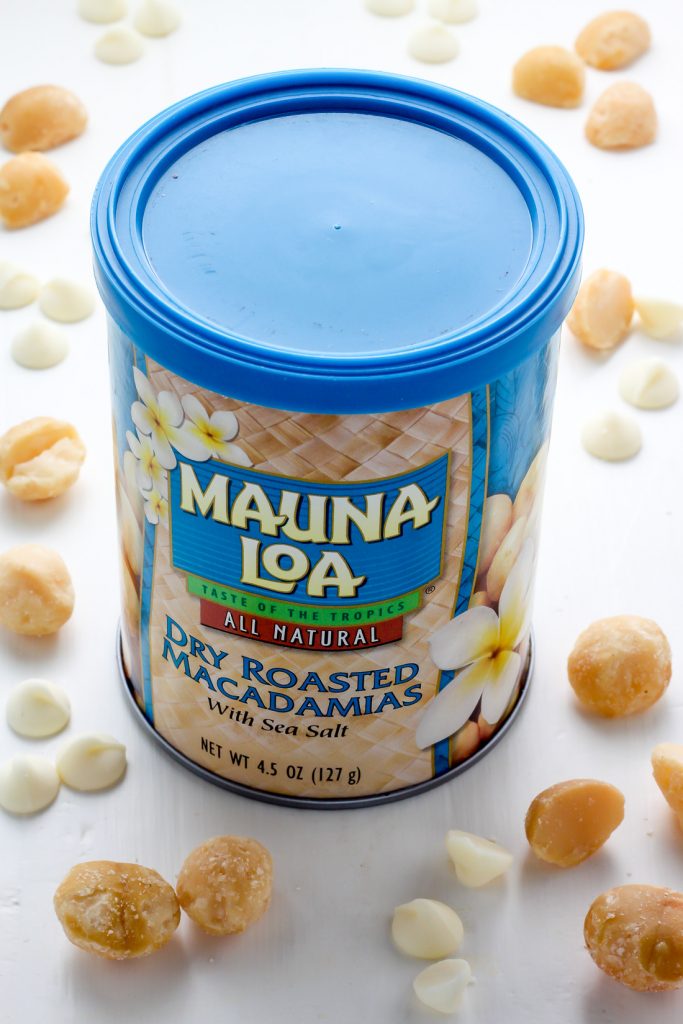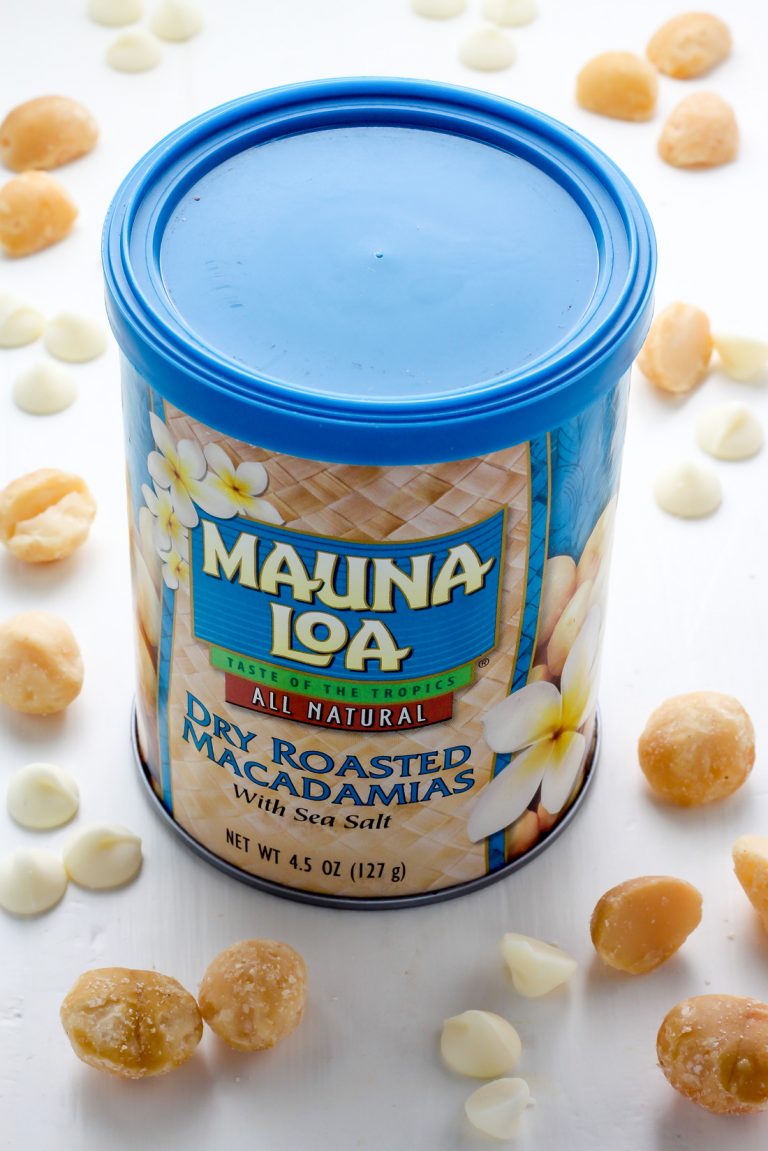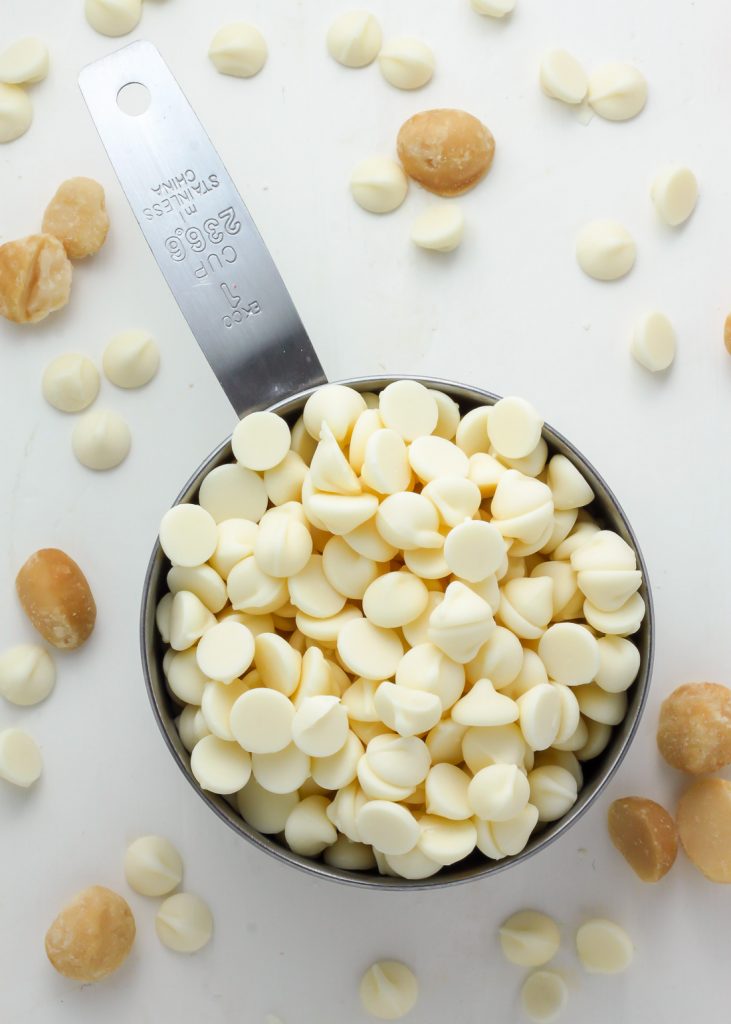 Shape the cookie dough into BIG balls. This helps them bake up ultra thick and chewy! I like to make them just under a 1/4 cup each. Large and in charge 😉
Feel free to add some extra white chocolate chips and macadamia nuts to the tops of each cookie after they've baked. I usually press a few of both on top of each cookie right when they come out of the oven. This makes them look extra pretty and taste extra delicious.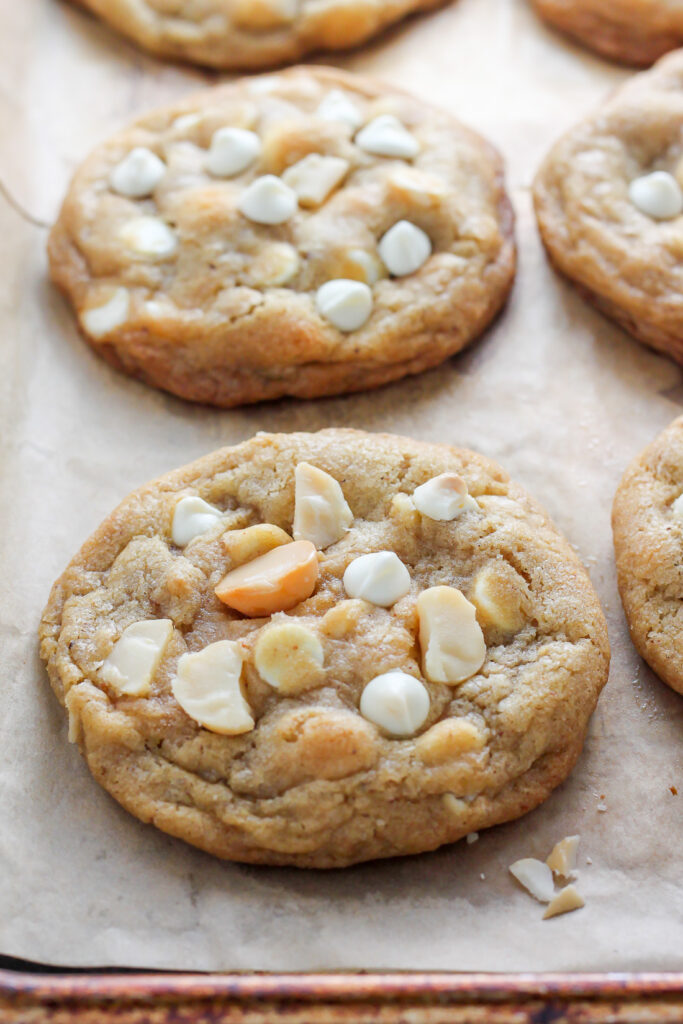 Alright-y fellow cookie lovers, go brown some butter and whip up a batch of my white chocolate macadamia nut cookies! It will be the beginning of a strong and wonderful love affair 🙂
More Macadamia Nut Recipes: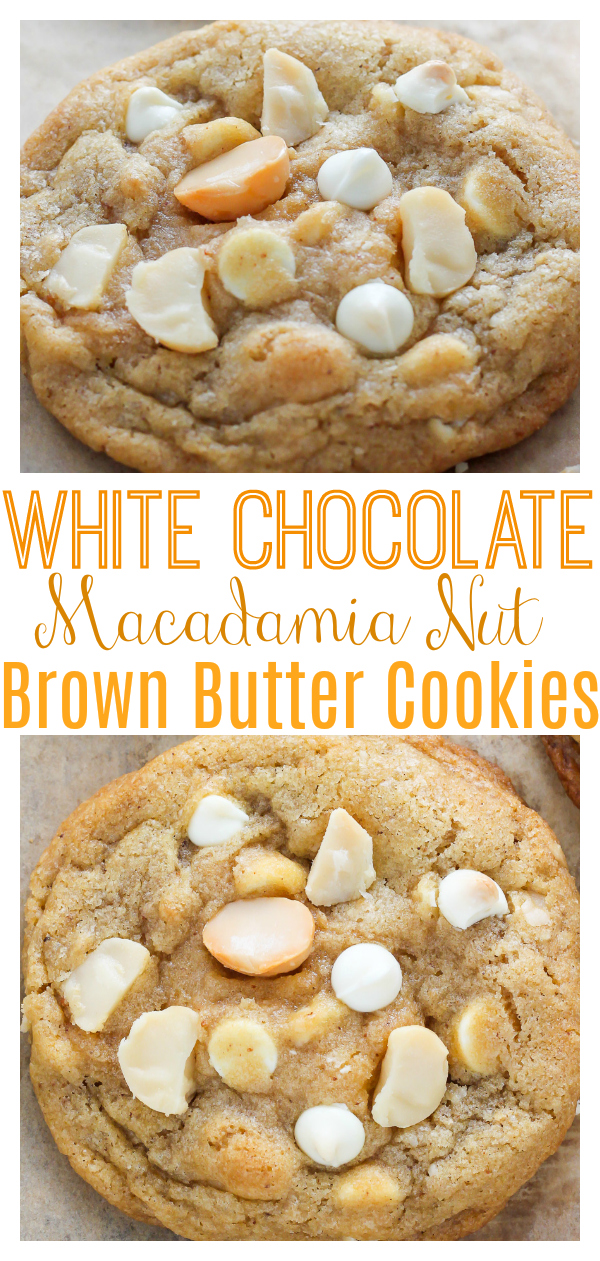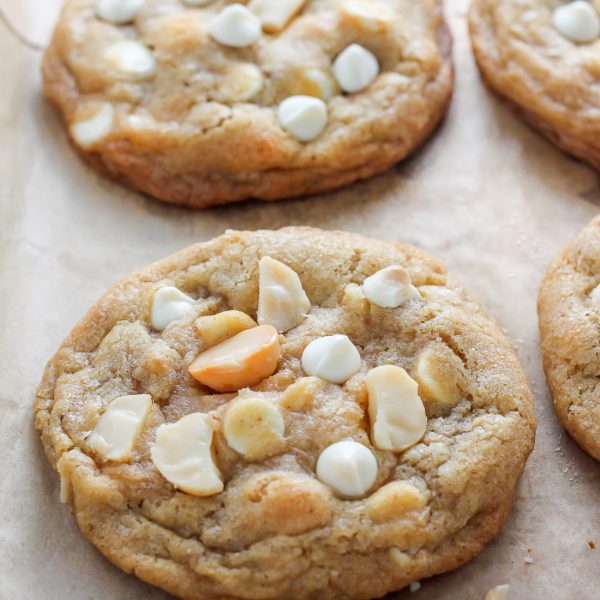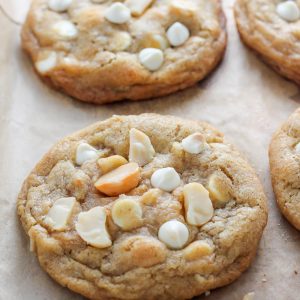 Brown Butter White Chocolate Macadamia Nut Cookies
Thick and Chewy White Chocolate Macadamia Nut Cookies are elevated to a whole new level of delicious thanks to our secret ingredient - BROWN BUTTER! Your whole family will love this recipe.
Ingredients
15 tablespoons salted butter, melted until browned and brought back to room temperature
2 1/4 cups all-purpose flour (plus more ONLY if the dough seems to need it; adding one tablespoon at a time)
1 teaspoon baking soda
1/2 teaspoon kosher salt
1 cup + 2 tablespoons dark brown sugar
1/2 cup granulated sugar
2 teaspoons vanilla
2 large eggs, at room temperature
2 cups white chocolate chips
3/4 cup macadamia nuts, roughly chopped
Instructions
Preheat oven to 375 degrees (F). Line 2 large baking sheets with parchment paper; set aside.

Place 8 tablespoons (1 stick) of butter in a small sauce pan over medium-high heat and cook for about 2 minutes – stirring almost constantly – until the butter has browned. Remove from heat and stir in remaining 7 tablespoons of butter; whisk until completely smooth. Place the bowl in the refrigerator or freezer and bring the butter back to room temperature. *You'll know the butter is at room temperature when you press a finger into the top and it makes a slight indentation. It should be solid but soft.

Once the butter is at room temperature…

In a medium-sized bowl whisk together the flour, baking soda, and sea salt; set aside.

In a large bowl or in the bowl of a stand mixer combine the sugars, vanilla, and browned butter; cream on medium-speed until light and fluffy; about 2 minutes (I highly recommend using a stand mixer/ handheld mixer to help if you have one). Add the eggs and beat quickly – for only about 30 seconds – until they're just combined. Let the mixture rest for 5 minutes, then beat the eggs for another 30 seconds. Using a rubber spatula gently fold in the flour mixture, stirring only until the flour begins to disappear. Fold in white chocolate chips and macadamia nuts.

Roll 3 tablespoon sized balls of dough between your palms to form a ball (they should be big; almost a 1/4 cup), then place on prepared sheet (make sure to leave enough room in between each cookie for inevitable spreading). Continue this process until all the dough has been rolled. Place baking sheets in preheated oven and bake for 11-14 minutes, or until golden at the edges but still soft in the middle. Let cookies cool for 5 minutes on the sheet before transferring to a wire wrack to cool completely.
Notes
You may swap out the white chocolate chips for milk, dark, or semi-sweet chocolate chips. You may swap out the macadamia nuts for almonds, walnuts, peanuts, pistachios, pecans, or cashews. *15 tablespoons of butter is just one tablespoon short of two sticks. I know it's just one tablespoon, but I've found it makes a difference so please stick to the recipe exactly.