Quick, easy, and loaded with flavor, this 15-Minute Italian Pasta Salad is perfect for Summer parties and barbecues!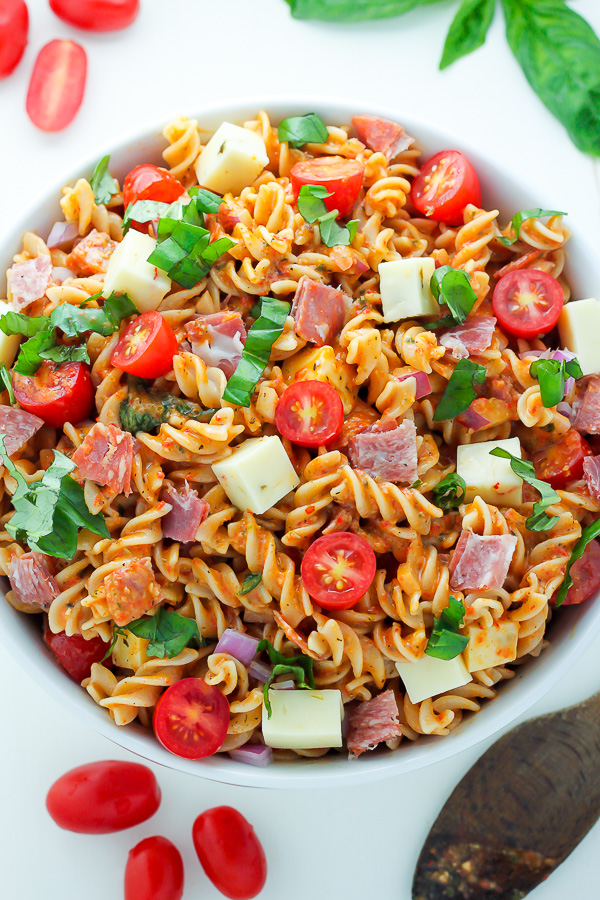 It's no secret I'm an avid pasta lover. <—- Proof of that can be found here, here, here, and here. That said, during the hot muggy months of Summer I tend to prefer my noodles in cold salad form. Last year I shared with you this epic 20-Minute BLT Pasta Salad, and the year before that I whipped up a Classic Italian Pasta Salad for you.
This year I'm bringing you this creamy, dreamy 15-Minute Italian Pasta Salad. Because let's be real – ain't nobody got the time or patience to be in the kitchen all day long in this Summertime heat!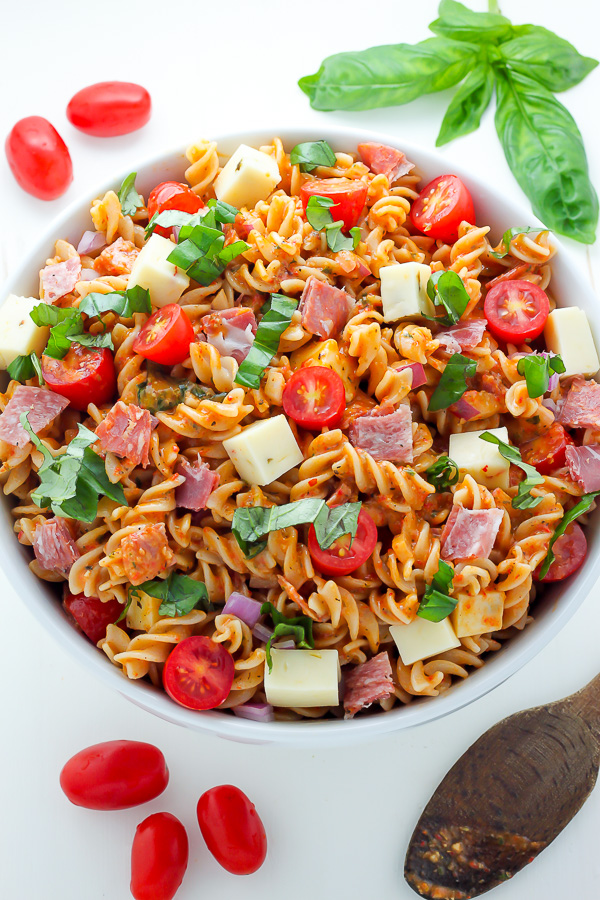 The base of this salad is a whole pound of swirly Rotini pasta. I chose these corkscrew shaped noodles because they're easy to scoop, eat, and they catch the dressing wonderfully (thank you, crevices!). If for some reason you can't find Rotini, give Farfalle (bow-ties) a try. I think they will work equally well.
I used brown rice (gluten free) noodles, which held up incredible well in this dish!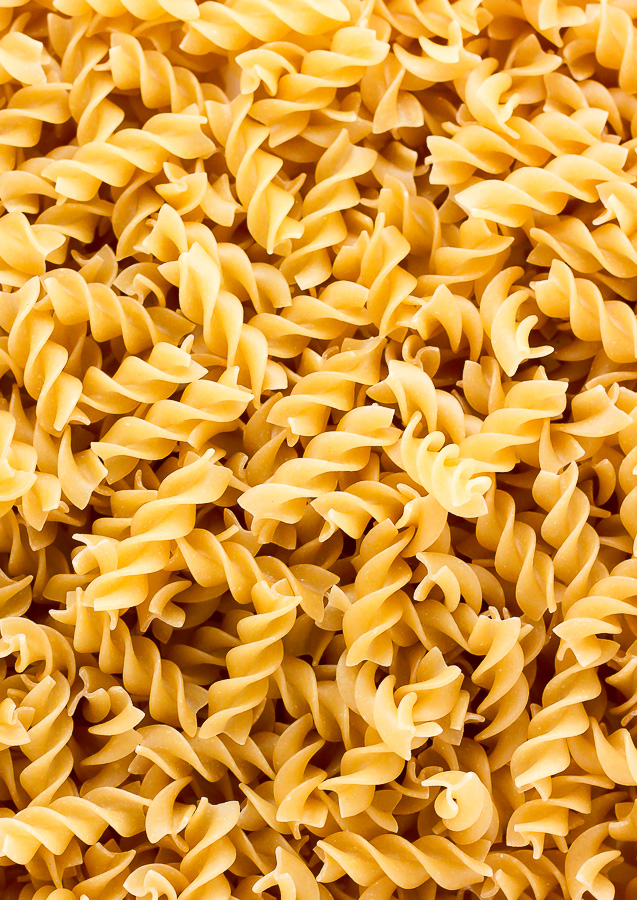 To add flavor to this salad party we'll toss in fresh basil, tomatoes, provolone cheese, red onion, and salami; a thick drizzle of zesty Italian salad dressing seals the deal.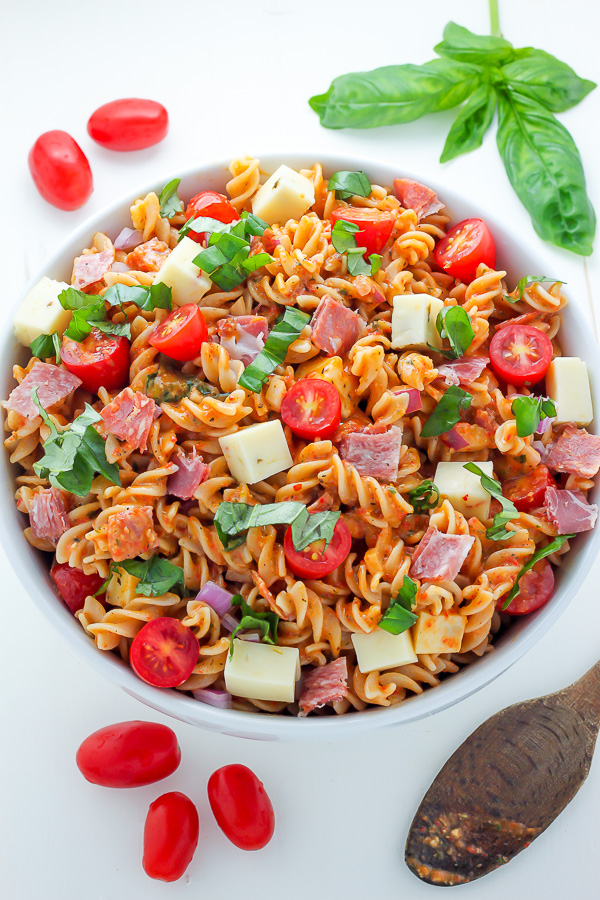 Fellow pasta lovers, give this one a try asap! It's perfect for a quick weeknight dinner, a make-ahead lunch, or a take-along dish for your next picnic.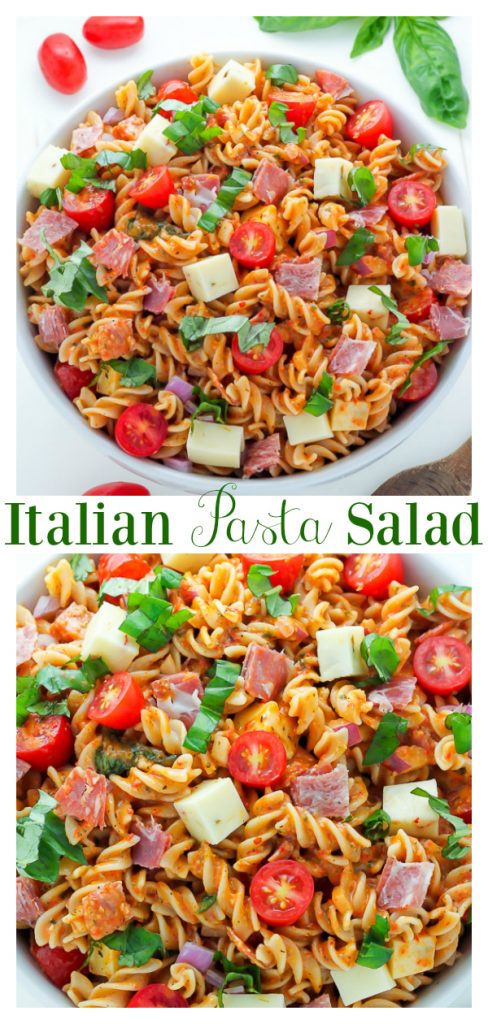 P.S. Love pasta? Follow my Pasta Pinterest Board! It's loaded with delicious recipes sure to inspire.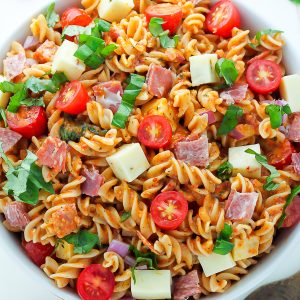 15-Minute Italian Pasta Salad
An easy, flavorful Italian Pasta Salad that's ready in just 15 minutes!
Ingredients
1 pound Rotini pasta
1 1/2 cups zesty Italian salad dressing, divided
1/2 cup fresh basil, thinly sliced
(1) 8 ounce stick salami, sliced into small chunks
4 ounces sharp provolone, Cut into small chunks
1/2 small red onion, diced
(1) pint cherry tomatoes, cut in half
Instructions
Boil pasta according to package instructions; drain, rinse with cold water, and set aside.

Prepare basil, salami, provolone, onion, and tomatoes according to instructions above; set aside.

Toss the pasta with 1 cup of the dressing, then add in the basil, salami, provolone, onion, and tomatoes; mix well to combine. Add in the rest of the dressing, if needed, and toss well to combine. Chill until serving, or serve at once.
Notes
Feel free to add in any vegetable, cheese, or meat you see fit! This recipe is super adaptable.