Creamy sweet potato casserole topped with crunchy brown sugar and almond streusel. The perfect sweet potato side-dish for Thanksgiving! This is truly the best sweet potato casserole ever!
Sweet Potato Casserole with Streusel Topping
Thanksgiving is so close I can almost taste the turkey!!! Have you set your menu? Made your plans? Are you a host or a guest this year? Give me all the juicy details. I want to know!
While we'll be having a very non-traditional Thanksgiving dinner this year (our sweet little vacation apartment has two burners and no oven!), so come Thursday, I know I'll be dreaming of a plate piled high with stuffing, mashed potatoes, green bean casserole, and pumpkin pie. And of course, this sweet potato casserole! I made this right before we left home and treated myself to 3 hearty helpings before forcing myself to freeze the rest. It's just so delicious!
This sweet potato almond streusel casserole is simple and uncomplicated.
And the flavors are fresh, sweet, and comforting. For the base of this casserole you'll need:
mashed sweet potatoes
granulated sugar
light brown sugar
eggs
milk
butter
vanilla
cinnamon
and salt.
No fancy or complicated ingredients here! To make the homemade sweet potato puree you'll peel and boil two large sweet potatoes, then mash them, using a handheld electric beat or a potato masher. Be sure to beat the sweet potato puree silky smooth so it's completely lump free.
Streusel topping for Sweet Potatoes
Once you've made the sweet potato filling you'll pour it into a large casserole dish and quickly make the crunchy streusel topping. The topping is made from brown sugar, cinnamon, nutmeg, cloves, almonds, flour, and cold butter. You'll simply mix these ingredients together until course and crumbly. Feel free to substitute pecans or walnuts for the almonds.
Sprinkle the streusel on top, and bake for about 50 minutes. This casserole smells incredible while baking! ← Why don't they make sweet potato casserole scented candles?! I would buy them all.

This sweet potato casserole is:
Warm
Creamy
Comforting
Flavorful
Perfectly sweet
Lightly spiced with cinnamon, ginger, and cloves.
Slightly crunchy from the brown sugar almond streusel
Completely satisfying
Easy to make
Freezer friendly
Pure comfort food
A must for the holiday table
THE BEST
Swoon. ♥♥♥ I hope you love this classic casserole, my friends.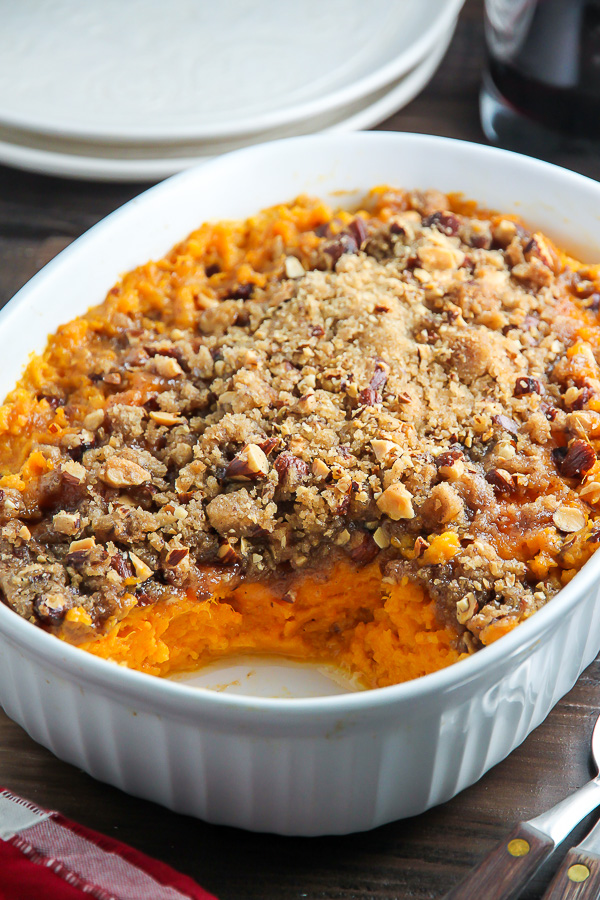 More Sweet Potato Recipes:
If you try this recipe, let me know! Leave a comment below and don't forget to snap a pic and tag it #bakerbynature on instagram! Seeing your kitchen creations makes my day. ♥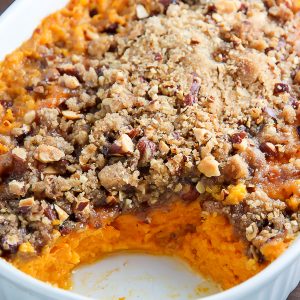 The Best Sweet Potato Casserole
Homemade sweet potato casserole topped with crunchy almond brown sugar streusel.
Ingredients
For the sweet potato filling:
3 cups plain mashed sweet potatoes, about two large sweet potatoes
1/2 cup granulated sugar
1/3 cup light brown sugar, packed
3 large eggs, at room temperature
1/2 cup whole milk
4 tablespoons unsalted butter, very soft
1/2 teaspoon salt
1/2 teaspoon ground cinnamon
2 teaspoons vanilla extract
For the crunchy almond topping:
1 cup light brown sugar, packed
1 teaspoon ground cinnamon
1/8 teaspoon cloves
1/4 teaspoon ground nutmeg
1 cup almonds, chopped
6 tablespoons all-purpose flour
4 tablespoons unsalted VERY cold butter
Instructions
For the sweet potato filling:
Preheat oven to 325 degrees (F).

Lightly grease a large oven-safe casserole dish; set aside. In a large bowl combine the mashed sweet potatoes, sugars, eggs, milk, butter, salt, cinnamon, and vanilla; using a whisk, beat until well combined and completely smooth. Pour the mixture into prepared casserole dish and set aside.
For the crunchy almond topping:
In a small bowl combine the brown sugar, cinnamon, cloves, nutmeg, almonds, and flour, mix well to combine. Cut in the butter using two forks or your fingers until the mixture resembles a course meal; sprinkle evenly over the sweet potato mixture.

Bake, uncovered, for 50 minutes. Serve warm.