My go-to holiday stuffing recipe loaded with fresh herbs, chopped apples, cranberries, and sausage! Bonus: This recipe can be made ahead to help you save time.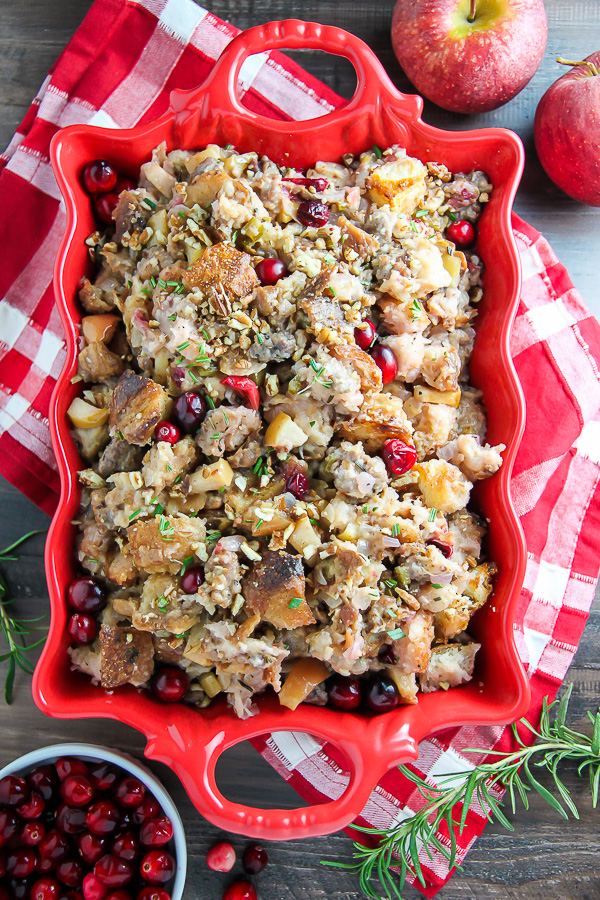 Happy Friday, friends! Any fun on the books for this weekend? I'll be cooking, photographing, cleaning, packing, and trying not to go crazy in the process. Vacation starts in T minus 4 days and counting!
We're spending Thanksgiving in Germany this year, so I couldn't resist making a traditional turkey day meal before our big trip. ← Funny enough, the one thing I didn't make was a turkey! Last year was my first attempt at cooking "the bird" and let's just leave it at this: never again. I'll stick to what I'm good at; I'll stick to the sides!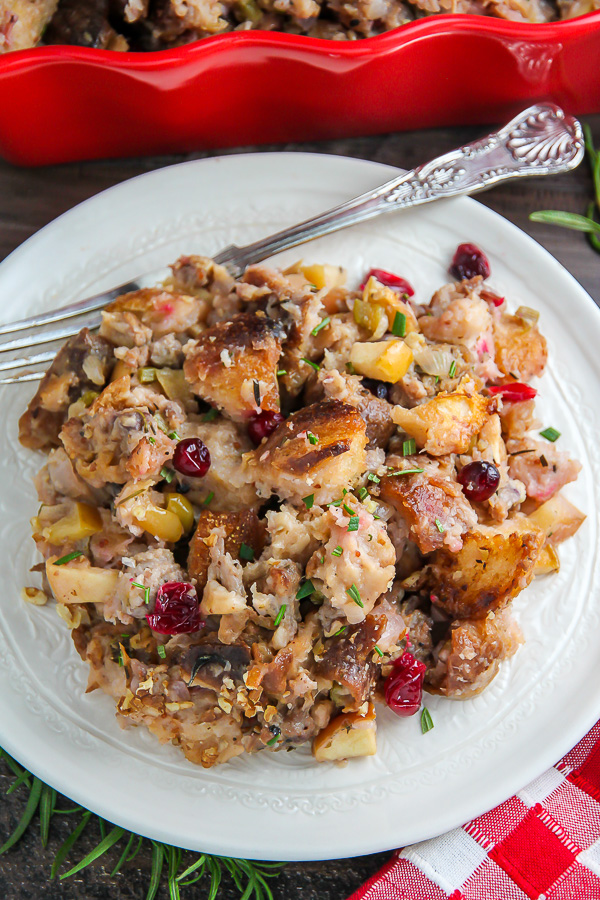 Of course my gourmet green bean casserole was on the table. Along with fluffy mashed potatoes (recipe tomorrow!), the best sweet potato casserole (recipe SOON!), rosemary goat cheese biscuits, and this cranberry apple stuffing! Also, Chai Spice Pumpkin Pie for dessert. Suffice it to say, there were a lot of leftovers.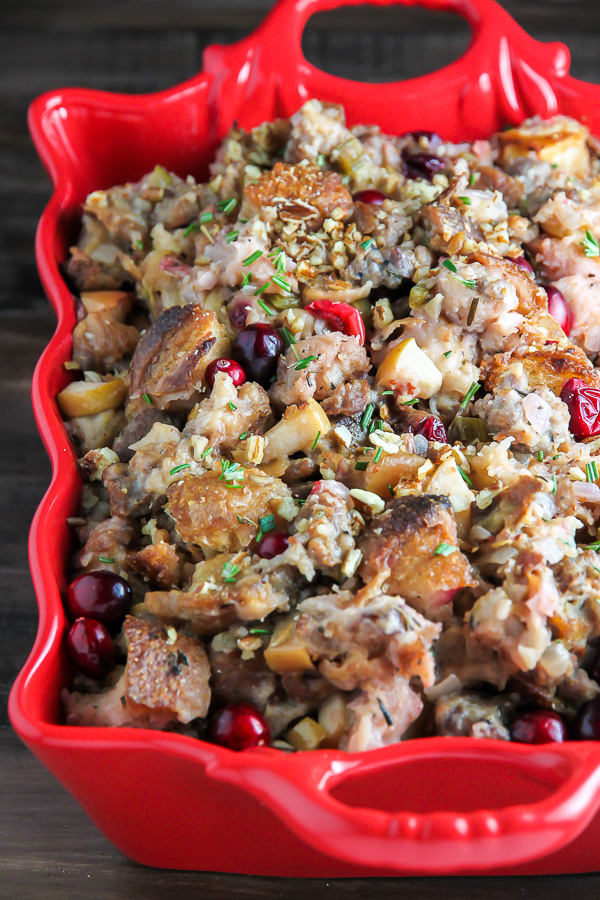 We have a lot to cover today, so let's get this cranberry apple stuffing party started!
The most important part:
The bread. Although this stuffing has a ton of added flavor and texture, the bread remains the star of the show. You may use any variety of bread you'd like; wheat, whole grain, sour dough, and white are all great options – or you can use a combination. No matter what the variety, the most important detail of your bread? It needs to be stale. That's right – stale bread makes the best stuffing. Kind of like how old, mushy bananas make the best banana bread. But I digress!
↑ So, why stale bread? Well, I'm glad you asked! Simply put, fresh bread will quickly become saturated from the liquids added. Nobody wants to pull a giant pan of soggy stuffing out of the oven, am I right? I use vegetable stock and apple cider in this recipe, which add a ton of flavor to the overall taste. Stale bread is hearty enough to hold up to these liquids.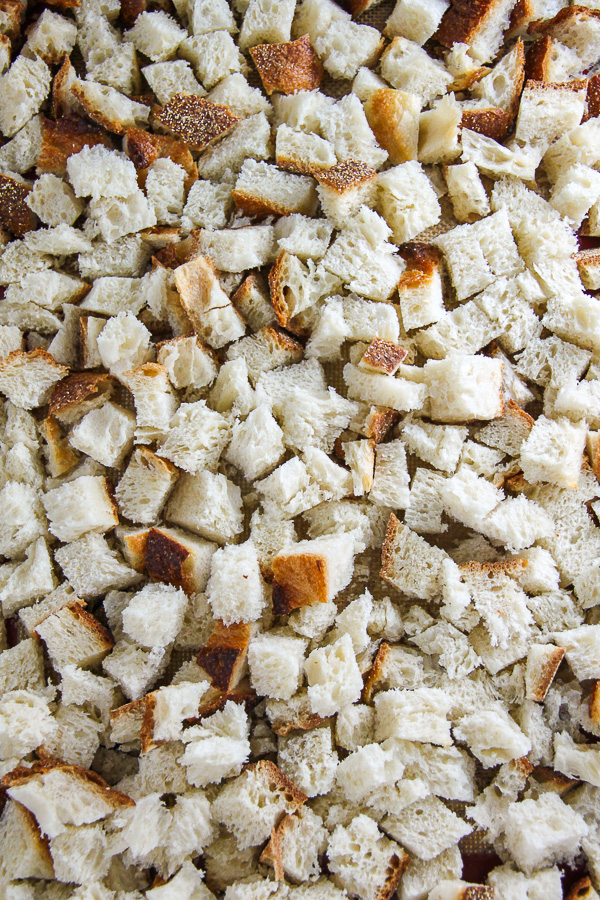 You may use store bought stuffing cubes if desired, but making your own is so simple! You'll just cut up a loaf of day old bread (check your local bakery or grocery store; often you can get them at a discount!) into bite-sized cubes, scatter them on a large baking tray (an even layer), and bake for 20 minutes. Baking the stale bread cubes makes them extra sturdy!
Now that I've finished my dissertation on the importance of stale bread, let's move on to the cooking process.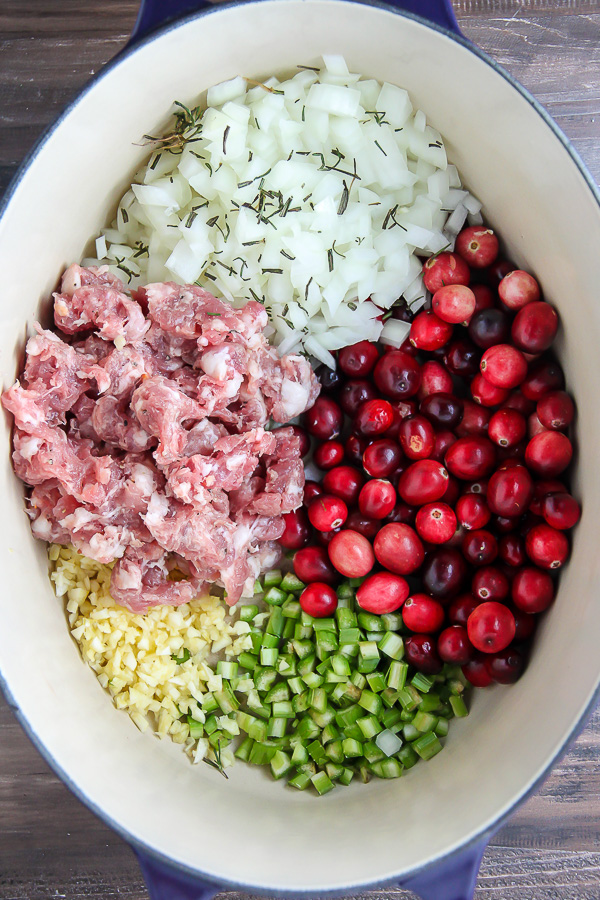 Making the stuffing begins on the stove top and ends in the oven. Into a large skillet or dutch oven you'll add onion, celery, cranberries, sausage, and garlic. You're going to cook these ingredients, stirring frequently, for 10 minutes. This is just enough time to cook the sausage and lightly brown the vegetables. Once the 10 minutes are up, use a slotted spoon to remove the ingredients from the pan, quickly drain any grease left behind, and toss them back in. A pain in the butt step, but an important one.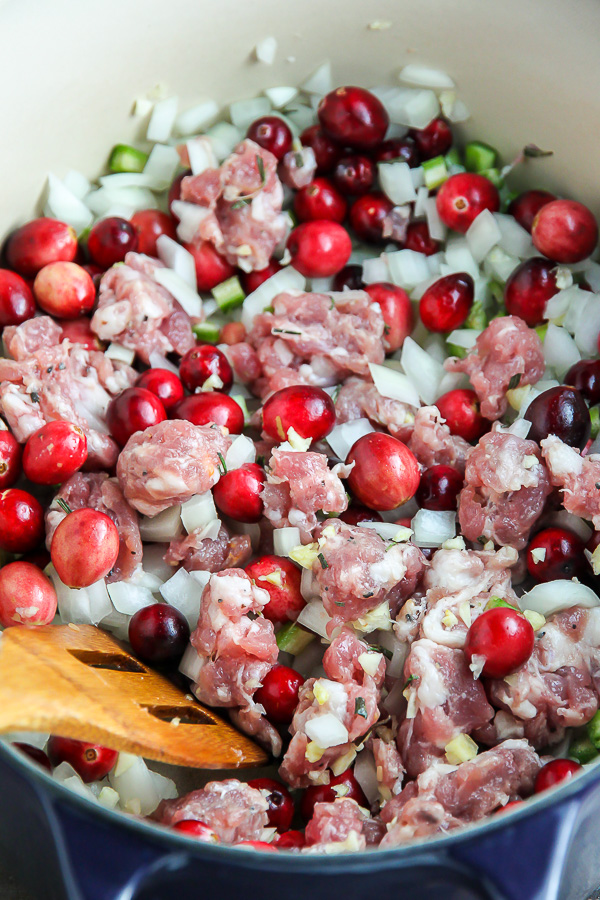 Time to add the broth, butter, stuffing cubes, apples, herbs, salt, pepper, and cider and stir stir stir. Now simply transfer the stuffing to a large baking dish and bake for 45 minutes. Get ready for your home to smell amazing!!!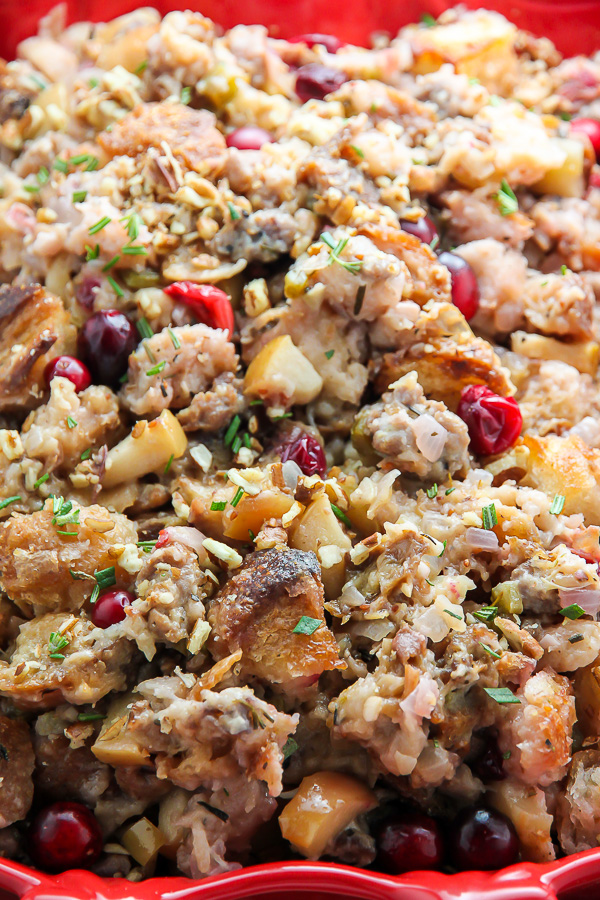 A note on cranberries: Fresh vs. Dried
As you may be able to tell from my photos, I made this stuffing with fresh cranberries. This is the way my grandmother made the recipe, and so it's the way I make it. That said, my mom makes this exact stuffing recipe with dried cranberries and strongly prefers it that way, so I wanted to give you the option. If you use fresh cranberries, your stuffing will have be slightly tart – which plays nicely with the sweet of the apple – and may have a subtle pink hue color wise. If you use dried cranberries, your stuffing will be on the sweeter side – but still balanced out nicely by the spicy sausage. There is no right or wrong here, just different! If you're unsure how much you'll like the tart of fresh cranberries, I recommend going with dried.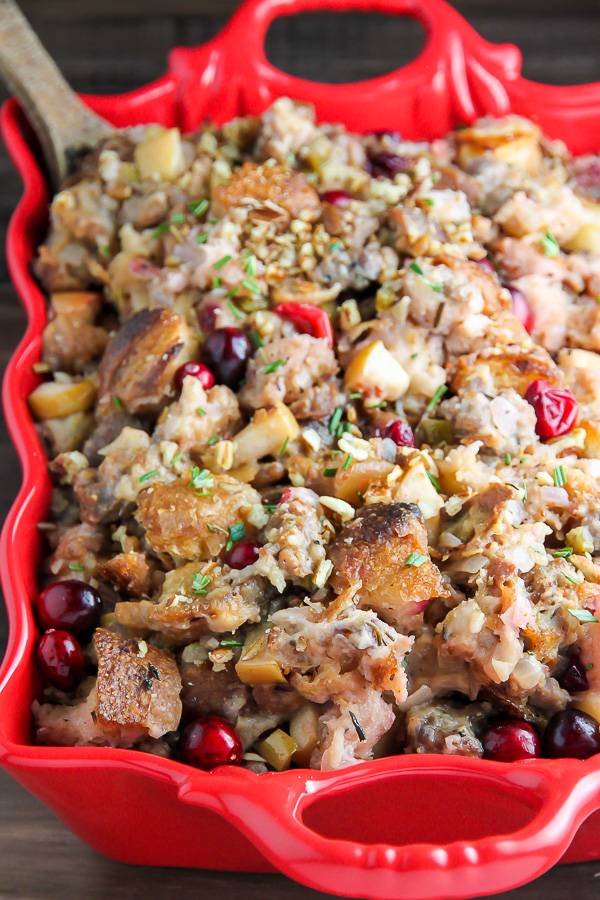 This stuffing is the definition of holiday comfort food! Enjoy ♥♥♥
If you try this recipe, let me know! Leave a comment below and don't forget to snap a pic and tag it #bakerbynature on instagram! Seeing your kitchen creations makes my day.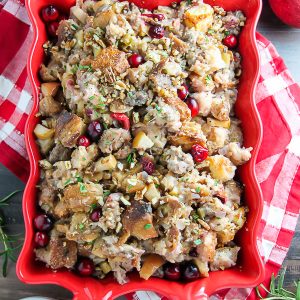 Cranberry Apple Stuffing
Homemade stuffing loaded with fresh herbs, cranberries, apples, and sausage!
Ingredients
1 and 1/4 pounds spicy Italian sausage
4 celery ribs, finely chopped
1 large yellow onion, finely chopped
8 garlic cloves, minced
3/4 cup fresh cranberries or 1 cup dried cranberries
1 and 1/2 cups vegetable stock
1/2 cup salted butter, cut into cubes
12 cups seasoned stuffing cubes (homemade or store bought)
1 and 1/2 cups apples, chopped into small cubes
1/2 cup walnuts, chopped
1 teaspoon dried sage leaves
1 and 1/2 teaspoons dried thyme
1 teaspoon dried rosemary
1/4 teaspoon black pepper
1/4 teaspoon salt
1 and 1/2 cups apple cider
Instructions
Preheat oven to 350°(F). Lightly grease a deep 9x13 inch baking dish; set aside.

In a large skillet or dutch oven cook the sausage, celery, onion, garlic, and cranberries over medium heat, stirring frequently, for 10 minutes. Using a slotted spoon transfer the ingredients to a clean plate and quickly drain any remaining liquid from the pan. Transfer cooked sausage mixture back to the skillet. Add in vegetable stock and mix well to combine. Add butter and cook for 1-2 minutes, stirring constantly, until the butter is completely melted. Remove pan from the heat.

Stir in the stuffing cubes, apples, walnuts, sage, thyme, rosemary, pepper, salt and cider; stir well to combine. Transfer to prepared baking dish.

Cover the pan with aluminum foil and bake for 35 minutes. Uncover the dish bake for an additional 10 minutes, or until the top is lightly browned.
Notes
You may use sweet Italian sausage instead of spicy, if desired.
You may omit the walnuts completely, if desired, or use almonds or pecans in their place.
You may use unsalted butter if that's all you have, just increase the salt in the recipe by a 1/4 teaspoon.
You may prepare the bread cubes and sausage/cranberry/apple mixture the night before. Keep the bread cubes covered on a baking sheet, and the sausage mixture covered in the fridge, then mix everything together and bake it the next day. Or, make the entire stuffing recipe ahead of time and freeze it. Simply thaw the night before you plan on serving, then reheat - covered - for 20-25 minutes.
You may also enjoy: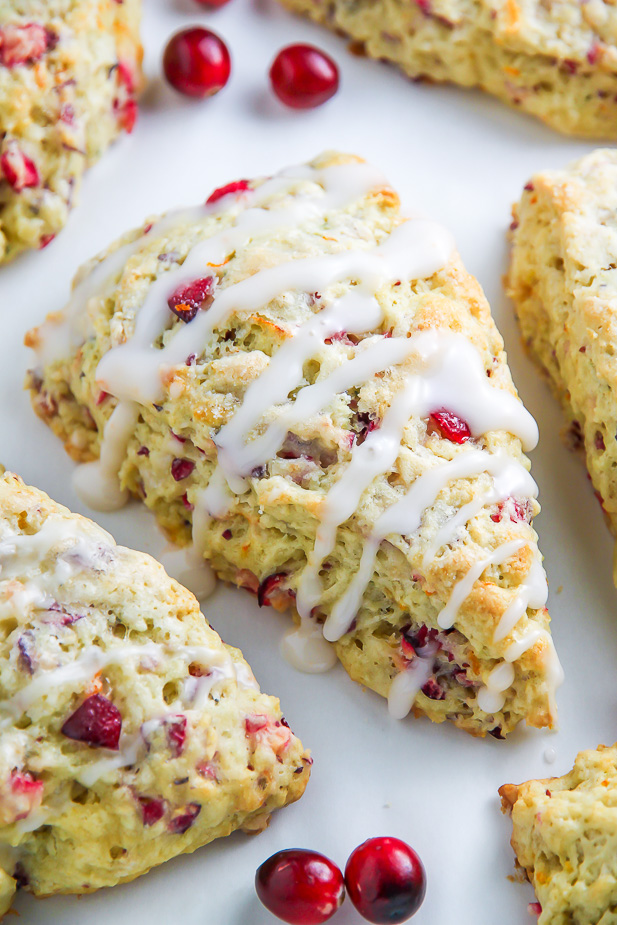 Cinnamon Apple Bourbon Hand Pies