Don't forget to make Baileys Irish Cream Cheesecake Bars for St. Patrick's Day! Featuring a chocolate cookie crust, baileys cheesecake filling, and a thick layer of chocolate ganache, they're the perfect festive dessert.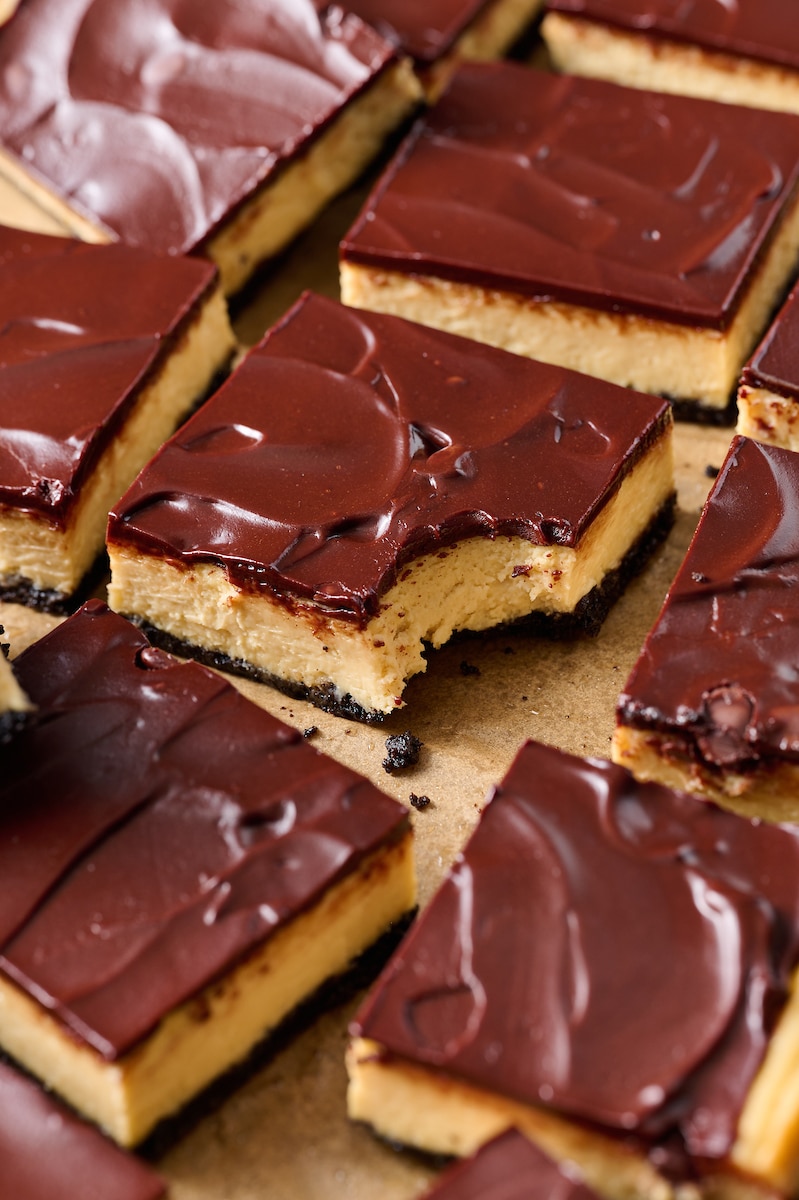 Baileys Cheesecake Bars
Throwing a St. Patricks Day party? Do yourself a favor and add these Baileys Irish Cream Cheesecake Bars to the menu! They're super creamy, loaded with Irish cream flavor, and pack a boozy punch your guests are sure to love!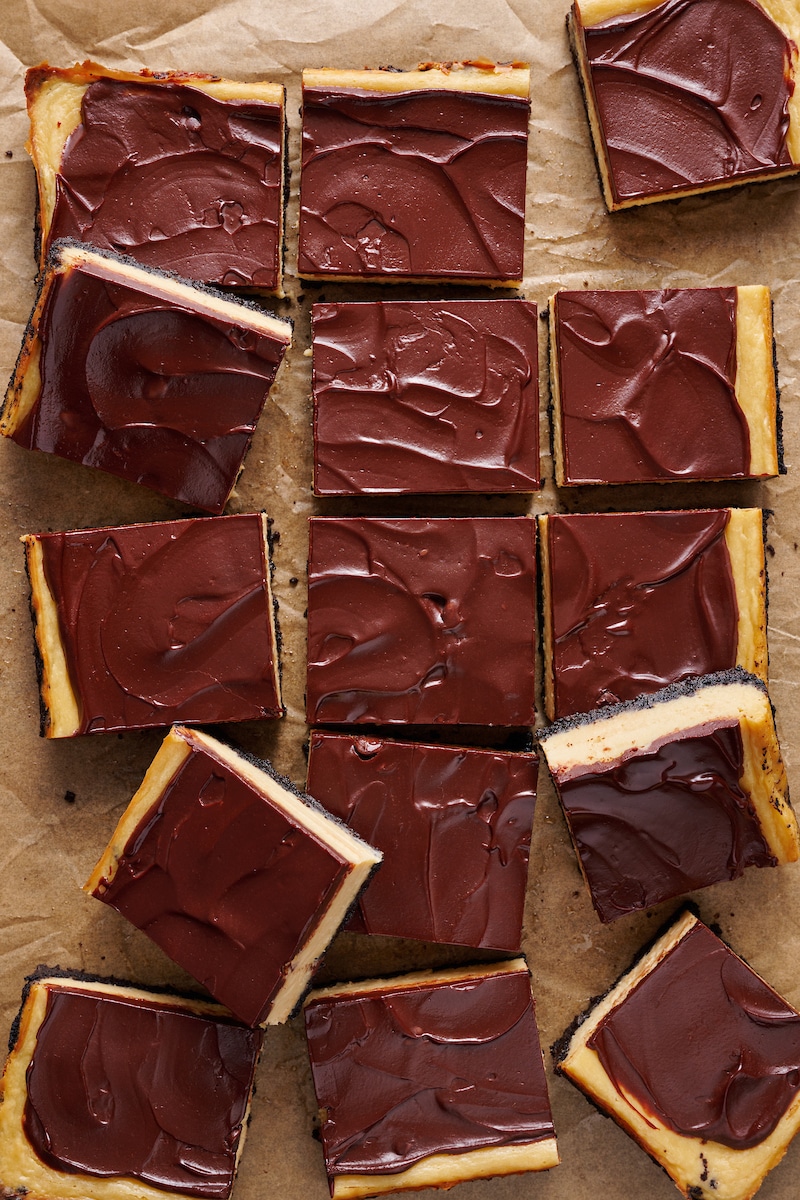 Another reason they're the perfect dinner party dessert? They can be made up to 48 hours in advance! Just store them in the fridge until it's party time! Serve with Guiness Beef Stew + Brown Butter Irish Soda Bread for the ultimate St. Paddy's Day dinner party! Your guests are sure to be talking about your menu for years to come.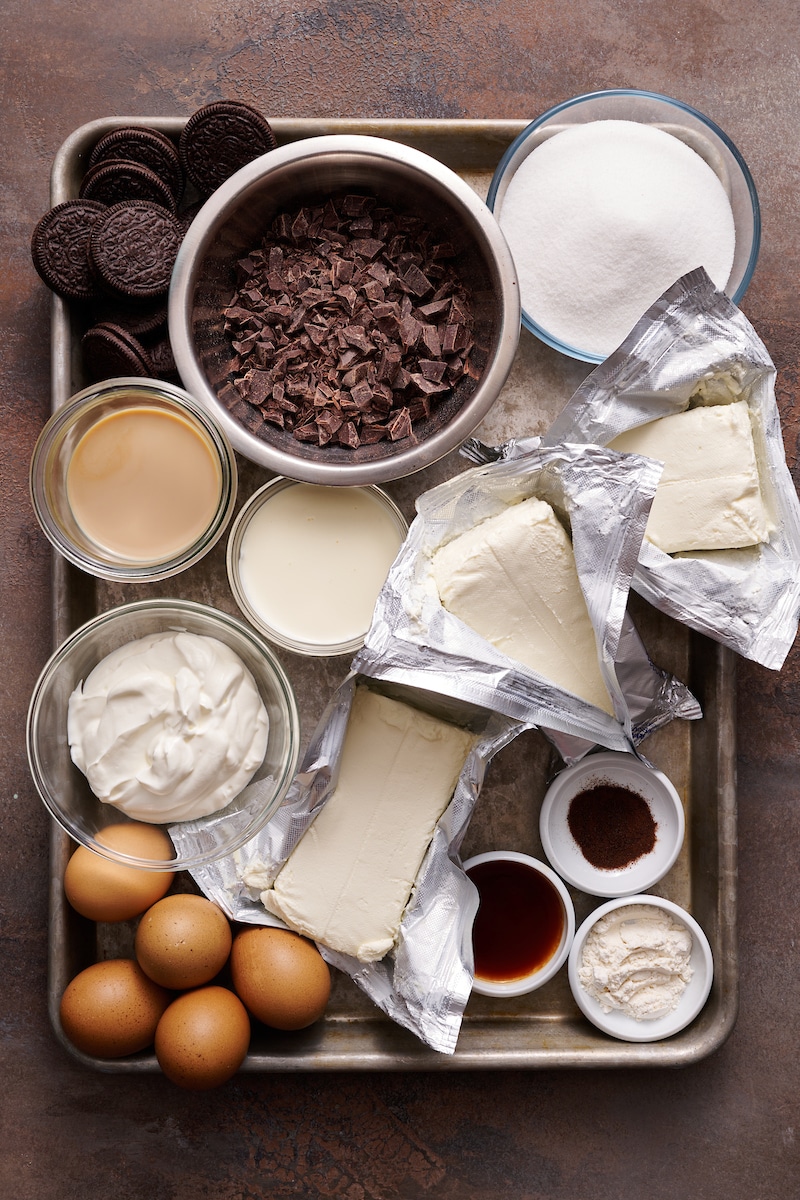 Ingredients for Baileys Irish cream Cheesecake Bars
Oreo Cookies: You'll need a food predecessor or blender to crush them into fine crumbs. Or use a classic graham cracker crust instead.
Butter: Melted butter acts as the binder for the cookie crust. Unsalted works best, but salted butter will work fine.
Cream Cheese: You'll want to use brick-style cream cheese, and make sure to bring it to room temperature before use. Hard cream cheese can ruin the motor on an electric mixer or food processor.
Sour cream: If you can't find sour cream, full-fat greek yogurt would be the best substitute.
Granulated sugar: Sweetens and gives structure to the bars. Don't skip or sub for another sweetener.
Vanilla Extract: Always use real vanilla, and not imitation or essence of vanilla.
Espresso Powder: Similar to vanilla, this enhances the flavors in the cheesecake as well as in the crust and ganache.
Eggs: Both whole eggs and egg yolks are required for this recipe. Bring them room temperature before use. And don't toss those egg whites! Store them in the fridge or freezer for another recipe!
Baileys Irish Cream: The star of the show! Adds a rich Irish cream flavor to the bars. If you don't want to bake with booze, I suggest making another recipe. Perhaps my mini espresso cheesecakes or my ultimate chocolate cheesecake?
All-Purpose Flour: Creates a dense but creamy cheesecake texture. A GF 1 for 1 flour sub should work fine.
Semisweet Chocolate: You many use dark chocolate or bittersweet chocolate for a less sweet ganache. No matter variety of chocolate you use, be sure it's finely chopped before combing it wit the cream.
Heavy Cream: This is not the same as whipped cream or whipped cream toppings. It should say heavy cream or heavy whipping cream on the package.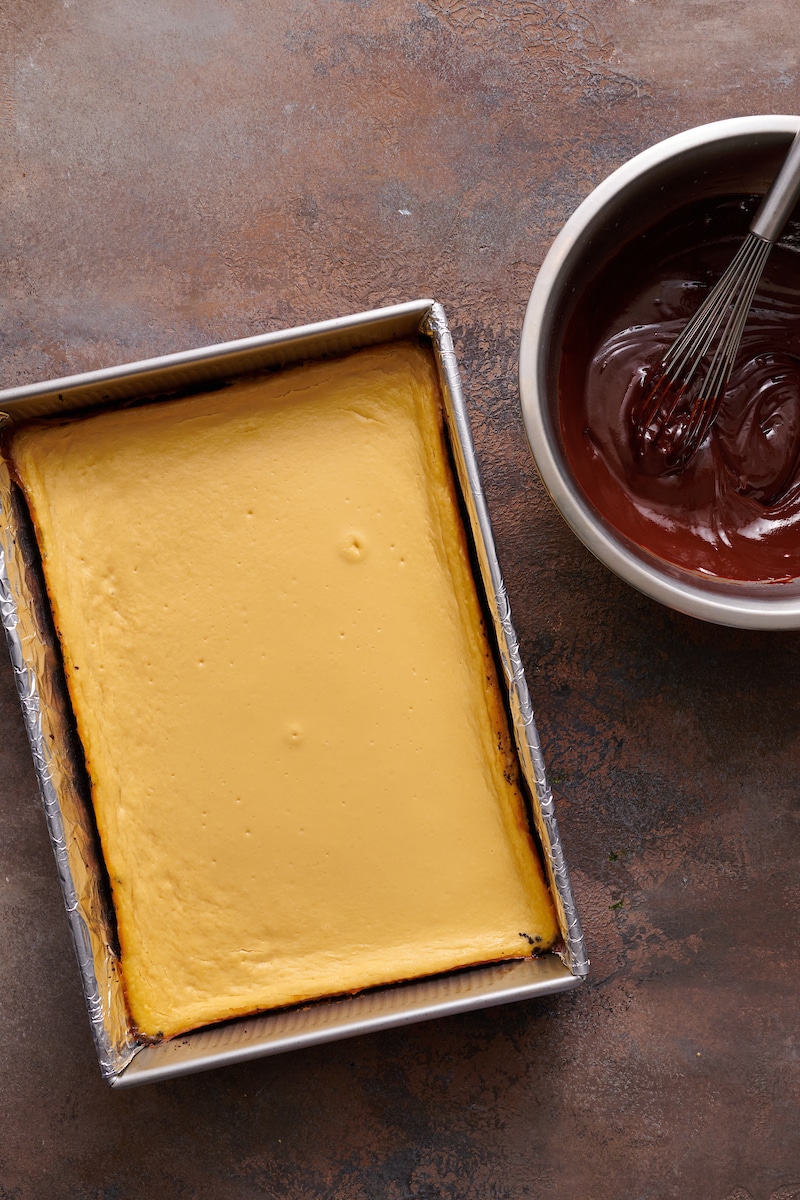 How to Make Baileys Cheesecake Bars for St. Patrick's Day
Prep the Crust: Press the crust down firmly into a 9×13-inch baking pan line with parchment paper or foil. Pre-bake for 10 minutes.
Make the Filling: For the creamiest possibly texture, use a food processor. If you don't have one, a large mixing bowl and a handheld electric mixer will work.
Bake: The bars should still have a little wiggle in the middle. They're usually perfectly done between 38 to 40 minutes, but yours could be ready as soon as 30 minutes.
Cool: You'll briefly cool them in the oven, with the oven shut off, and the oven door slightly cracked. Then remove from the oven and cool completely, in the pan, until they've reached room temperature. Finally, chill for about 4 hours.
Garnish: Top chilled cheesecake bars with chocolate ganache and let the ganache firm up for about 1 hour. You can speed this up by popping them back in the fridge.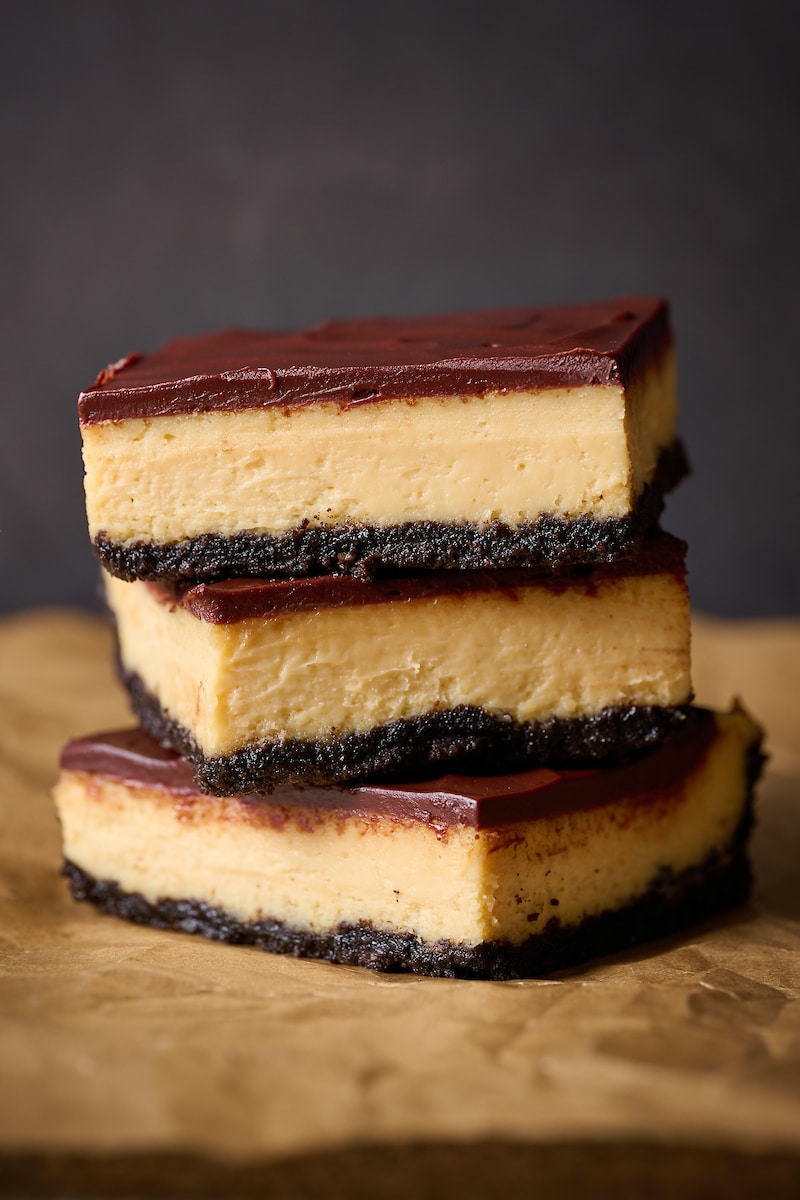 More St. Patrick's Day Recipes: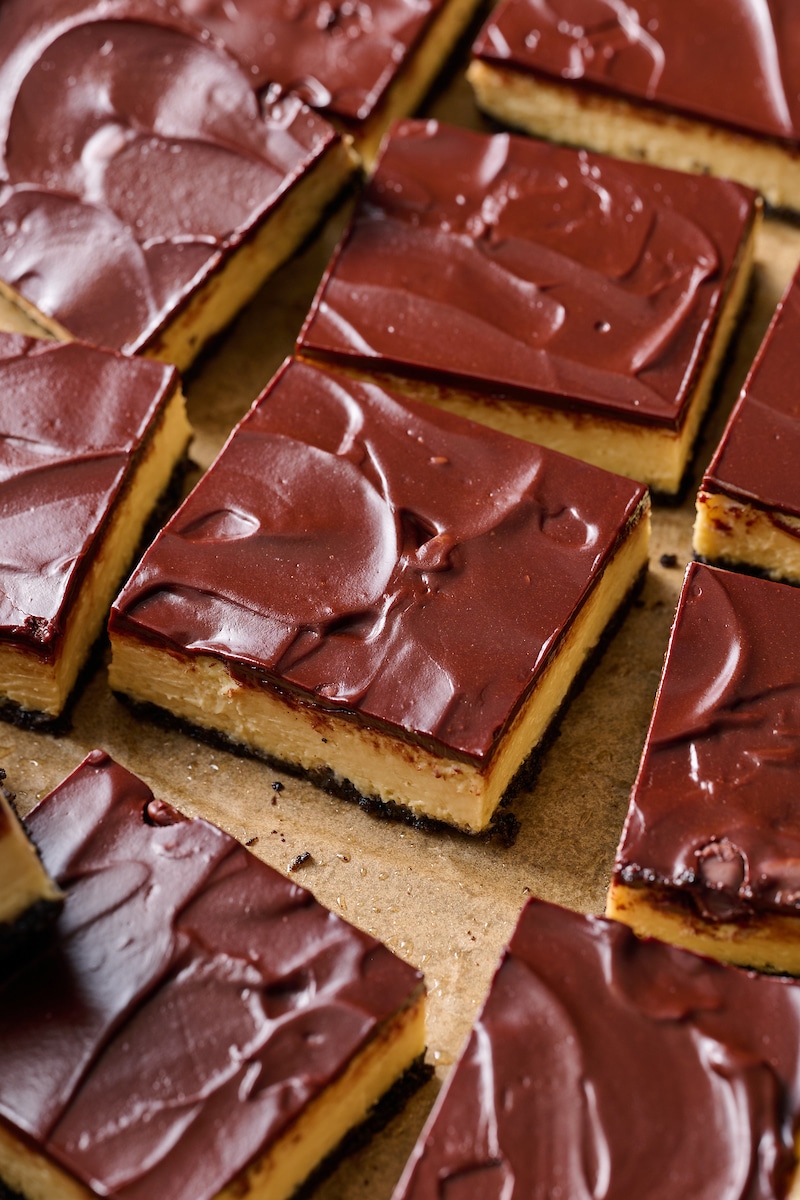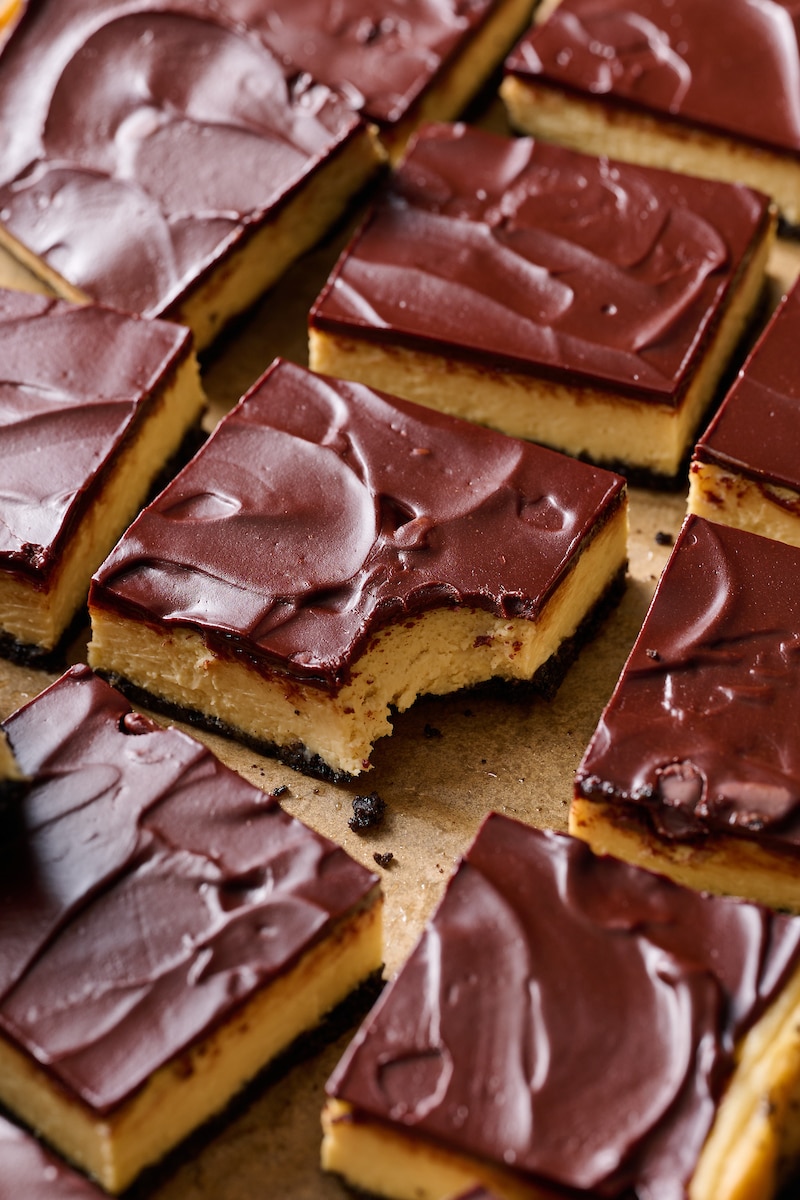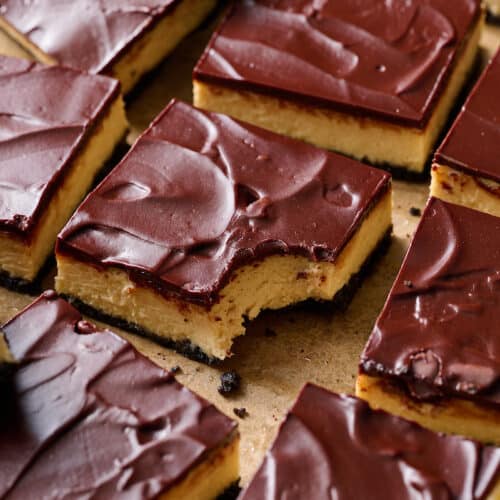 Baileys Irish Cream Cheesecake Bars
Ingredients
For the Oreo Cookie Crust:
1 full-size package oreo cookies 36 cookies in total
6 Tablespoons (85g) unsalted butter melted
For the Baileys Irish Cream Cheesecake:
3 8 ounce blocks brick-style cream cheese 24 ounces in total, room temperature
3/4 cup (171g) sour cream room temperature
1 and 1/4 cups (249g) granulated sugar
1 Tablespoon (14ml) vanilla extract
1/2 teaspoon espresso powder
3 large eggs room temperature
2 large egg yolks room temperature
3/4 cup (171ml) Baileys Irish cream
2 teaspoons all-purpose flour
For the Chocolate Ganache:
6 ounces (170g) semi-sweet chocolate finely chopped
1/2 cup (113ml) heavy cream room temperature
3 Tablespoons (42ml) Baileys Irish cream
Instructions
For the Oreo Cookie Crust:
Preheat the oven to 350 degrees (F). Line a 9x13-inch baking pan with heavy-duty aluminum foil, allowing two of the sides to overlap (you want an overhang of at least 2-inches on two sides) and spray lightly with nonstick baking spray. Set aside.

In a large bowl combine the crushed cookie crumbs and melted butter, mix well to combine.

Press the mixture into the bottom - and slightly up the sides - of the prepared pan.

Bake the crust in the preheated oven for 10 minutes. Remove the crust from the oven and set aside on a cooling rack until needed.

Reduce the oven temperature to 325 degrees (F).
For the Baileys Irish Cream Cheesecake:
In the bowl of a large food processor, combine the cream cheese and sour cream and pulse until completely smooth. 

Add sugar, vanilla, and espresso powder and mix until smooth, scraping down the sides and bottom of the bowl as needed.

On low speed, add in the eggs and yolks and beat until combined. Do not over mix. 

Using a rubber spatula, fold in the Irish cream, mixing just until it's incorporated in the batter. Fold in the flour, mixing just until combined. 

Pour the filling on top of the prepared crust, and spread evenly.

Check to ensure your oven has cooled to 325°F, then place the pan in the oven and bake for 40 minutes, or until the edges have set but the middle is still just slightly jiggly. 

Turn off the oven heat, crack the door, and allow the cheesecake bars to cool in the oven for 10 minutes. 

Remove the bars from the oven and transfer to a wire rack and cool to room temperature. Refrigerate for at least 4 hours, or overnight.
For the Chocolate Ganache:
Add the chopped chocolate to a large bowl and set aside until needed.

In a small saucepan over medium-heat, bring the cream just to a rolling simmer, then immediately remove from heat. 

Pour the cream on top of the chocolate and set aside for 1 minute. With a whisk, begin to incorporate the melted chocolate into the cream, whisking until smooth and glossy. Stir in the Irish cream. 

Set aside and cool until tepid. 

Pour the ganache over cooled cheesecake. Set aside until the ganache is set but still creamy, about 1 hour.

When you're ready to serve: use the foil overhang to lift the cheesecake bars from the pan and transfer them to a cutting board. Using a large, sharp knife, slice the slab into squares, wiping the knife clean with a damp cloth between slices. Serve at once.