Layered peppermint chocolate bark topped with crushed candy canes and Oreo cookies!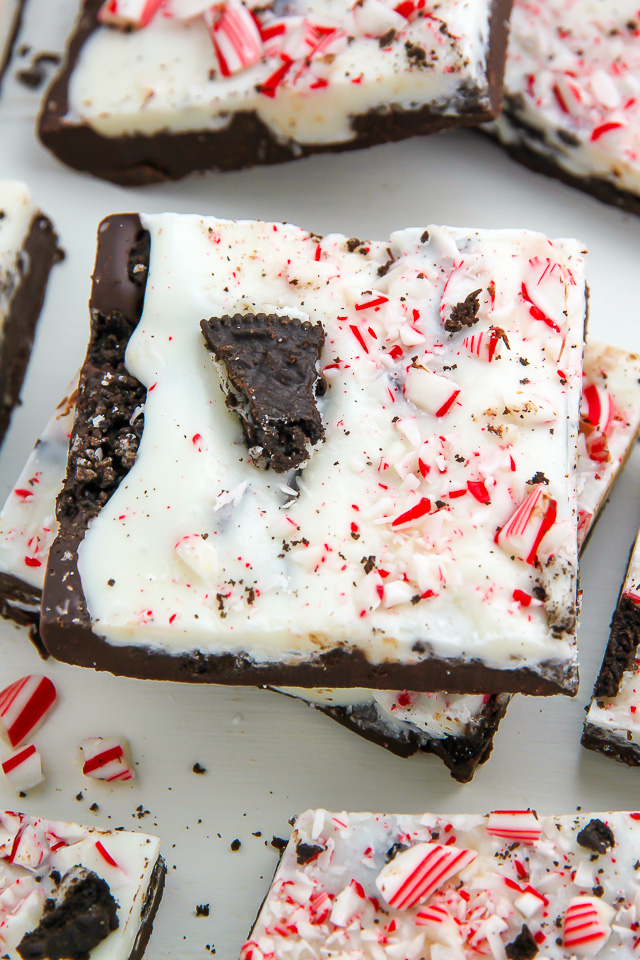 Oreo Cookie Peppermint Bark Recipe
Bonjour from Paris! Life right now is all about croissants, cappuccinos, and macarons. ← Life right now is pretty sweet. I've been snapping photos of everything we eat so I can recreate some of these recipes for you when we're back home.
We're here for 3 more days and I'm hoping to squeeze in as many meals as possible. Today's mission… find the best Croque Madame in town. #lunchgoals
Homemade Peppermint Bark
Christmas spirit is in full swing here, and today I'm excited to be sharing with you one of my favorite holiday recipes: Peppermint Bark! Topped with crushed candy canes and Oreo cookies. Because what is chocolate bark without a little red and white and cookie pizzazz on top? ♥♥♥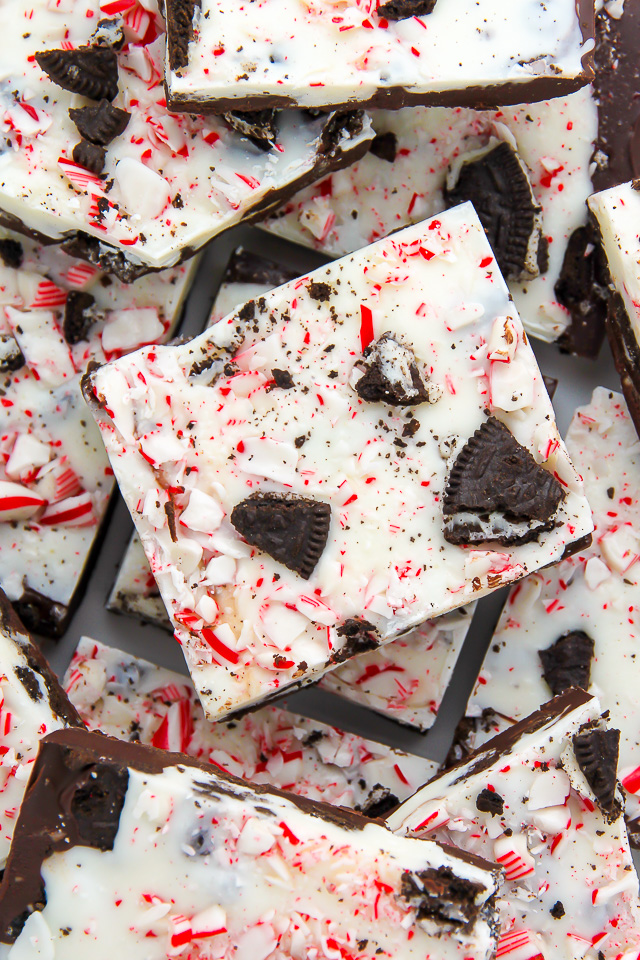 This recipe is hardly a recipe at all! You melt white chocolate, you melt semi-sweet chocolate, you chop up some cookies and candy canes, and you layer them all in one-pan. It's so easy! But don't worry – I have a much more detailed recipe typed out for you below 😉
How to Make Oreo Peppermint Bark
The creamy white chocolate peppermint base layer
The decadent semi-sweet chocolate top layer
The crunchy candy cane and Oreo mix-ins.
The white chocolate and semi-sweet chocolate layers are both made in the microwave. You'll do the white chocolate layer first, so that you can spread it in the pan and chill it while you're making the semi-sweet chocolate layer. You want the white chocolate layer to semi-set.
Once the semi-sweet chocolate is ready, you'll sprinkle half of the crushed candy canes and Oreo cookies on top of the white chocolate layer, then pour on all of the semi-sweet chocolate and spread smooth. Then you simply sprinkle on the remaining candy canes and cookies and refrigerate until firm.
To easily crush the candy canes, I use a mini-food processor
, but you could also smash them by hand by putting them in a ziplock bag and hitting them with a hammer.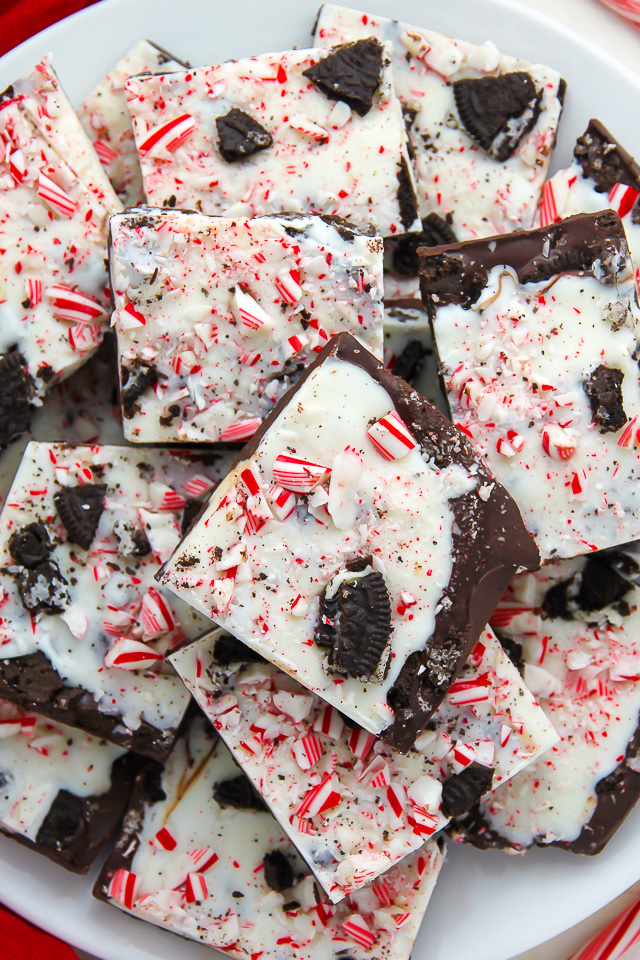 There is so much going on in this crunchy and creamy Oreo peppermint bark it will be impossible to stop at just one piece… but who's counting?!
More Peppermint Christmas Candy Recipes:
Oreo Peppermint Bark
Festive Oreo Peppermint Bark is perfect for holiday dessert trays!
Ingredients
16 ounces high quality semi-sweet chocolate, chopped
16 ounces high quality white chocolate, chopped
3/4 teaspoon canola, coconut, or vegetable oil
1/8 teaspoon salt
1/2 teaspoon peppermint extract, divided
6 candy canes, crushed
12 Oreo cookies, chopped
Instructions
Line the bottom and sides of a 9x12 inch rectangle baking pan with parchment paper, smoothing out any creases; set aside.

Place the semi-sweet chocolate into a medium-sized heatproof bowl. Melt in the microwave, in 20 second increments, stirring with a rubber spatula and scraping down the sides after each increment, until chocolate is completely melted and can be stirred completely smooth. Once melted, stir in a 1/4 teaspoon of the peppermint extract. Quickly pour the melted semi-chocolate into the prepared baking pan, spreading with a spatula into a thin smooth layer. Place the baking pan in the refrigerator for 20 minutes; it will not be completely set.

In the meantime, prepare the next chocolate layer. Combine the white chocolate and oil in a medium-sized heatproof bowl and microwave according to the same instructions you followed to melt the semi-sweet chocolate. Once melted, stir in remaining 1/4 teaspoon peppermint extract and whisk smooth.

Sprinkle half of the crushed candy canes and half of the chopped Oreo cookies on top of the semi-chilled chocolate. Then pour all of the white chocolate on top. Carefully spread into a smooth layer. Evenly sprinkle remaining crushed candy canes and Oreo cookies on top of the wet chocolate. Refrigerate the bark until completely hardened, about 1 hour. Once completely set, remove the chocolate from the pan and discard the parchment paper.

Break into pieces large or as small, or use a very sharp knife to cut it into large or small squares. Store bark in the refrigerator and bring to room temperature right before serving.
Notes
This recipe will keep, when stored in the refrigerator in an airtight container, for up to 2 weeks.