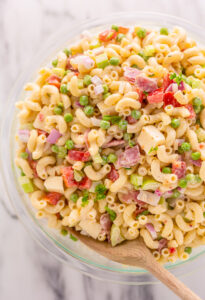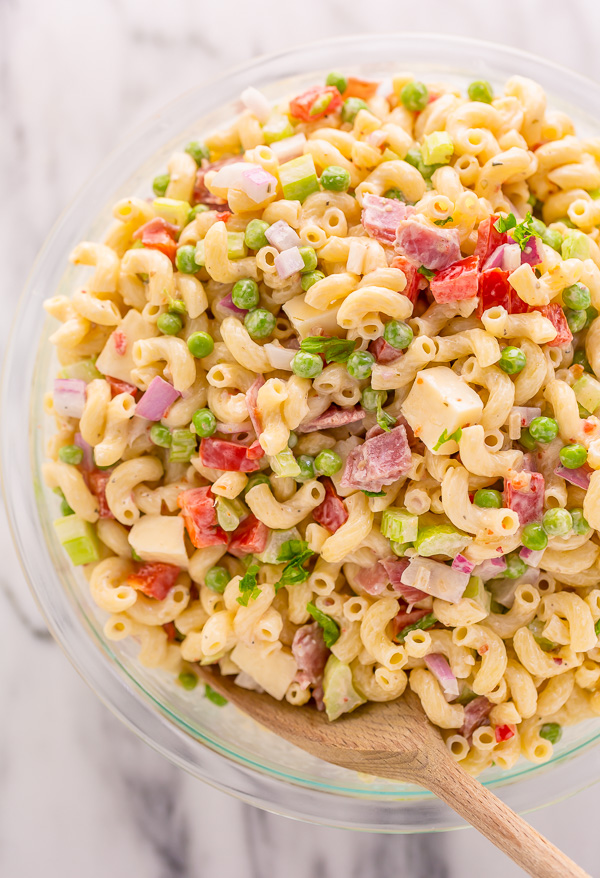 Italian Macaroni Salad
Yield 8 Servings
This Easy Italian Macaroni Salad Recipe features elbow noodles, bell peppers, celery, onion, sharp provolone, and salami! And the dressing is so creamy and flavorful! This is the perfect macaroni salad for parties, picnics, and backyard bbqs.
Ingredients
1 pound elbow macaroni noodles 
3/4 cup zesty Italian salad dressing
3/4 cup mayonnaise 
1/4 cup apple cider vinegar 
1 and 1/2 teaspoons Italian seasoning
salt and pepper, to taste 
1/3 cup red onion, diced
4 ribs of celery, diced 
1 red bell pepper, seeds removed and diced 
1 cup frozen peas, thawed 
4 ounces sharp provolone cheese, cubed 
4 ounce genoa salami, sliced 
Instructions
Bring a large pot of salted water to boil. Add macaroni and cook until al dente, about 5 minutes.
Drain pasta and rinse under cold water until cool.
While the water is coming to a boil, chop your vegetables, cheese, and meat. 
Place pasta in a large serving bowl and set aside.
In a medium-sized mixing bowl, combine the Italian dressing, mayo, vinegar, Italian seasoning, salt, and pepper, and mix well until smooth and combined.
Add dressing to pasta and toss well to coat pasta.
Add vegetables, cheese, and salami to the pasta bowl, mix well to combine, and season with salt and pepper as desired. Serve at once, or chill until needed.
Courses Side Dish
Cuisine Italian
Recipe by Baker by Nature at https://bakerbynature.com/italian-macaroni-salad/