Today's post is sponsored by Kettle Brand! Their Sea Salt chips are the secret ingredient to my decadent Salted Caramel Apple Tart.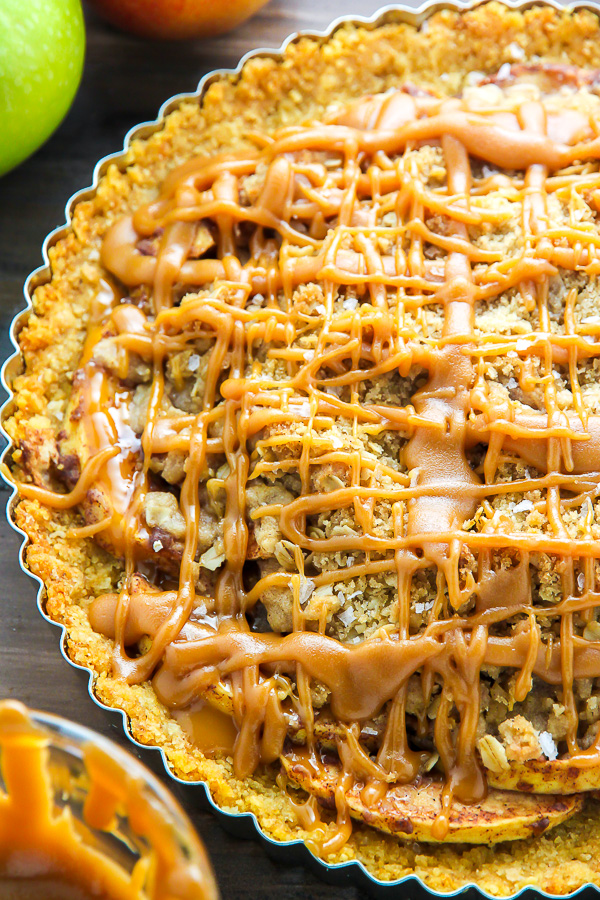 Happy Thanksgiving Eve!
Hopefully a lazy Thursday of friends and family, turkey and mashed potatoes, and a slice of pumpkin AND pecan pie is on your agenda for tomorrow. Our plans include sleeping in, stretchy pants, and of course, a giant DINNER! Since we're abroad we'll be dining out, which is actually a nice little break for this baker. No dirty dishes to wash? Now that's something I am very thankful for 😉
Before we left the states we did host a very small and special Friendsgiving dinner. My friend Mel generously brought the turkey, her husband made the most magical mashed potatoes and gravy, C made the stuffing and green bean casserole (he looked so cute reading the recipes off of my blog!), and I made a salted caramel apple tart for dessert and a batch of cranberry cinnamon whiskey sours to help wash everything down. What a feast it was!
I'm so excited to share this salted caramel apple tart with you!!! First because it's truly an epic dessert; made with a crunchy potato chip crust, sweet juicy apples, and topped with a homemade salted caramel sauce! I have a strong feeling it's going to become a new favorite. The second reason… KETTLE CHIPS. I have been a huge fan girl of Kettle Brand Chips for years. They're always so crunchy and satisfying, and their generous variety of creative flavors always keeps me coming back for more. Nom nom nom.
So when Kettle reached out and asked if I'd be interested in sharing a creative Kettle twist on a classic holiday dessert, I couldn't respond "YES" fast enough.
When I began brainstorming recipe ideas for this project, I knew I wanted something that would effortlessly fit in on any holiday table. In the end, I decided to draw my inspiration from apple pie. Seriously, what is more cozy classic than apple pie!?
I hope you love the twists I made on this classic dessert. This salted caramel apple tart is:
Sweet
Salty
Juicy
Fruity
Crunchy
Creamy
And simply divine
Serve with whipped cream or ice cream if you'd like, but to be perfectly honest, this dessert can 100% stand on its own. It's a showstopper ♥♥♥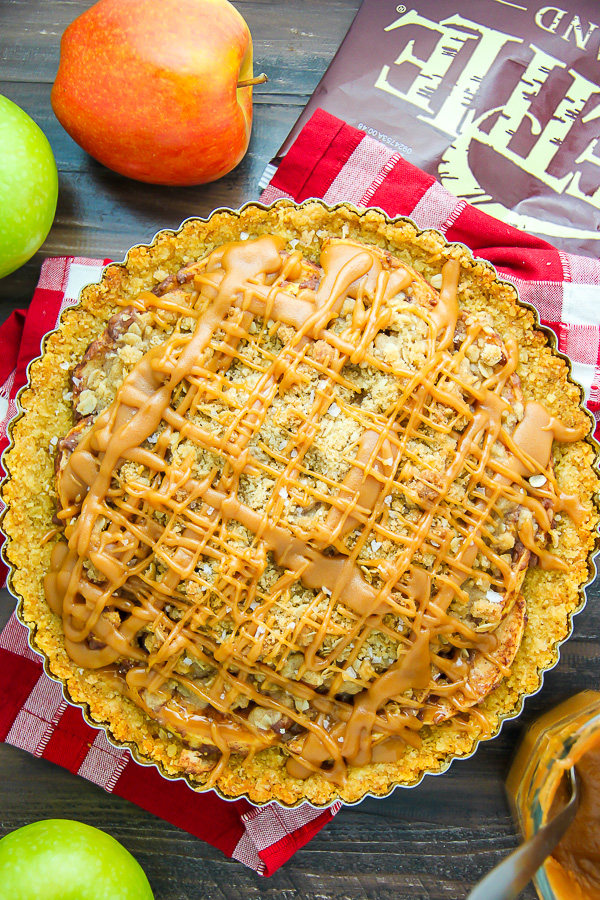 Have a wonderful Thanksgiving, my friends! I am endlessly thankful for you and the generous support you show for my blog.
If you try this recipe, let me know! Leave a comment below and don't forget to snap a pic and tag it #bakerbynature on instagram! Seeing your kitchen creations makes my day.
Salted Caramel Apple Tart
Sweet and salty, this decadent caramel apple tart has it all!
Ingredients
For the potato chip crust:
(1) 8.5 ounce bag Kettle Brand Sea Salt potato chips
1/2 cup all-purpose flour
2 and 1/2 tablespoons cornstarch
3 tablespoons granulated sugar
3 tablespoons unsalted butter, melted
For the apple filling:
3 large apples, peeled and sliced into 1/4 inch thick pieces
3 tablespoons all-purpose flour
2 tablespoons granulated sugar
1 tablespoon light brown sugar
2 teaspoons ground cinnamon
1/8 teaspoon ground cloves
1/8 teaspoon ground ginger
1/8 teaspoon ground nutmeg
1/2 teaspoon vanilla extract
For the crumb topping:
1/3 cup old-fashioned oats (not quick cook oats!)
1/3 cup light brown sugar, packed
1/2 teaspoon ground cinnamon
1/2 cup all-purpose flour
4 and 1/2 tablespoons unsalted butter, very cold and cut into small cubes
For the salted caramel sauce:
1 cup granulated sugar
6 tablespoons unsalted butter, cut into small cubes
1/2 cup heavy cream
1/2 teaspoon sea salt
1/4 teaspoon ground cinnamon
2 teaspoons vanilla extract
Instructions
For the potato chip crust:
Preheat oven to 325 degrees (F).

In the bowl of a food processor (or high-power blender), combine the chips, flour, cornstarch, and sugars; pulse until the chips have been completely pulverized into fine crumbs.

With the food processor running on low, add in the melted butter and pulse until well combined.

Pour this crumb mixture into a 9-inch tart pan (with a removable bottom) and, starting with the sides, firmly press the crust evenly into the pan.

Bake in the preheated oven for 12 minutes. Remove from oven and set aside to cool as you prepare the apple filling and topping.
For the apple filling:
In a large bowl combine the sliced apples, flour, sugars, spices, and vanilla; mix well, ensuring all of the apple slices are evenly coated. Set aside.
For the topping:
In a large bowl combine the oats, brown sugar, cinnamon, and flour; whisk until well combined. Using two forks, a pastry cutter, or your fingertips, cut in the chilled butter until the mixture resembles a coarse meal. Set aside.
Assembly:
Increase the oven temperature to 350 degrees (F).

Evenly layer the coated apples on top of the par-baked crust, being sure to layer them tightly so they all fit. Don't worry if it looks like there are too many apple slices - they will shrink down while baking!

Evenly sprinkle the apple layer with the crumb topping. Bake for 40 minutes, or until the crumb topping is golden brown.

Remove the tart from the oven and cool on a wire rack for at least one hour before removing the metal tart shell and drizzling with salted caramel. This tart can be served warm, at room temperature, or cold. No matter what temperature, I recommend drizzling a little extra salted caramel on top of each slice before serving.
For the salted caramel sauce:
Add the sugar to a medium-sized, heavy-bottomed saucepan over medium-low heat. Stir for 30 seconds, then increase the heat to medium and, stirring constantly with a wooden spoon, cook until sugar transforms from clumps into a smooth amber-brown liquid. Pay close attention here - sugar burns FAST. Once the sugar has completely melted, add in the butter. Warning: the caramel will ferociously spatter when you add the butter, so do this with care.

Stir the butter into the caramel sauce until completely melted, then slowly drizzle in the heavy cream, constantly stirring the whole time. Again, be careful here as the caramel tends to spatter when the cream is added.

Boil the caramel for 1 minute, allowing it to rise in the pan as it cooks.

Remove pan from heat and stir smooth. Whisk in the salt, cinnamon, and vanilla. Cool for at least 20 minutes before drizzling over the tart. Do not try touching the caramel before this time - it is dangerously hot!
Notes
To save time, you may make the salted caramel sauce in advance. Covered tightly, it may be stored in the fridge for up to two weeks. Warm the caramel sauce up in the microwave for 10-15 seconds before drizzling it over the tart.
Drizzle the caramel sauce over the tart right before serving. If you plan on having leftovers, I recommend slicing the tart without the caramel, then drizzling it on each slice right before serving. This will help the tart stay firm and fresh.