It's National Cheesecake Day… and we're celebrating by rounding up our 50 best cheesecake recipes to bake: from rich and creamy cheesecake to chocolate cheesecake to lemon cheesecake… and so much more! So without further ado, lets bake cheesecake.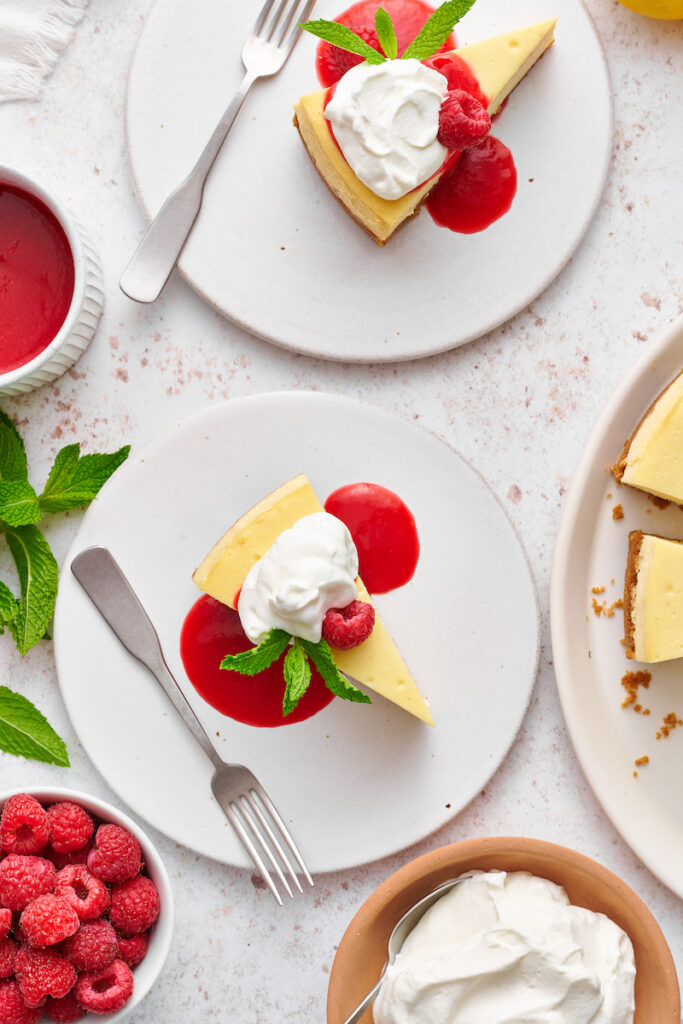 P.S. If you're new to the world of cheesecake, be sure to read my post on how to make an easy water bath for cheesecake! The posts simplifies the often dreaded process: plus includes tips, tricks, and my picks for the best springform pans.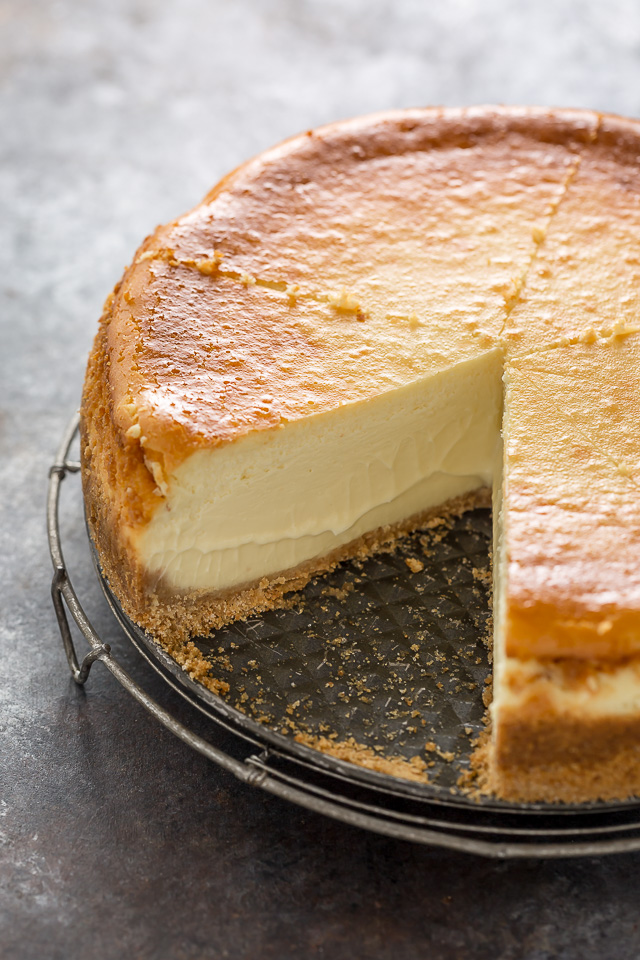 Classic Cheesecake Recipes
The Best New York Style Cheesecake: Perhaps the most famous – and beloved – cheesecake in the world! My version features a classic graham cracker crumb crust and a dense yet creamy cheesecake filling! Topped with strawberry sauce for extra yumminess!
Extra Rich and Creamy Cheesecake: Made with over 2 pounds of cream cheese (make sure it's room temperature or you'll bust your blender), this recipe is unapologetically decadent! Top with fresh fruit or a dollop of whipped cream!
New York Style Oreo Cheesecake: The only thing that could possibly make New York-style cheesecake better? OREOS! Lots and lots of Oreos! This cheesecake is guaranteed to bring a smile to your face.
Lemon Ricotta Cheesecake: Ricotta cheese replaces sour cream in this sunshiny sweet cheesecake recipe. Any lemon will work, but I love using Meyer lemons when I can find them.
Key Lime Cheesecake: If you like key lime pie, you're going to LOVE this key lime cheesecake. Sweet, tart, and outrageously creamy. What's not to love?
Creamy Italian Ricotta Cheesecake: This cheesecake is an Easter tradition in our house! The cheesecake itself is silky smooth and has incredible flavor… and the fresh berry sauce is to-die-for delicious. A total stunner, too!
Coconut Cheesecake: This one is for my coconut lovers! Featuring a crunchy graham cracker crust, creamy coconut cheesecake filling, and coconut cream topping, it's literally exploding with coconut flavor in every bite.
Chocolate Covered Peanut Butter Cheesecake: Not gonna lie… I could drink this cheesecake batter with a straw. It's THAT good! But I don't because the baked cheesecake is even better. Chocolate + Peanut Butter… need I say more?!
Baileys Irish Cream Cheesecake: Boozy cheesecake? Yes, please! This ultra rich cheesecake is spiked with Irish cream and topped with chocolate ganache. Sinfully decadent and worth every single calorie.
Lemon Blueberry Swirl Cheesecake: We all know lemon and blueberries are a flavor match made in heaven… so I decided why not swirl them together to create the perfect cheesecake? Sweet, tart, and so pretty: this one is a true star!
Greek Yogurt Key Lime Cheesecake: Got some Greek yogurt you need to use up? Well count your lucky stars! Because this recipe calls for a ton of it, and will leave you with a deliciously creamy lime cheesecake everyone will love.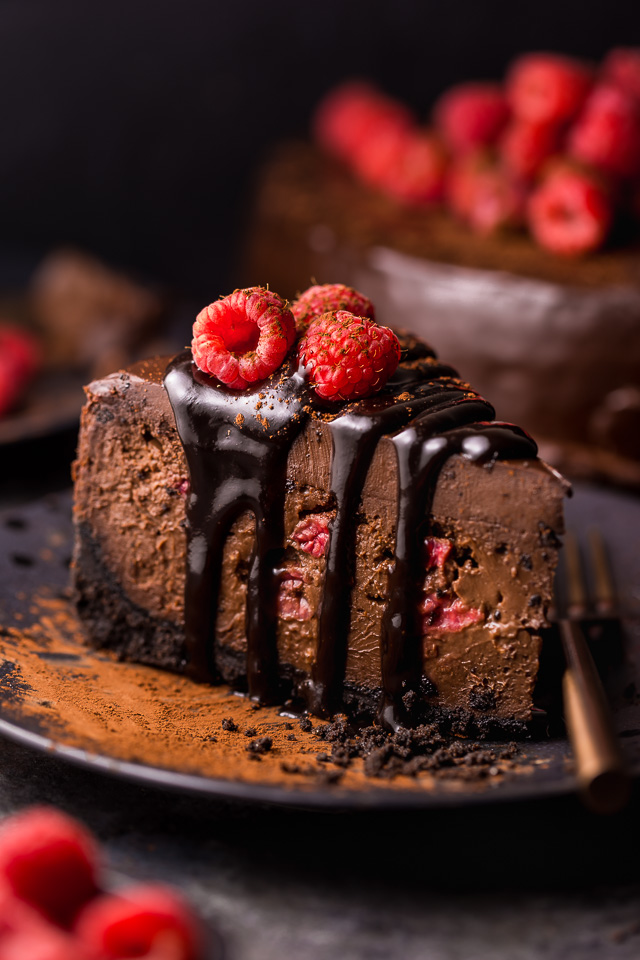 Chocolate Cheesecake Recipes
Ultimate Chocolate Cheesecake: All other chocolate cheesecakes < this chocolate cheesecake! Intensely rich and decadent… this truly is the ultimate chocolate cheesecake.
Chocolate Mascarpone Cheesecake: Mascarpone cheese makes this luscious chocolate cheesecake extra rich and creamy… plus it adds incredible flavor!
No-Bake Espresso Chocolate Cheesecake: Too hot to bake? This caffeine spiked chocolate cheesecake has your back! No oven required!
Chocolate Raspberry Cheesecake: I mean… who doesn't love chocolate and raspberries?!
Kahlua Chocolate Cheesecake: Chocolate on chocolate on chocolate! Plus, KAHLUA! It doesn't get much better!
White Chocolate Raspberry Cheesecake: Inspired by the one they sell at The Cheesecake Factory!
No-Bake German Chocolate Cheesecake: If you're a big fan of German chocolate cake, this cheesecake version will rock your world. Insanely decadent… you'll only need a small slice.
White Chocolate Blueberry Cheesecake: Looking to impress? This stunning swirled cheesecake has you covered!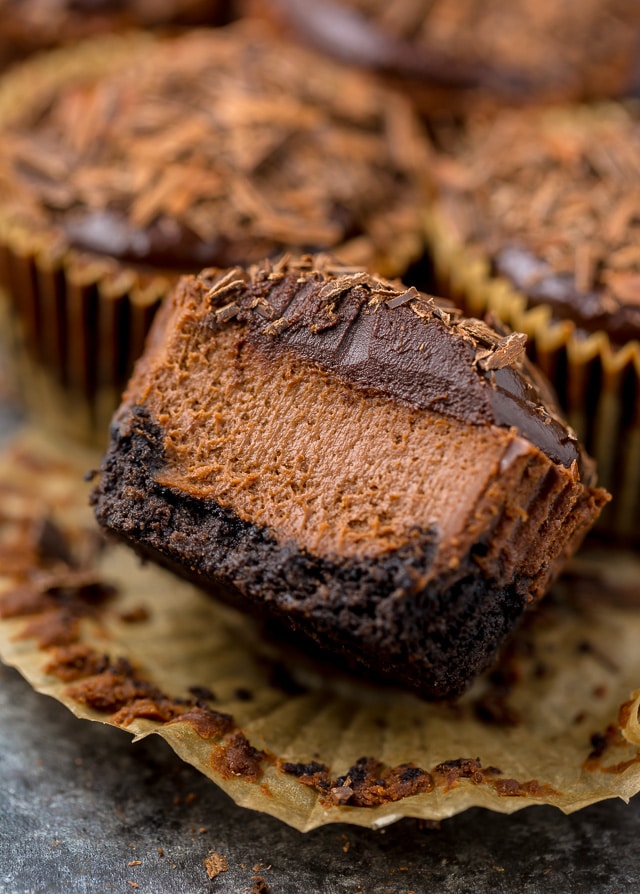 Mini Cheesecake Recipes
Mini Chocolate Cheesecakes: Featuring a chocolate cookie crust, chocolate cheesecake filling, and chocolate ganache topping, these tiny cheesecakes pack A TON of chocolate flavor!
Mini Cheesecakes: Everything you love about classic cheesecake, but bite-sized! These are perfect for parties.
Mini Peanut Butter Butterfinger Cheesecakes: One of my best friends (hi, Jeff!) loves butterfingers, so I created these tiny butterfinger cheesecakes for him. They're perfect for the butterfinger lover in your life!
Mini Ricotta Cheesecakes: Raise your hand if you all too often find yourself with leftover ricotta and no idea what to do with it! Consider these mini cheesecakes your solution. A very delicious solution!
Mini Baileys Irish Cream Cheesecakes: Bite-sized and boozy! These bad boys are always a big hit at potlucks and St. Patrick's Day parties.
Chocolate Covered Peanut Butter Pretzel Cheesecake Cupcakes: Chocolate + Peanut Butter + Pretzels = THE MOST DELICIOUS MINI CHEESECAKES EVER!
Mini Key Lime Cheesecakes: Tiny, tart, and too darn cute to pass over.
Lemon Ricotta Cheesecake Cupcakes: Topped with lemon curd, these little lemon cheesecakes are so sweet and somehow taste even better than they look.
Cheesecake Bar Recipes
New York-Style Cheesecake Bars: No time to mess around with a water bath? No spring form pan? These cheesecake bars are here for you! They taste just like classic NY-style cheesecake… minus the fuss.
Coconut Cheesecake Bars: Cut these in TINY pieces… because they fly off the dessert tray. Even coconut haters love these!
Lemon Cheesecake Bars: Bursting with bright lemon flavor and topped with lemon slices, these are perfect for Spring holidays like Easter or Mother's Day!
Key Lime Cheesecake Bars: If you're a sucker for key lime desserts, these bars will blow your mind!
Easy Chocolate Cheesecake Bars: A million times easier than baking a traditional chocolate cheesecake, but just as delicious.
Blackberry Cheesecake Bars: Fun and fruit! The deep magenta swirl of blackberry makes these bars almost hypnotizing.
Oreo Cheesecake Bars: If you love Oreo cheesecake but need to easily serve a crowd, these are the bars for you!
Butterfinger Cheesecake Brownies: Nobody better lay a finger on my Butterfinger… CHEESECAKE BROWNIES!
Easy Pecan Pie Cheesecake Bars: These are over the top in the best way possible. Perfect for Thanksgiving dessert!
Pumpkin Pie Cheesecake Bars: Skip the pumpkin pie and bake these ultra creamy pumpkin cheesecake bars instead!
White Chocolate Raspberry Cheesecake Brownies: Aka the most indulgent over-the-top brownie recipe you'll ever bake!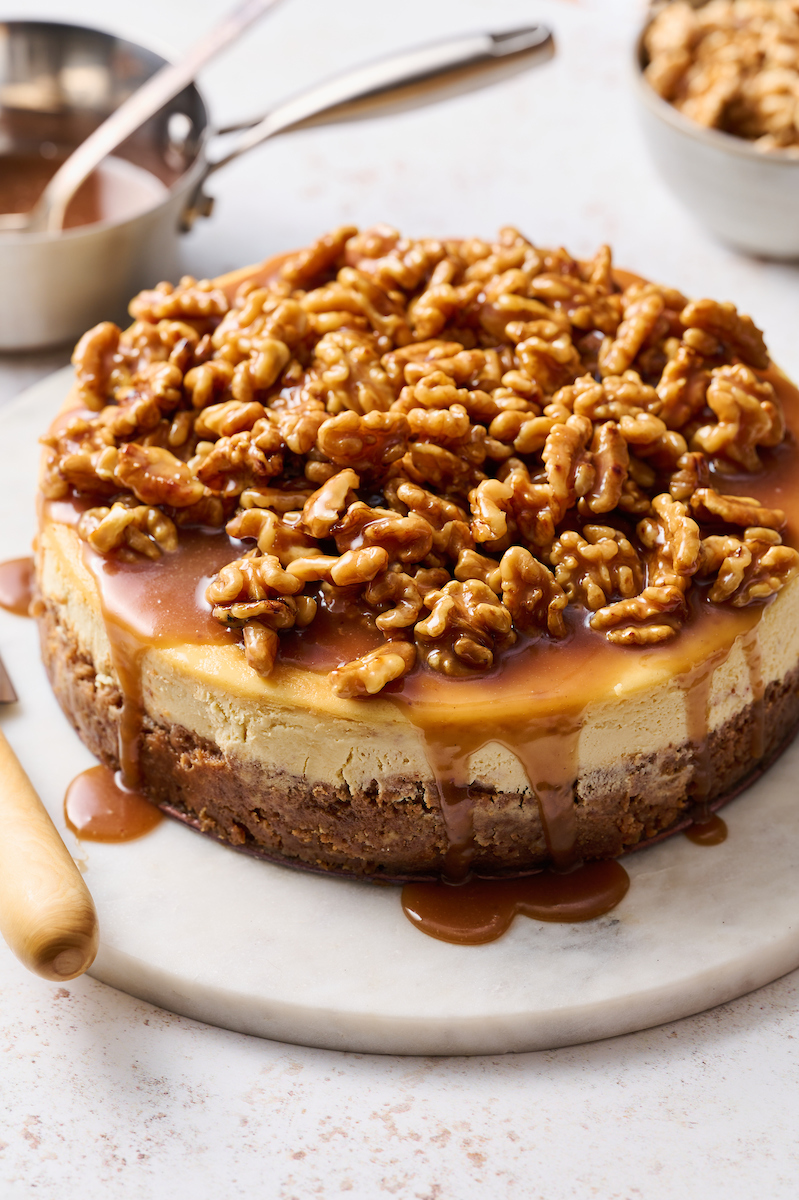 Holiday Cheesecake Recipes
Pecan Pie Cheesecake: Everyone in my family agrees pecan pie cheesecake is a million times better than regular pecan pie. Try it for yourself and let me know if you agree!
Orange Ricotta Cheesecake: Topped with a STUNNING fresh cranberry sauce… this recipe just screams Christmas!
Maple Walnut Cheesecake: Perfect for cozy Fall days… this one will make your house smell better than any scented candle ever will. If you're allergic to walnuts, make an apple topping and viola: you'll have maple apple cheesecake! So delicious.
Classic Pumpkin Pie Cheesecake: Pumpkin puree and plenty of pumpkin spice really punch up the pumpkin flavor!
Orange Mascarpone Cheesecake with Chocolate Ganache: If you're not a fan of chocolate and orange… you will be after trying this cheesecake! A real showstopper, too.
Salted Caramel Eggnog Cheesecake: Your solution to "what should I do with all of this eggnog?". The caramel sauce is divine!
Greek Yogurt Pumpkin Pie Cheesecake: Another great recipe if you're looking to use up leftover Greek yogurt. Loaded with pumpkin flavor!
Lemon Ginger Cheesecake with Raspberry Sauce: Definitely the prettiest cheesecake I've ever seen. The pop of ginger is subtle, unexpected, and absolutely delicious.
No-Bake Peppermint Mocha Cheesecake: Your favorite holiday latte… in cheesecake form!
Pumpkin Cheesecake: A true classic! And perfect for Halloween, Thanksgiving, or Christmas.
[adthrive-in-post-video-player video-id="hhB0ctVb" upload-date="2020-03-26T20:33:47.000Z" name="Extra Rich and Creamy Cheesecake" description="This extra rich and creamy cheesecake is freezer friendly and so delicious! Perfect for special occasions!" player-type="default" override-embed="default"]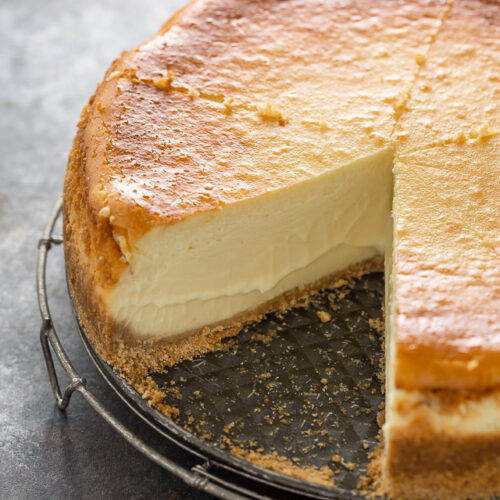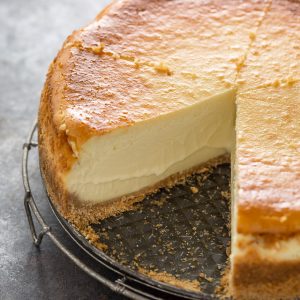 Cheesecake Recipe: Extra Rich and Creamy Cheesecake
This Extra Rich and Creamy Cheesecake is freezer friendly and perfect for special occasions! 
Ingredients
For the Crust:
2 cups (198 grams) graham cracker crumbs
1/3 cup (67 grams) sugar
7 tablespoons (99 grams) butter, melted
For the Creamy Cheesecake:
5 blocks of full-fat cream cheese (40 ounces total), softened to room temperature
1 and 1/2 cups (300 grams) granulated sugar
2 teaspoons pure vanilla extract
5 large eggs plus 3 egg yolks, at room temperature
1/2 cup (113 grams) heavy cream
Instructions
For the Crust:
Preheat oven to 350 degrees (F). Lightly spray a 9" springform pan with non-stick spray.

Wrap the bottom and sides of the pan with heavy duty tinfoil. I recommend doing several diligent layers here to ensure no water creeps through when you place the pan in the water bath. Set pan aside. 

In a large bowl, combine graham cracker crumbs, sugar, and melted butter; stir well to combine. Firmly pat the mixture into the prepared pan.

Bake in preheated oven for 8 minutes. Place partially baked crust on a cooling rack and set aside while you prepare the filling. 
For the Creamy Cheesecake Filling:
In the body of a high power blender, food processor, stand mixer fitted with the whisk attachment, or in a very large bowl using a hand held mixer, beat the softened cream cheese until completely smooth, scraping the bowl as needed. 

Add sugar and vanilla and beat smooth, scraping down the sides and bottom of bowl as needed. Add in the eggs and yolks, one at a time, beating well after each addition. 

Add in the cream and beat until it's just incorporated in the batter. 

Pour filling into prepared crust and, using a silicone spatula, smooth the top. 

Place the cheesecake pan into a large, deep pan. Fill the pan with 2 inches of hot water. This is your water bath and will help ensure your cheesecake comes out crack free.

Carefully place the pan in the oven and bake for 1 hour and 10 minutes. Turn oven off and let the cheesecake sit, undisturbed, for 45 minutes, inside the oven with the door shut. The cheesecake should be still slightly wiggly.

Remove cake from oven and gently run a knife very around the edge of the cake. Place the cheesecake pan on a cooling rack and cool completely, then loosely cover the pan with saran wrap and chill for at least 8 hours.

Cheesecake will keep, covered in the fridge, for 5 days. Cheesecake may be frozen for 2 months. Thaw overnight before slicing.