Craving some chocolatey goodness? You're in the right place. This collection of 60 decadent chocolate desserts is a chocolate lovers dream come true!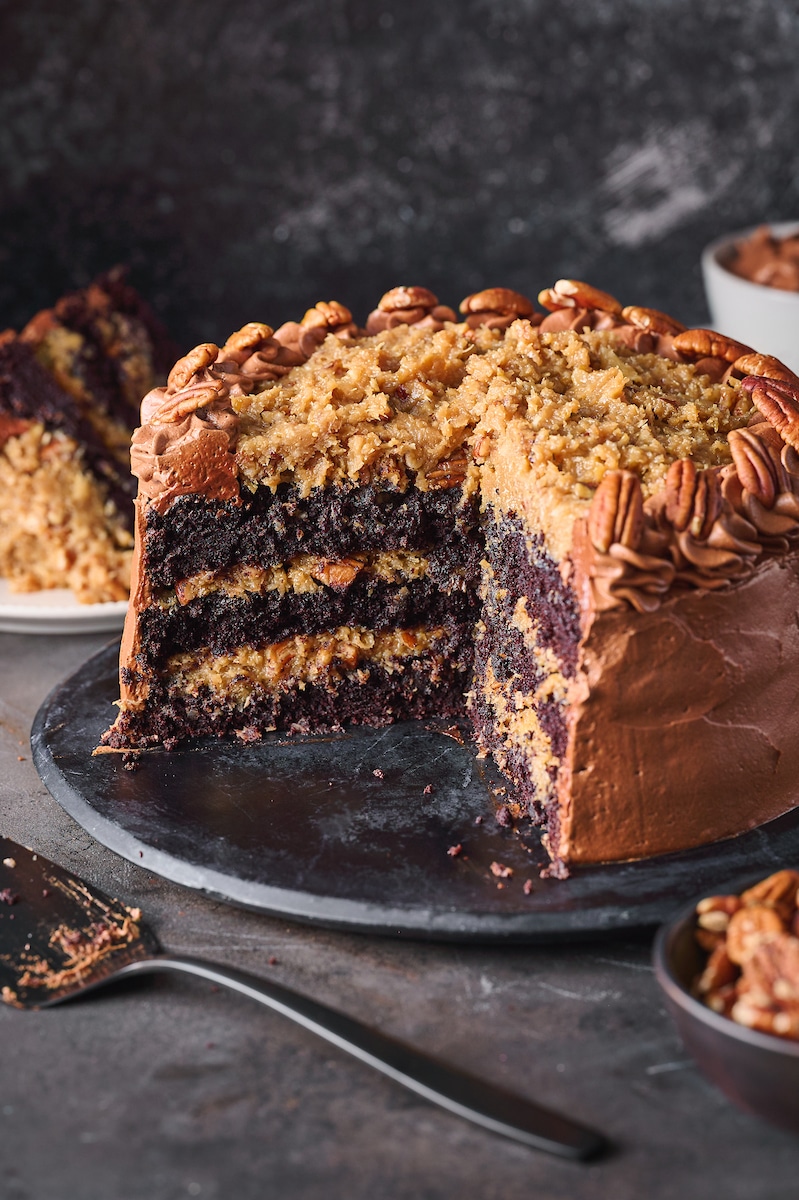 Best Chocolate Dessert Recipes
Chocolate lovers, welcome to paradise! Here you'll find every chocolate dessert recipe your heart desires… and possibly discover some new favorite chocolate desserts you didn't even know existed.
From over-the-top chocolate indulgences like death by chocolate cake to creamy peanut butter pie and everyday chocolate chip cookies. And it wouldn't be a true celebration of chocolate without brownies, so we've included some of our top best brownie recipes, too. Whether you're looking to bake something for a birthday party or whip up a romantic dessert for two, these delicious chocolate desserts have you covered.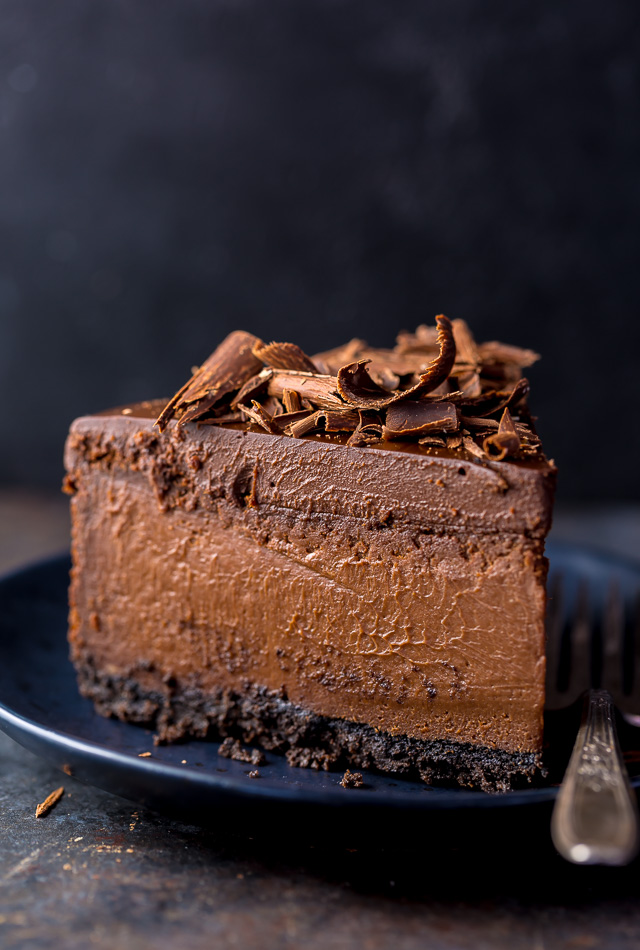 Ultimate Chocolate Cheesecake
If you've been searching for the perfect chocolate cheesecake, here it is! Covered in chocolate ganache and topped with chocolate curls, it's sure to steal your chocolate loving heart.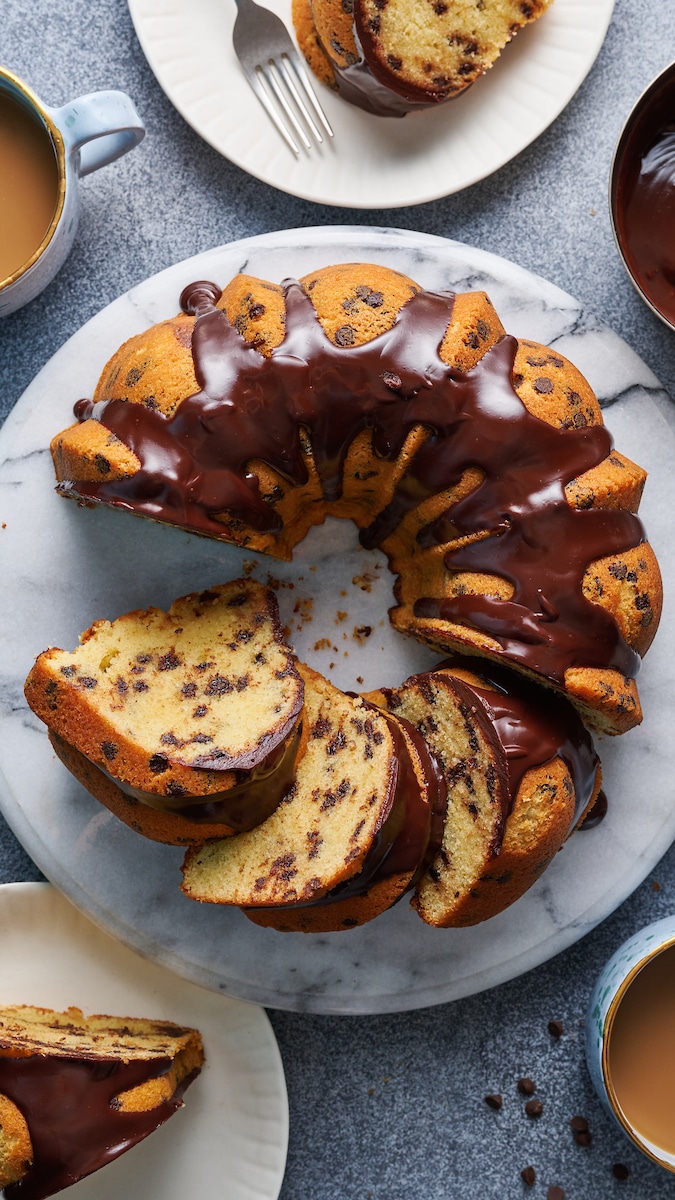 Chocolate Chip Bundt Cake
Loaded with chocolate chips and topped with chocolate glaze, this bundt is loved by kids and adults!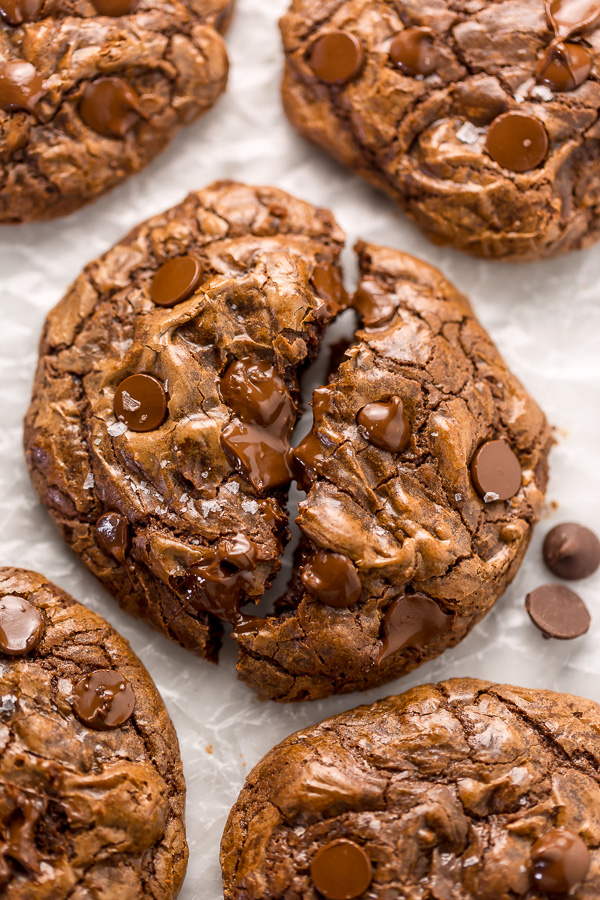 Soft Batch Double Chocolate Fudge Cookies
What's better than chocolate chip cookies? DOUBLE CHOCOLATE FUDGE COOKIES! These are rich in chocolate flavor and make a delicious base for ice cream sandwiches. Simply stuff with vanilla ice cream!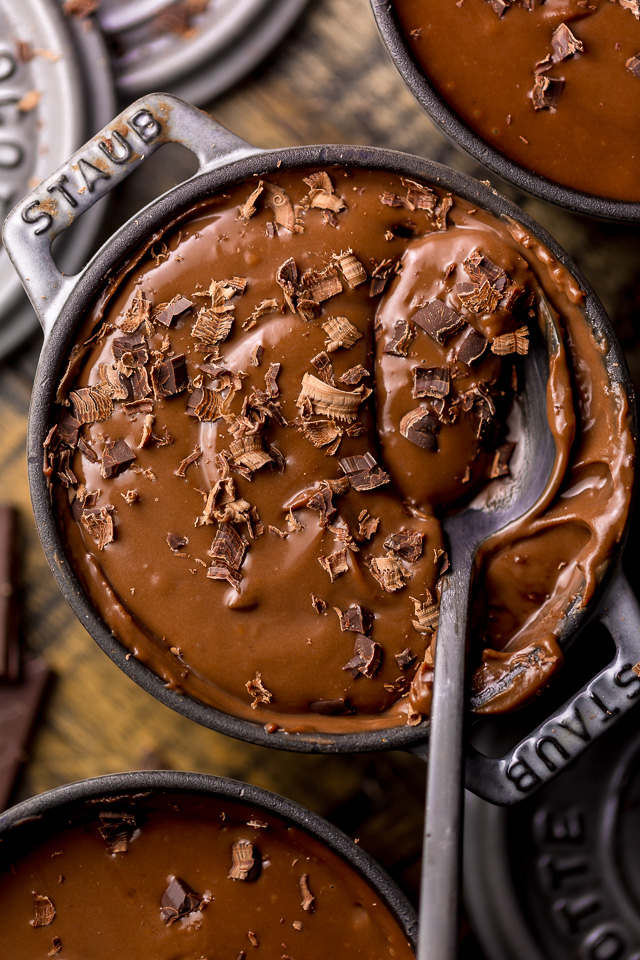 Baileys Irish Cream Chocolate Pudding
The only thing that can improve classic chocolate pudding? A hearty splash of baileys Irish cream! These sweet little puds are perfect for St. Patrick's Day parties!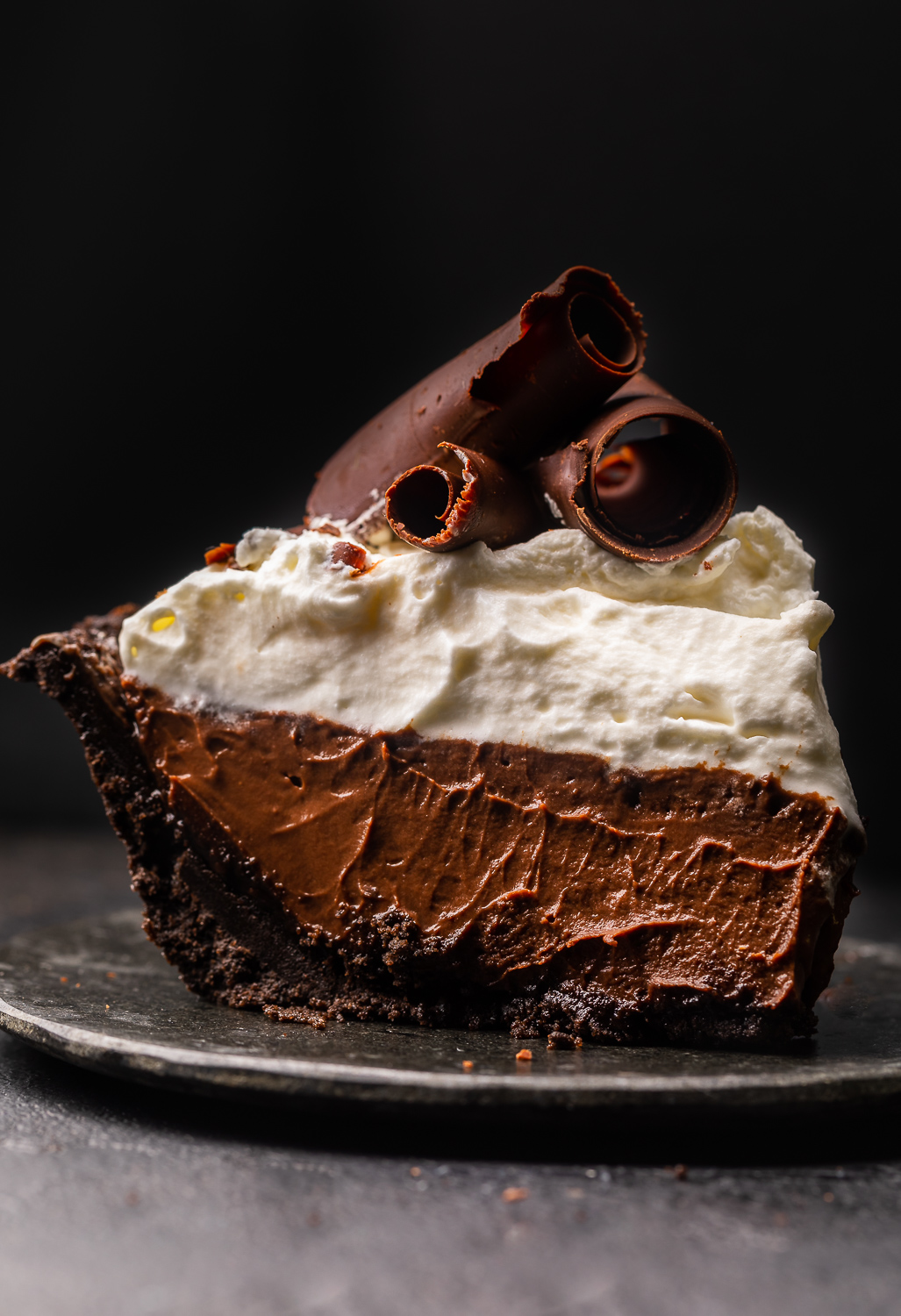 No-Bake Espresso Chocolate Pudding Pie
Three cheers for no-bake desserts! This one is ultra rich, creamy, and decadent. Sure to become your go-to chocolate pudding pie.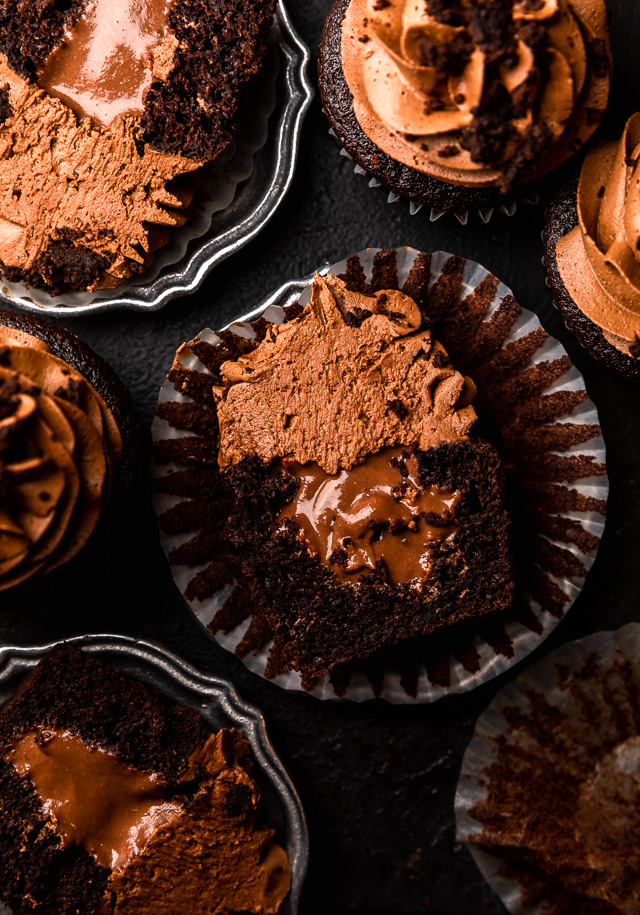 The Best Brooklyn Blackout Cupcakes
No other chocolate cupcake can compare! These are ultra moist, stuffed with chocolate pudding, topped with chocolate frosting, and chocolate cake crumbs. So good you might cry!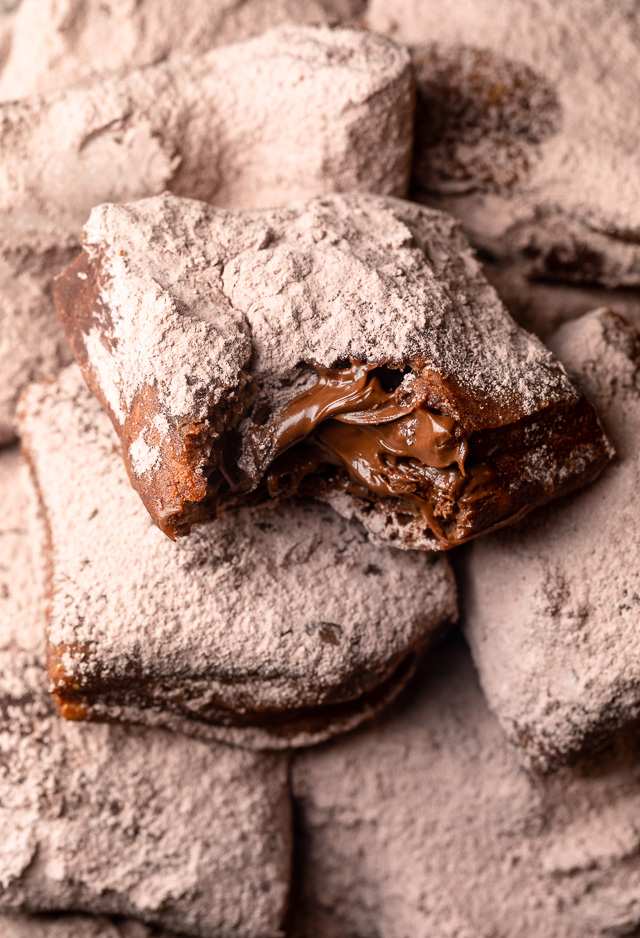 Chocolate Beignets
The only thing better than classic beignets? CHOCOLATE BEIGNETS! Perfect for Mardi Gras or an indulgent weekend brunch.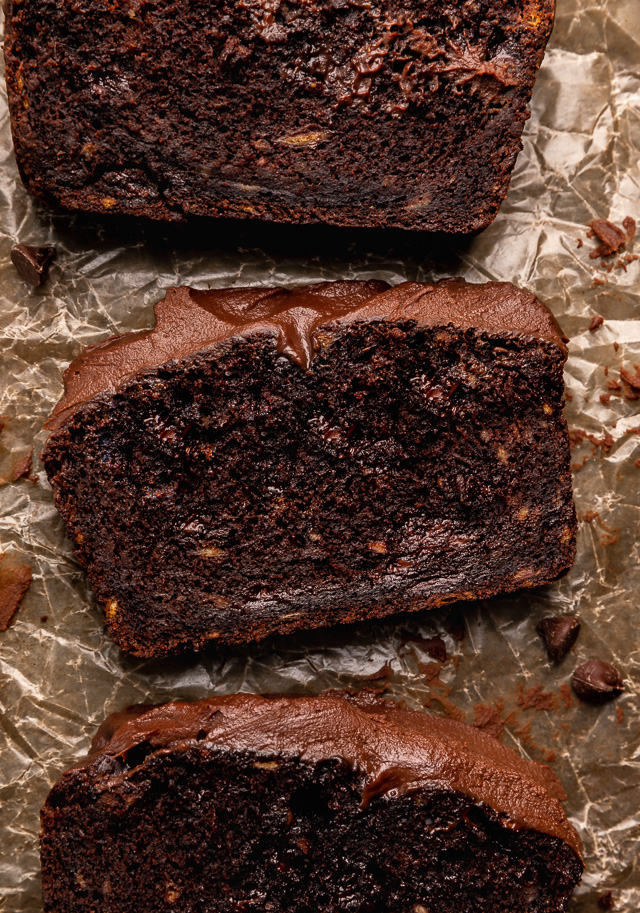 Chocolate Banana Cake with Espresso Fudge Frosting
Bye bye, boring banana < hello, double chocolate banana cake!!! Next time you have overly ripe bananas sitting around, treat yourself to this recipe.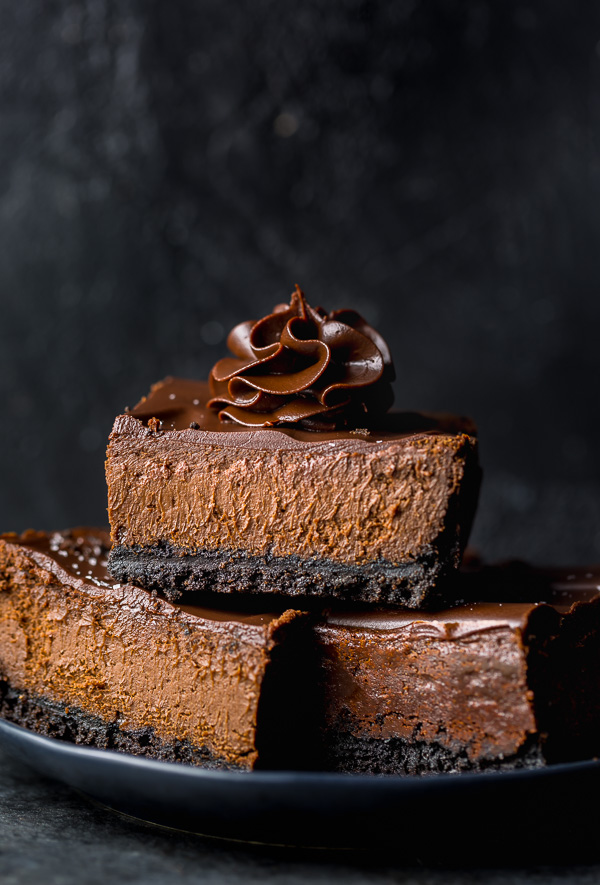 Easy Chocolate Cheesecake Bars
Serving a crowd of chocolate lovers? These sophisticated chocolate cheesecake bars are the perfect dessert! Top the swirls of chocolate ganache with fresh raspberries for an extra special treat.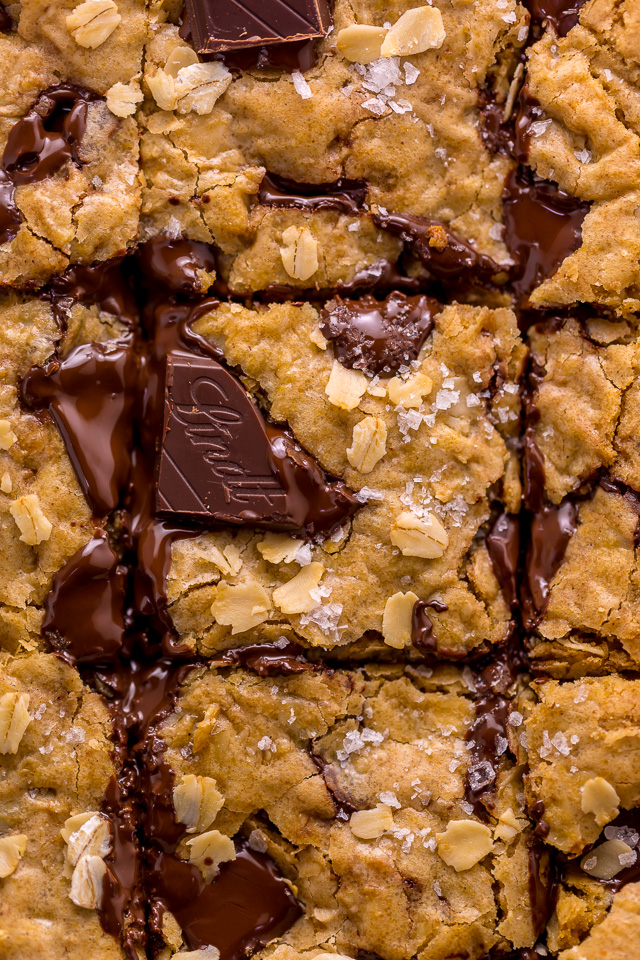 Chocolate Chunk Oatmeal Cookie Bars
Perfect for potlucks, picnics, or bake-sales! Big chunks of gooey chocolate on top make these oatmeal bars essentially irresistible!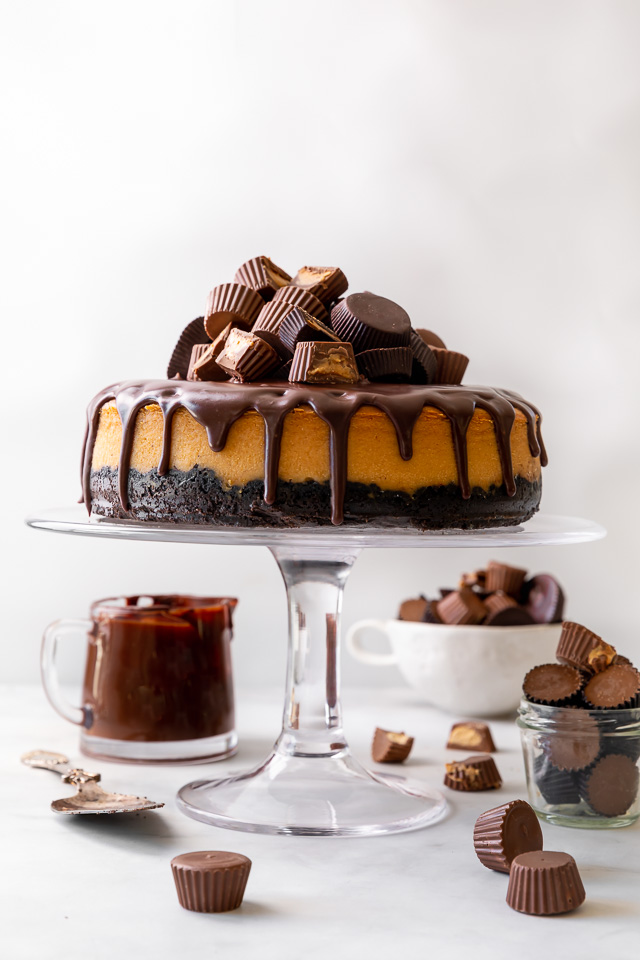 Chocolate Covered Peanut Butter Cheesecake
Chocolate and peanut butter team up to create the most decadent cheesecake! Kids and grownups go crazy over this showstopper!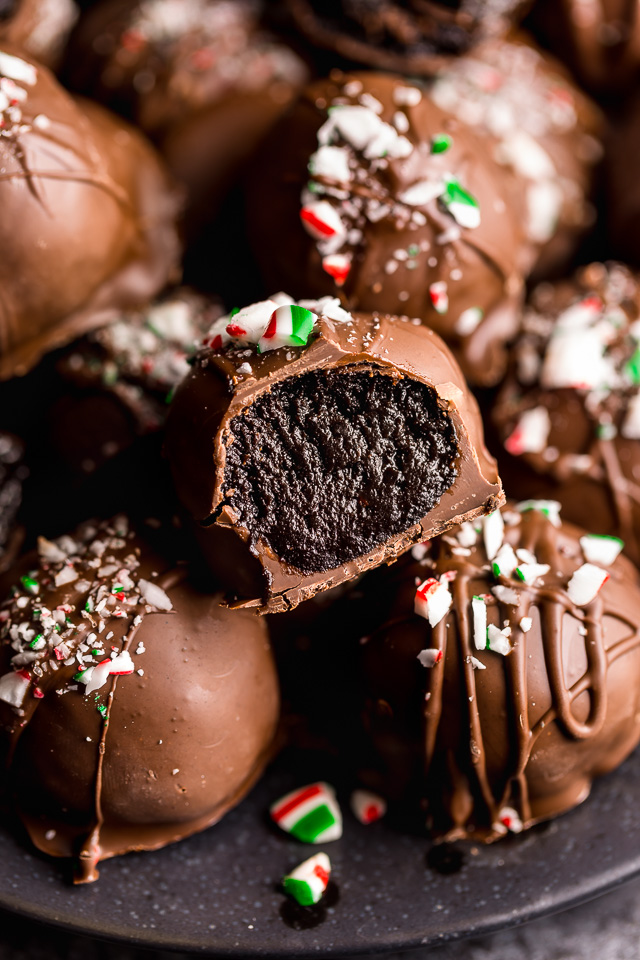 Peppermint Oreo Truffles
Everyones favorite sandwich cookie gets crushed up and rolled into truffles… then dunked in chocolate and sprinkled with candy canes! These homemade treats are equally festive and delicious.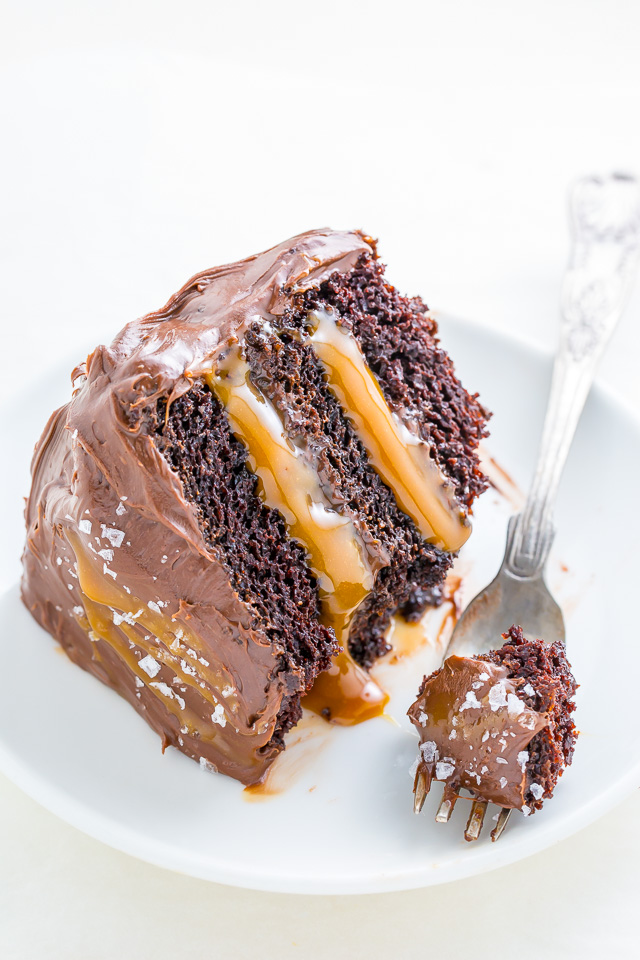 Salted Caramel Chocolate Cake
Here's what one reviewer had to say about this cake: Cyndi Kroner says "
This cake is by far the biggest crowd pleaser, even those who don't like chocolate or sweets in general. Everyone raves about this cake!!! Thanks for the recipe!"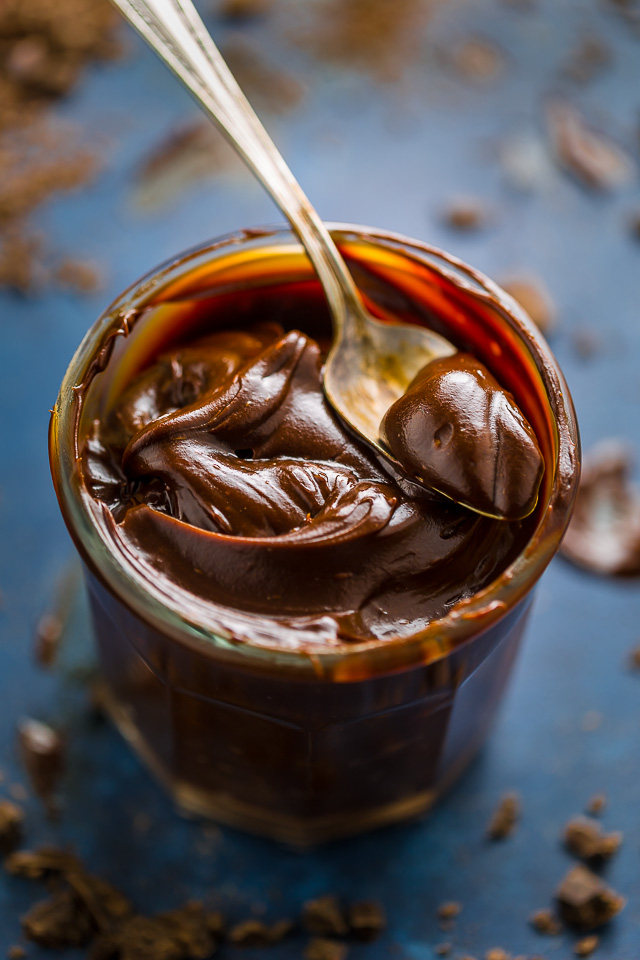 Chocolate Caramel Fudge Sauce
Hot fudge is always a good idea! Delicious on ice cream, strawberries, pancakes… or just by the spoonful!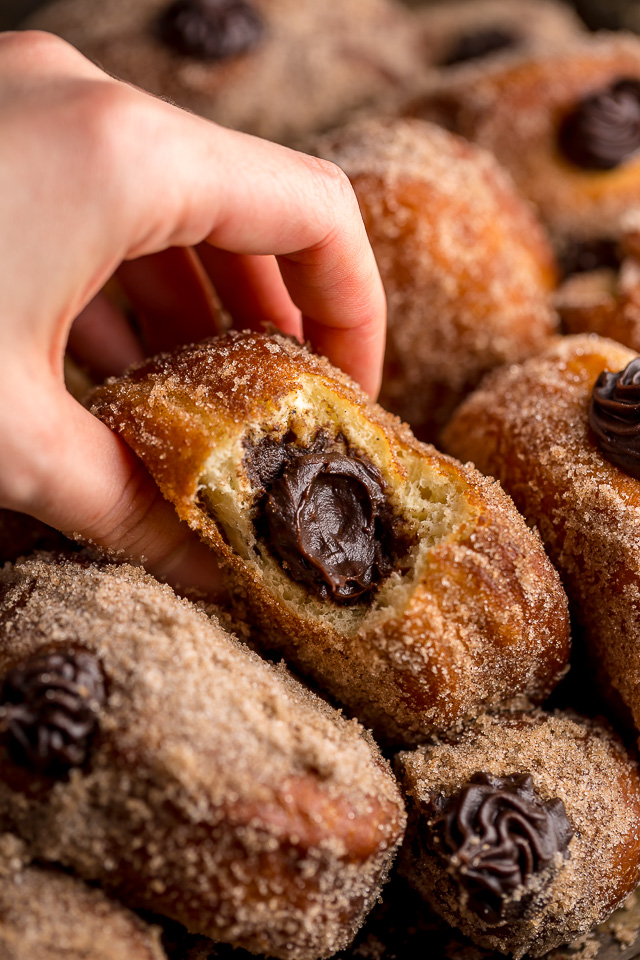 Chocolate Hazelnut Cream Doughnuts
Inside these fluffy cinnamon sugar doughnuts is a rich creamy chocolate ganache that's to-die-for! A fun weekend breakfast treat the whole family will love.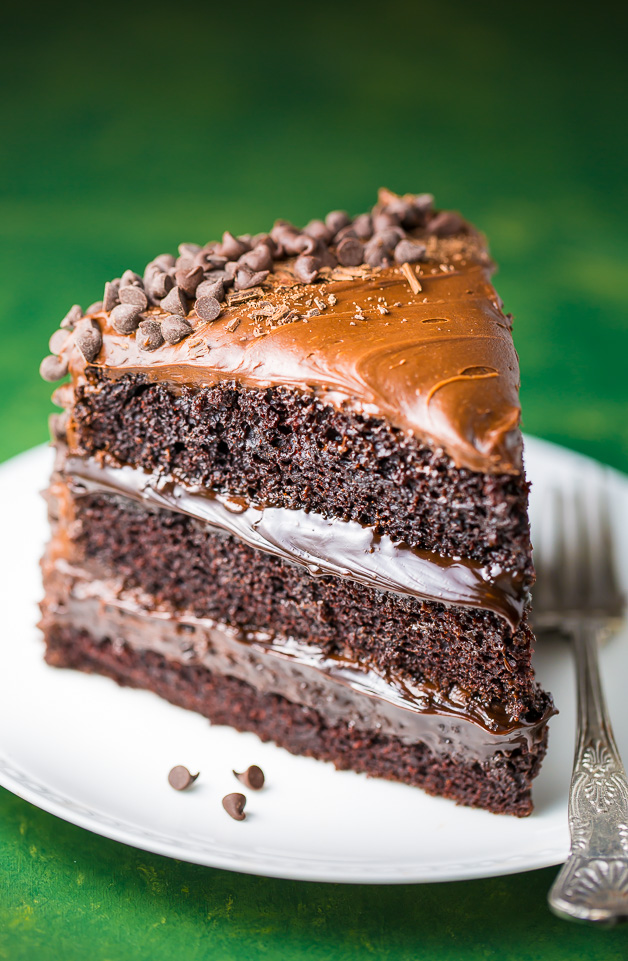 Death by Chocolate Cake
This cake lives up to its name! Featuring three layers of chocolate cake, chocolate hot fudge sauce, and chocolate buttercream… plus mini chocolate chips for decor!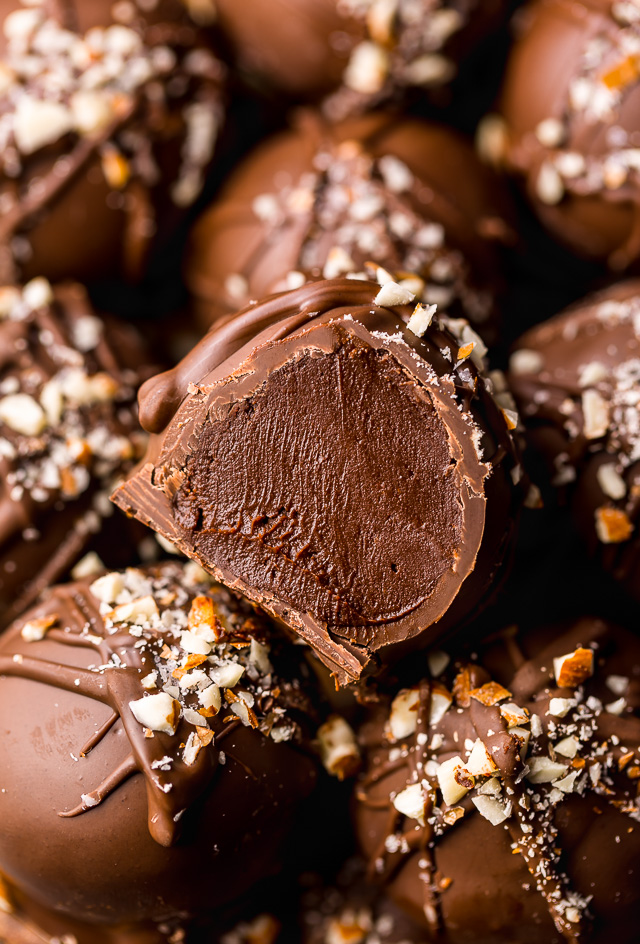 Easy Amaretto Chocolate Truffles Recipe
Nothing says "I love you" like chocolate truffles! Creamy, crunchy, and boozy, these are dangerously delicious.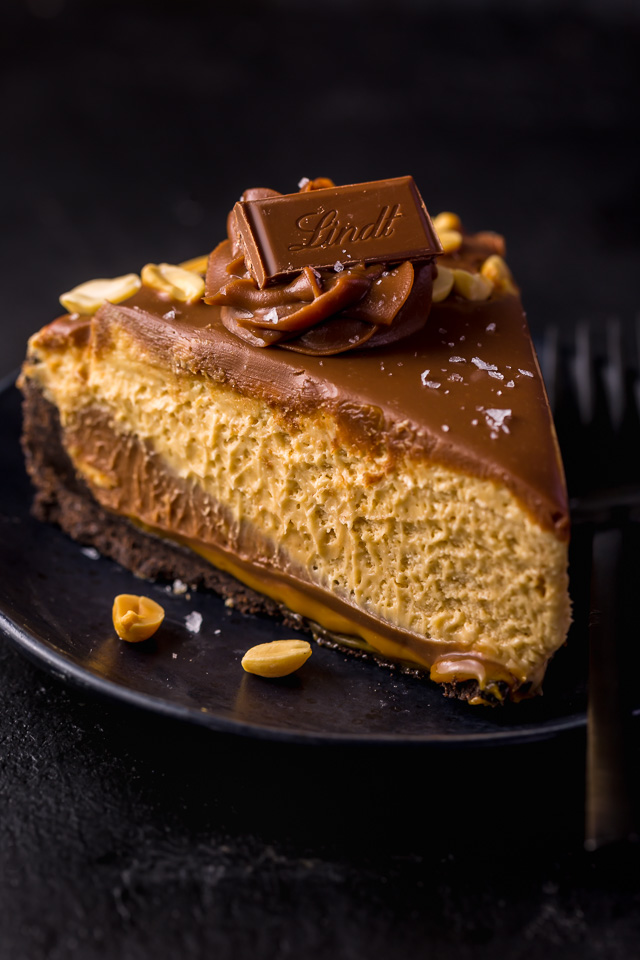 Creamy Milk Chocolate Peanut Butter Pie
Chocolate and peanut butter are the ultimate flavor power couple! This pie is always the most popular dessert I serve at Thanksgiving! And no baking is required.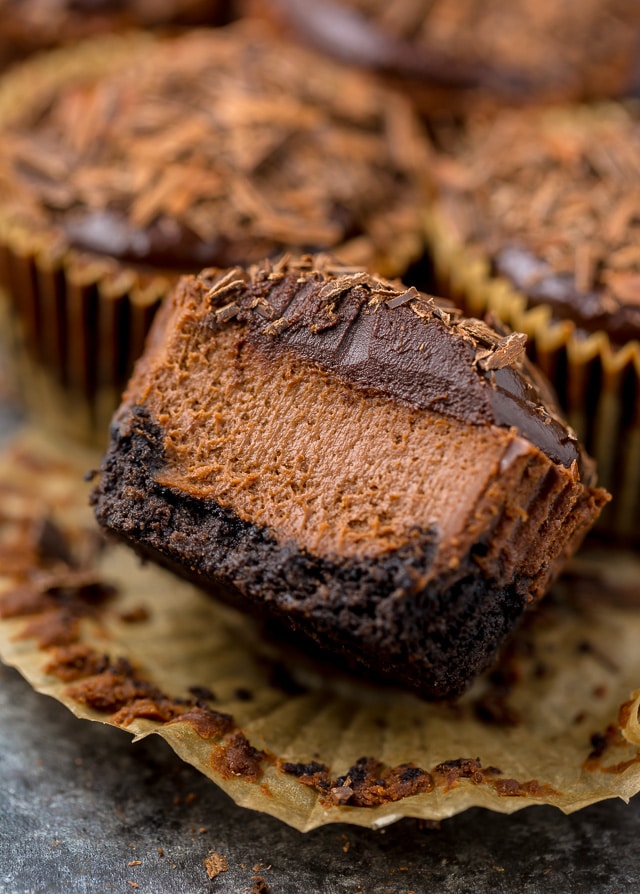 Mini Chocolate Cheesecakes
Don't let their tiny size fool you… these mini cheesecakes pack a ton of rich chocolate flavor in every bite.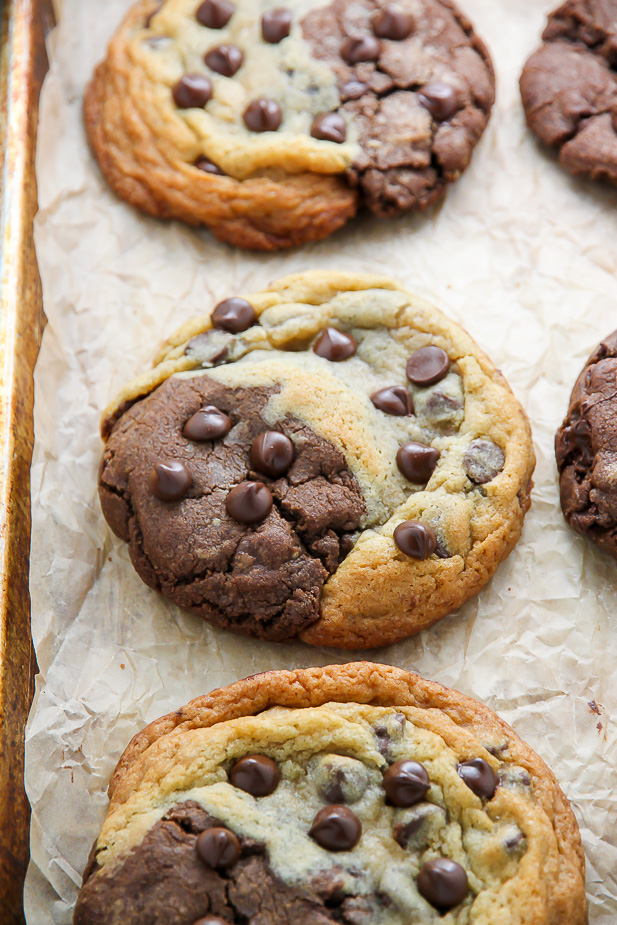 Brookies
When you can't decide between brownies and chocolate chip cookies… you make brookies! Half classic chocolate chip cookie and half brownie cookies, these are truly the best of both worlds!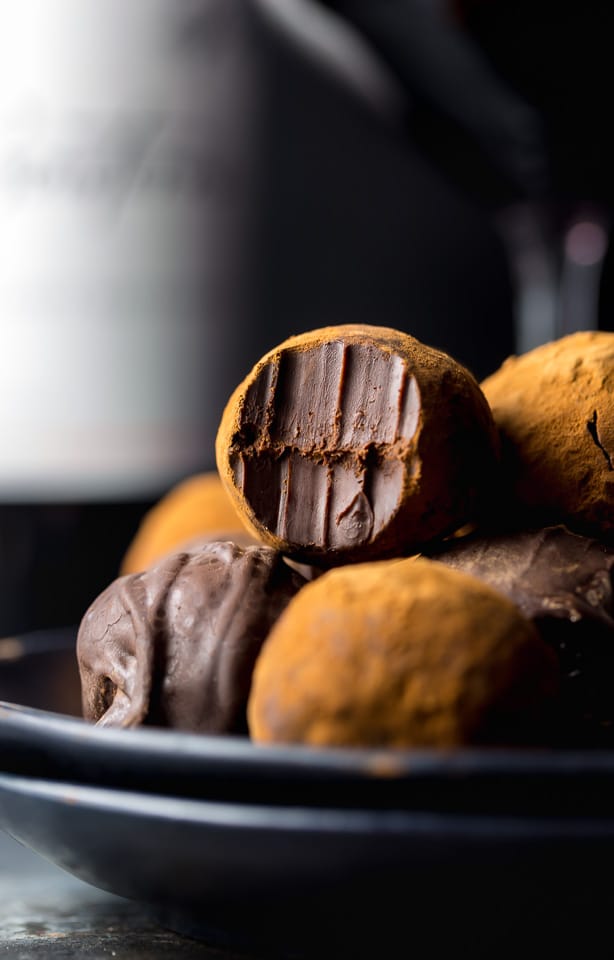 Red Wine Chocolate Truffles
Inspired by two of my all-time indulgences: chocolate and red wine! These truffles are rich, creamy, and rolled in cocoa powder for an extra chocolate kick. It's hard to eat just one!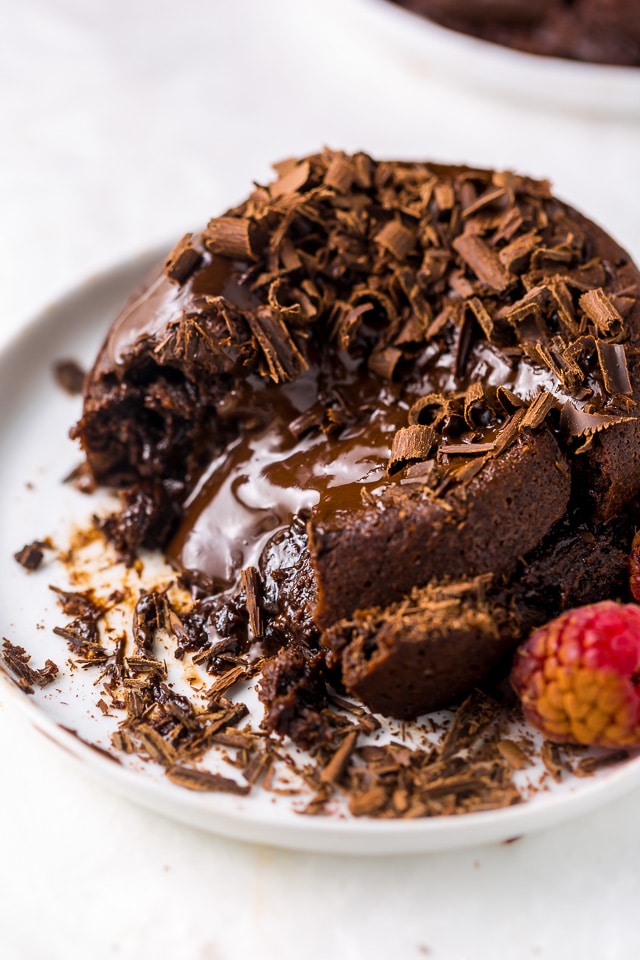 Easy Molten Chocolate Lava Cakes for Two
These mini chocolate cakes are hiding something: a rich, gooey, decadent lava center! The perfect dessert for a romantic date night-in.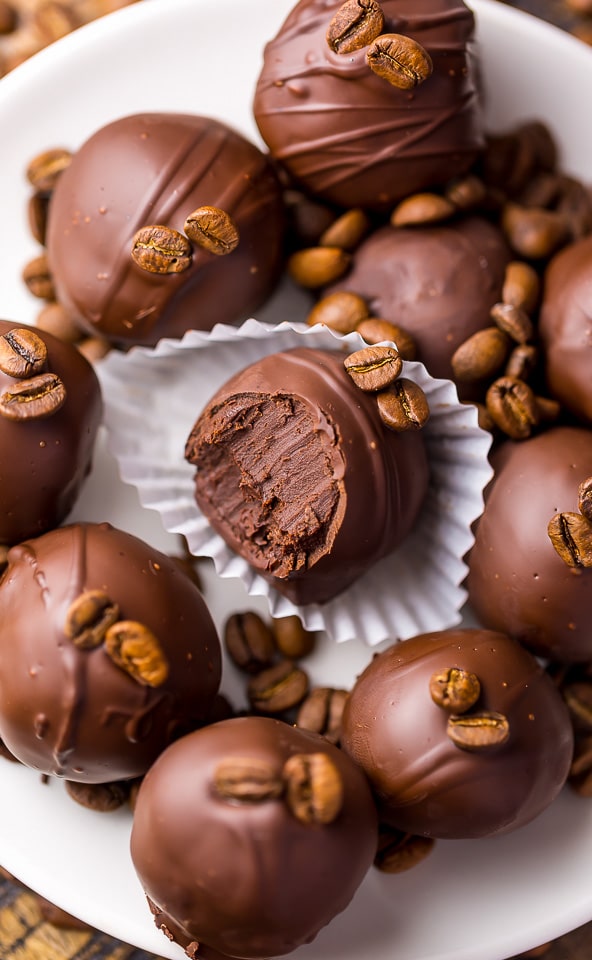 5-Ingredient Espresso Chocolate Truffles
Classic chocolate truffles are good… but espresso chocolate truffles are better! Don't be surprised if people think these are from a fancy candy shop!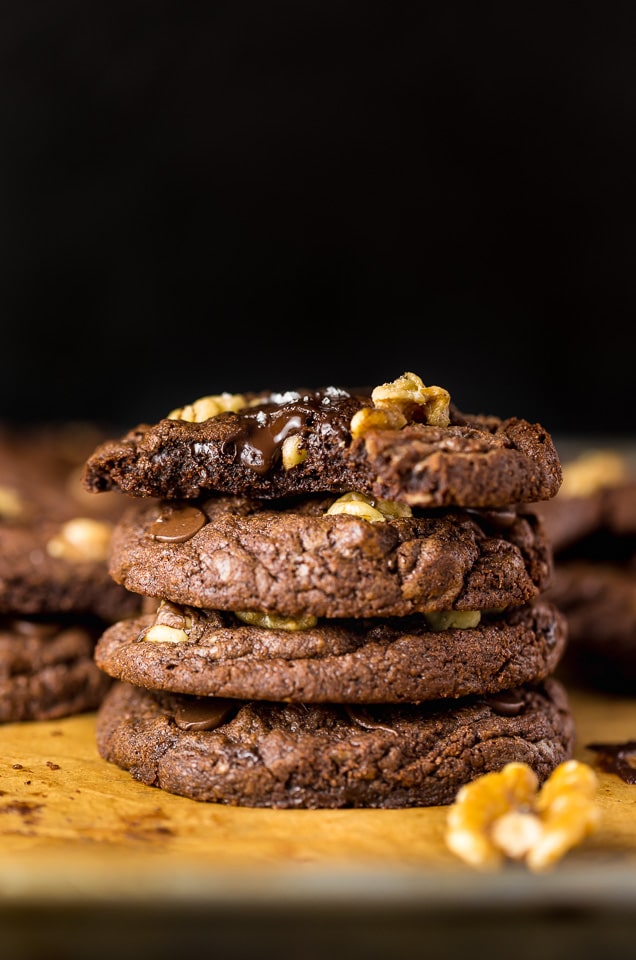 Triple Chocolate Brownie Cookies
Chocolate on chocolate on CHOCOLATE! These cookies make a great addition to holiday cookie trays! Or, use them to make ice cream sandwiches.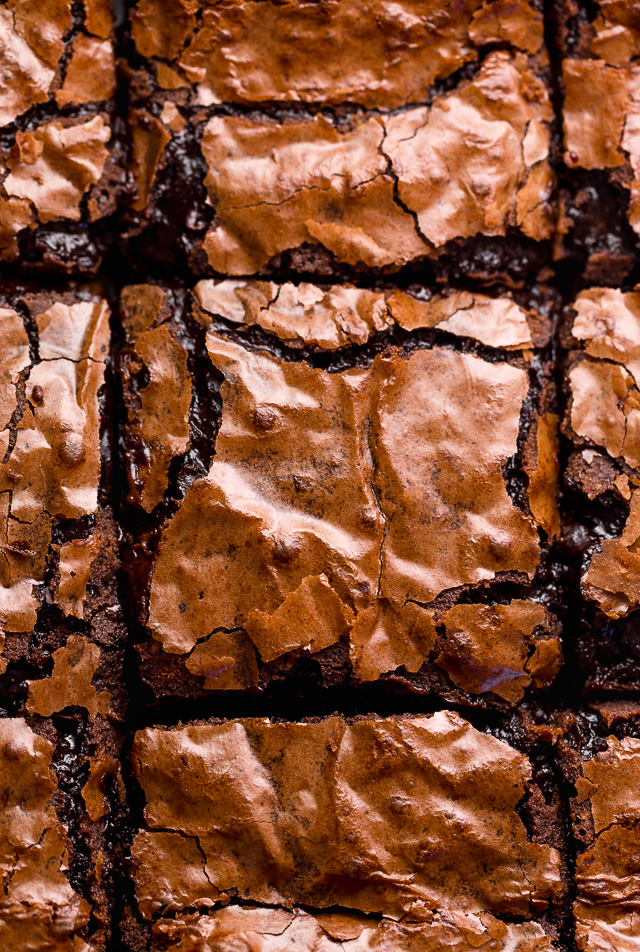 The Best Cocoa Fudge Brownies
Everyone loves a good brownie. And these aren't just good: they're great! This recipe is easy, affordable, and a total crowd-pleaser. It might just be the perfect dessert!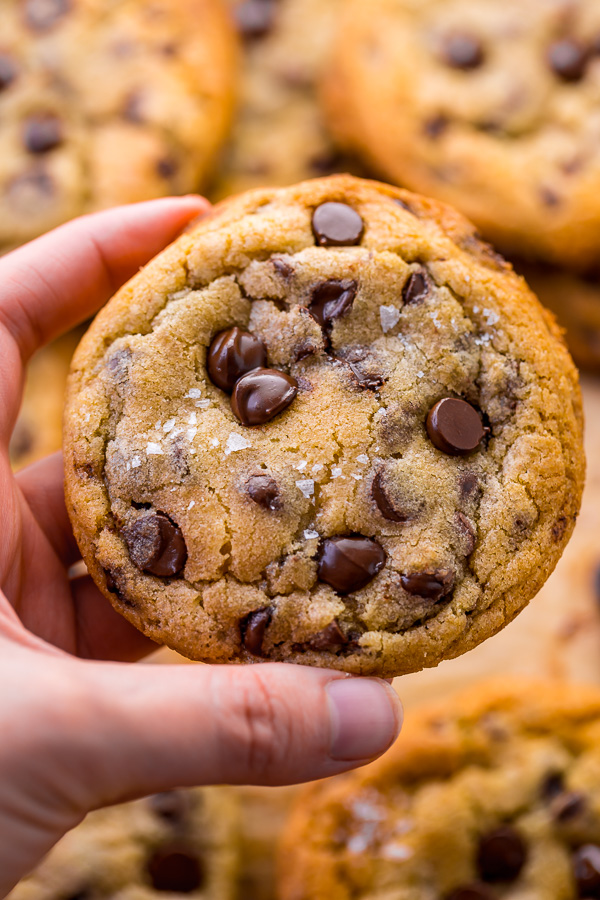 Everyday Chocolate Chip Cookies
Perhaps the most famous chocolate dessert of them all! These classic cookies are made with brown butter, which makes them extra flavorful! For the prettiest cookies, press extra chocolate chips on top as soon as they come out of the oven.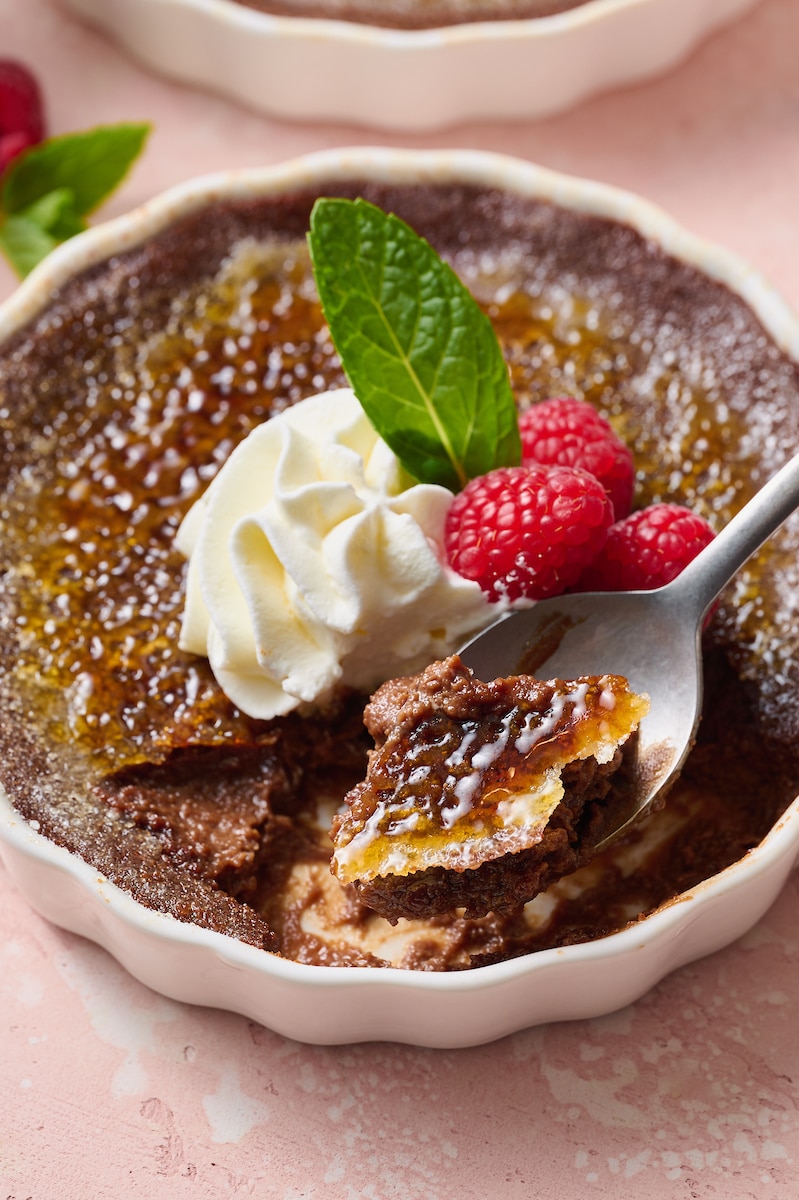 Chocolate Creme Brûlée
Everything you love about Creme Brûlée… but better because chocolate is involved! They're the perfect Valentine's Day dessert.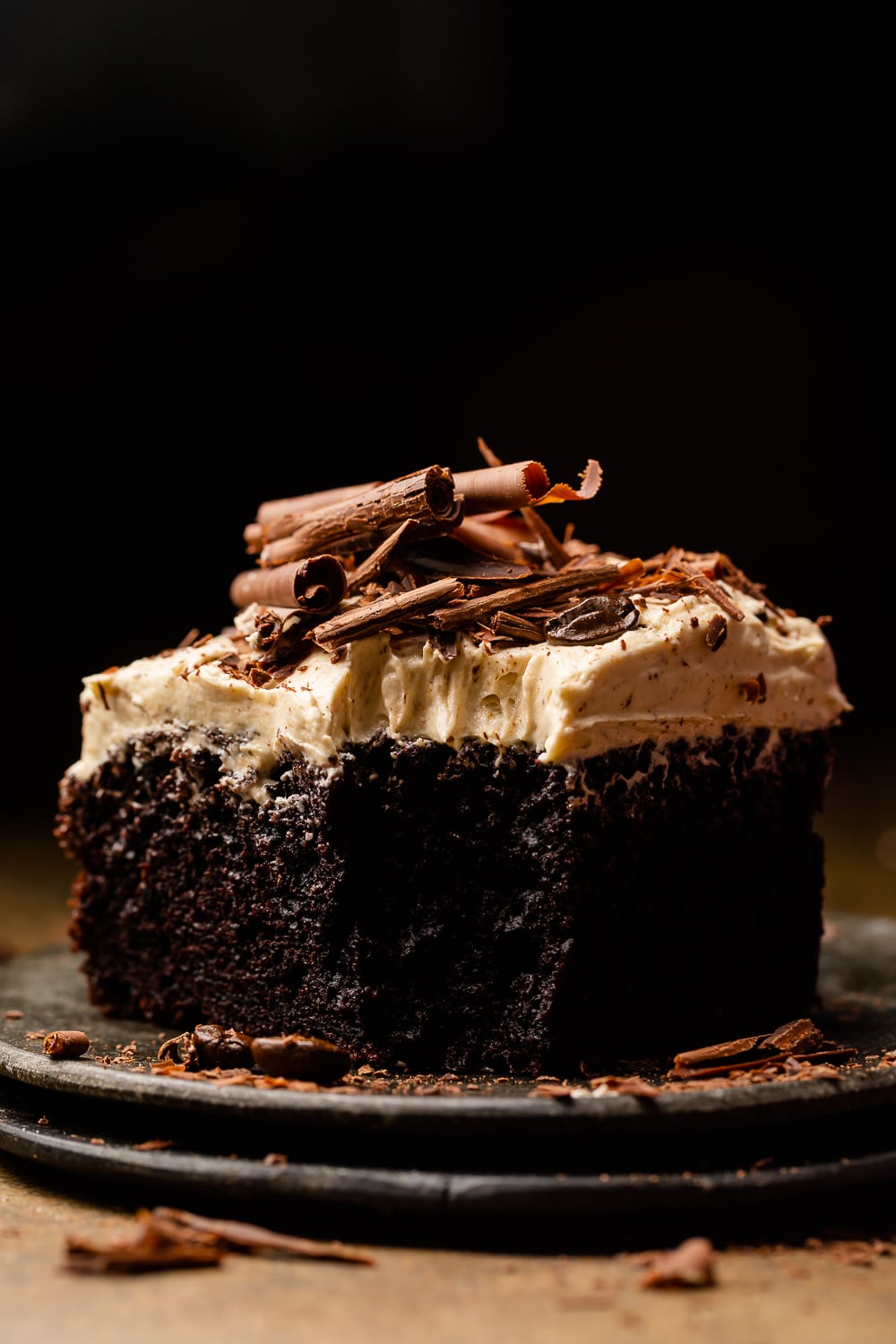 Chocolate Cake with Mocha Buttercream Frosting
If your knees buckle for a good mocha-chocolate dessert, you'll love this sheet cake! The white chocolate mocha buttercream really steals the show!
Triple Layer German Chocolate Cake
Looking for a showstopper dessert sure to earn you a round of applause? This cake will deliver! Three layers of chocolate cake, coconut pecan frosting, and chocolate buttercream, it has a little bit of everything!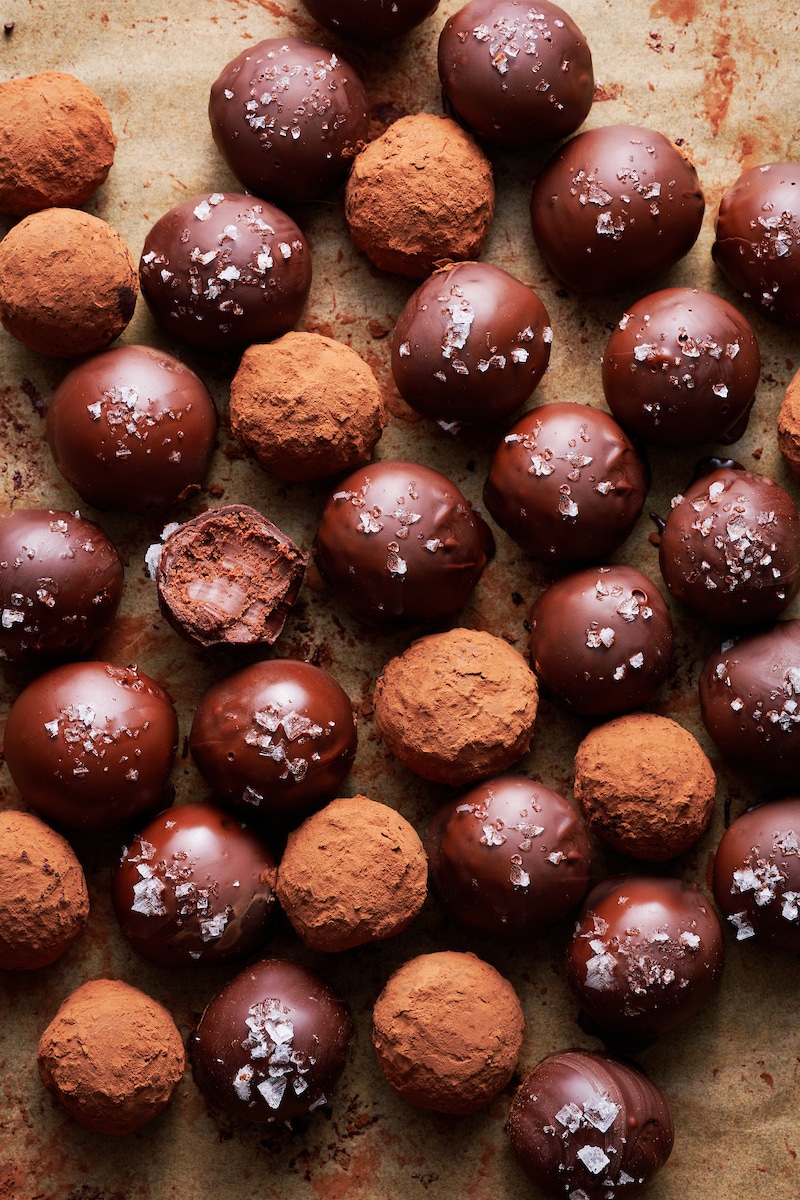 Grand Marnier Truffles
These delectable chocolate truffles are spiked with a hearty amount of Grand Marnier liqueur. One of the best gifts to give the chocoholic in your life!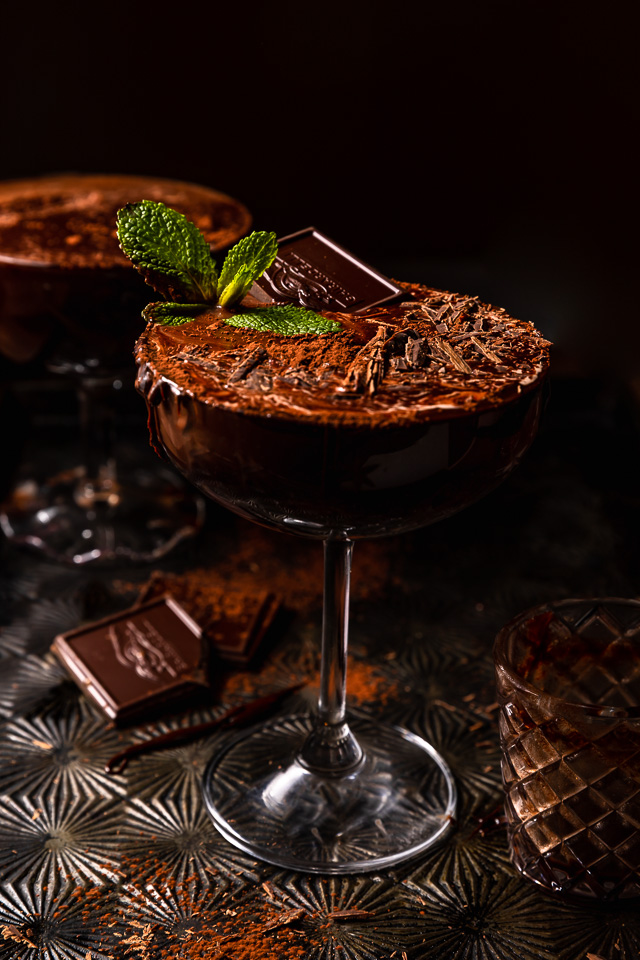 Chocolate Martinis
This fun and fancy chocolate cocktail is so sweet it doubles as dessert! Cheers!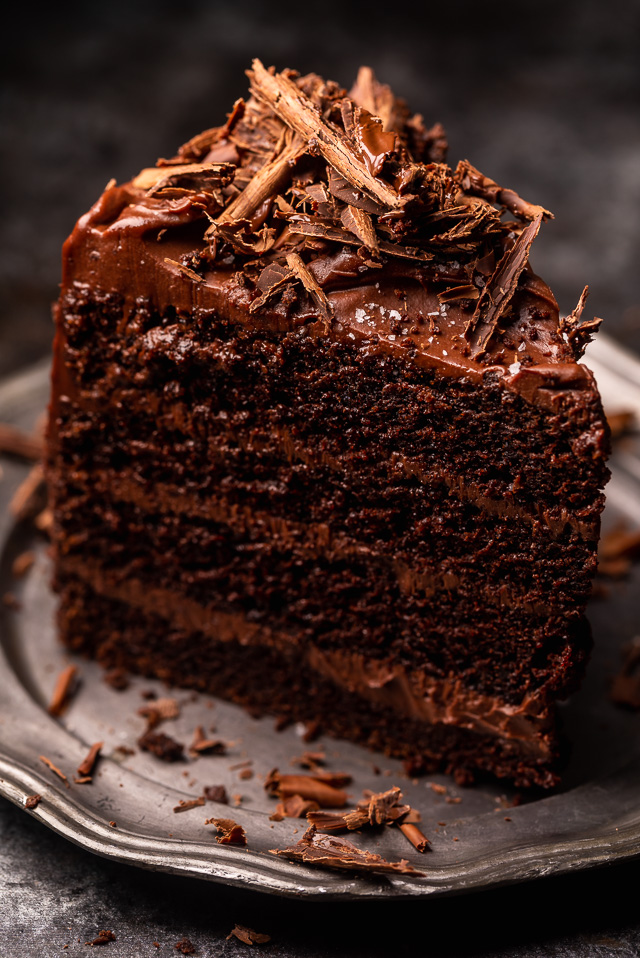 Old-Fashioned Devil's Food Cake
Everyone will be grinning ear to ear when you walk out with this cake! Make this decadent show-stopping cake for all of the special celebrations in your life.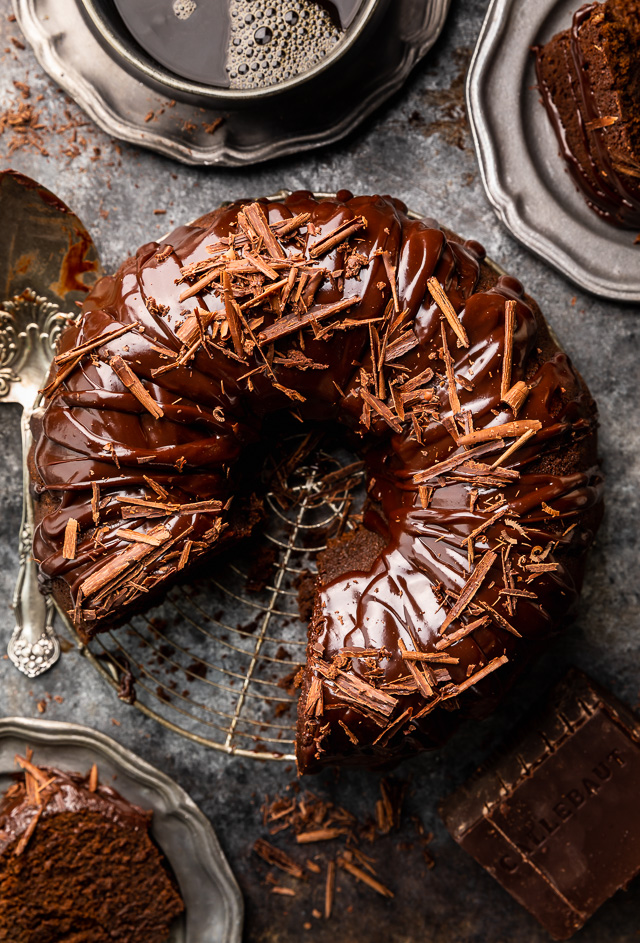 Best Ever Chocolate Bundt Cake
It's everything you love about chocolate cake, but baked in a bundt pan! Intensely chocolatey, this cake stays moist for days on end.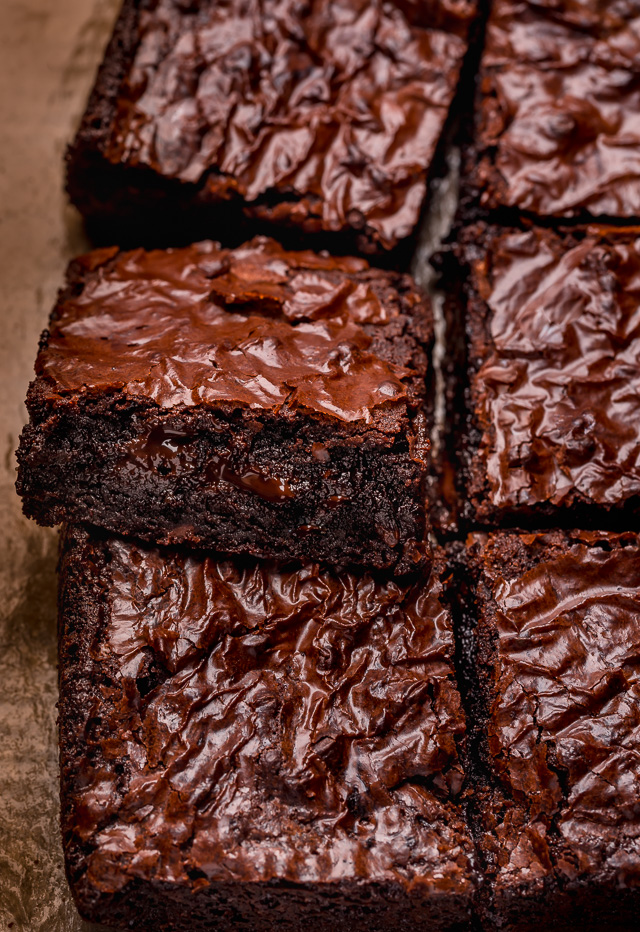 Espresso Chocolate Chunk Brownies
Looking to kick your brownies up a notch? Try adding tons of chocolate chunks and a dash of espresso powder.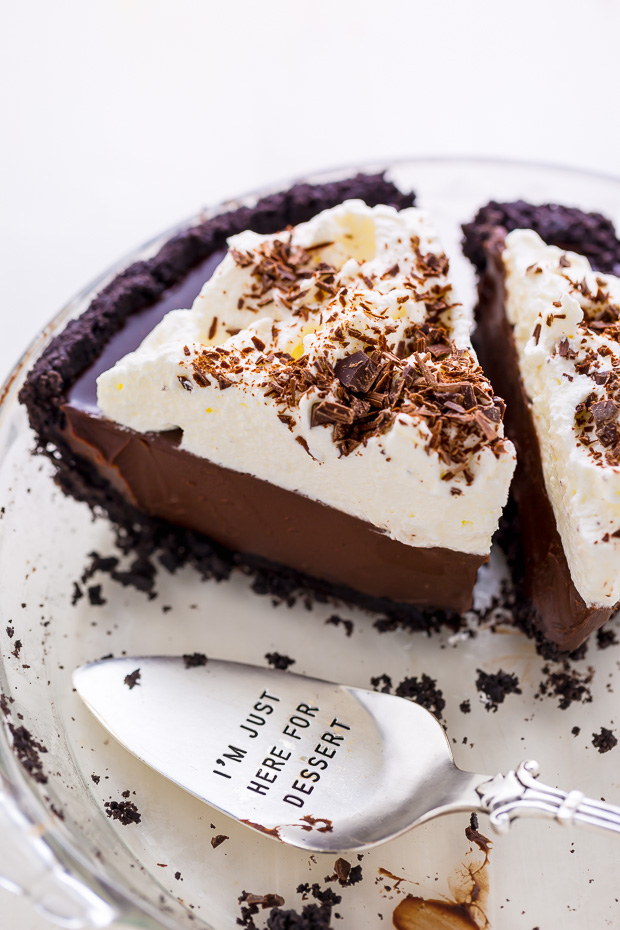 No-Bake Chocolate Cream Pie
A cloud of freshly whipped cream breaks up the richness of this classic pie. Top with raspberries for an extra sweet treat!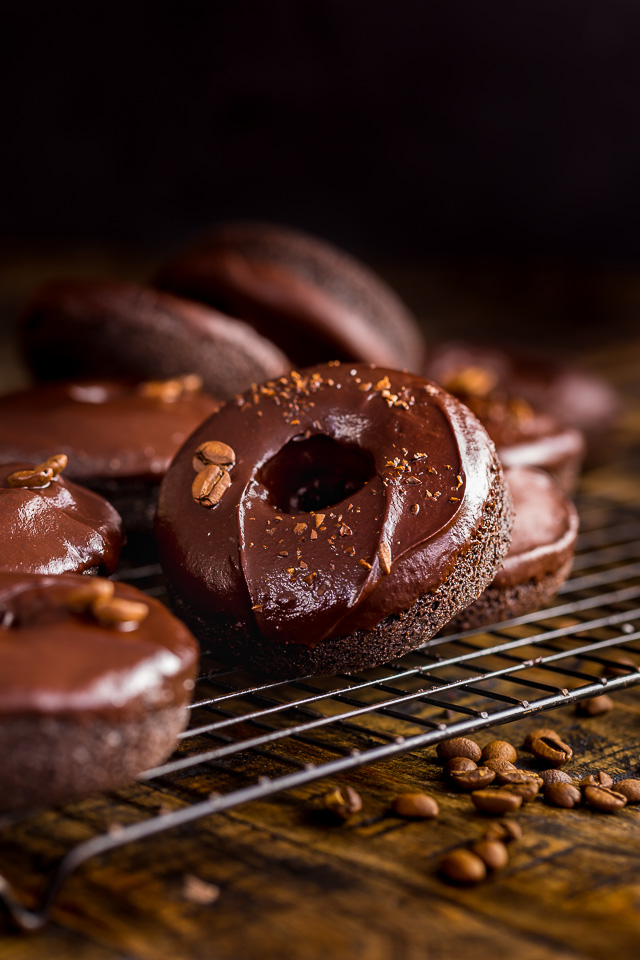 Coffee Lovers Chocolate Cake Donuts
There's not much that beats the classic pairing of coffee and donuts. Except maybe chocolate cake coffee donuts!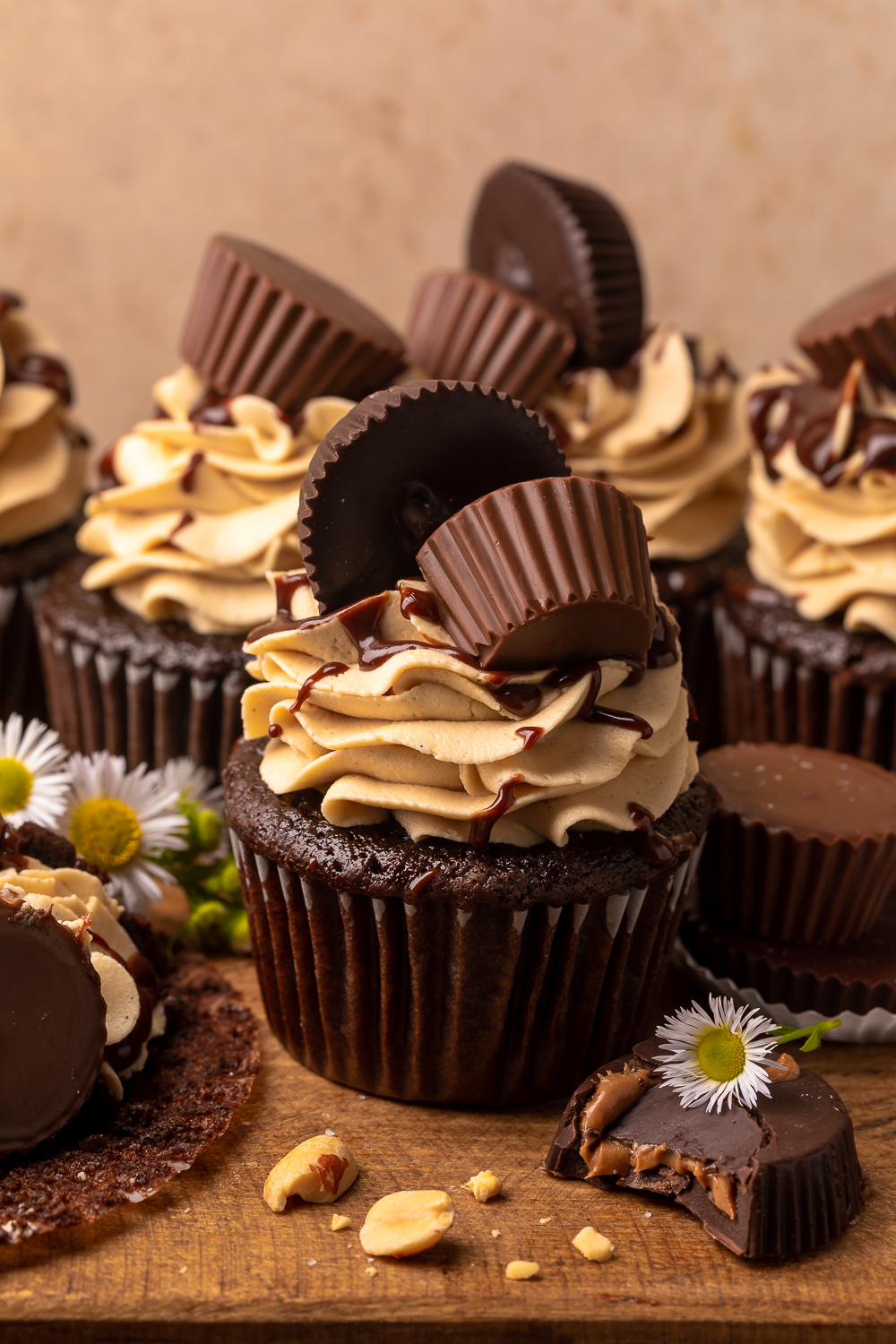 Ultimate Chocolate Peanut Butter Cupcakes
Looking to wow your guests? You can't go wrong with these show-stopping cupcakes! Save some extra peanut butter cups and peanut to garnish the frosting.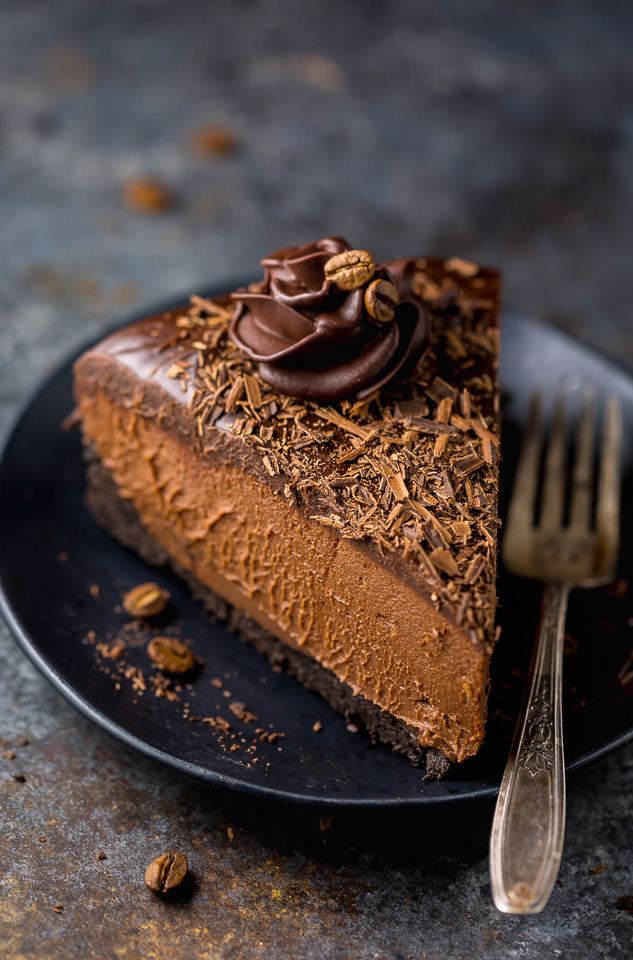 No-Bake Espresso Chocolate Cheesecake
Looking for a sophisticated and elegant dessert for your next dinner-party? This is the perfect choice! Top with espresso beans for an extra pretty presentation.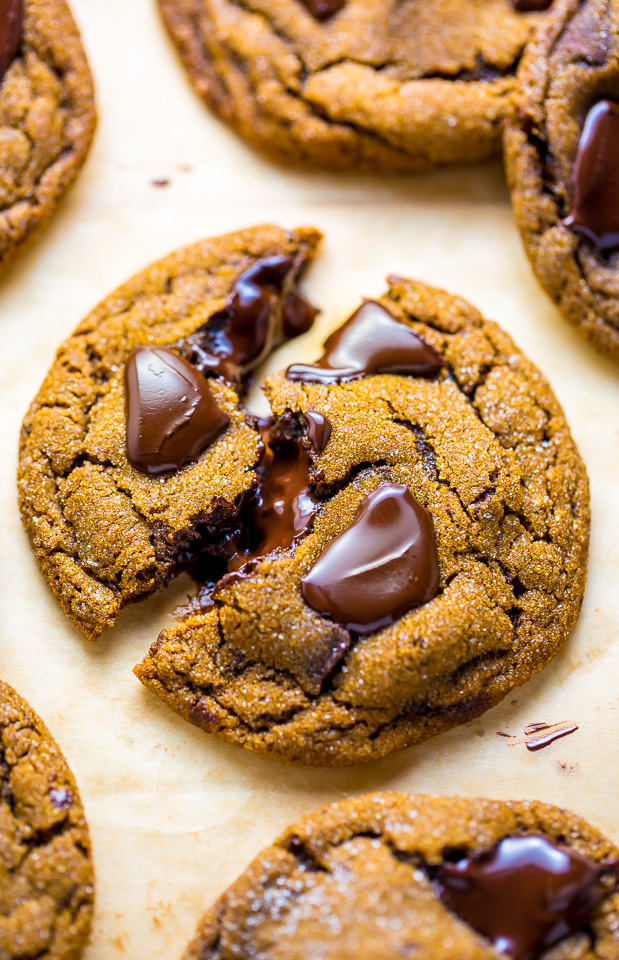 Chewy Chocolate Gingerbread Cookies
You don't have to wait until Christmas to whip up these rich and chocolatey gingerbread cookies! They're welcome in our kitchens year-round!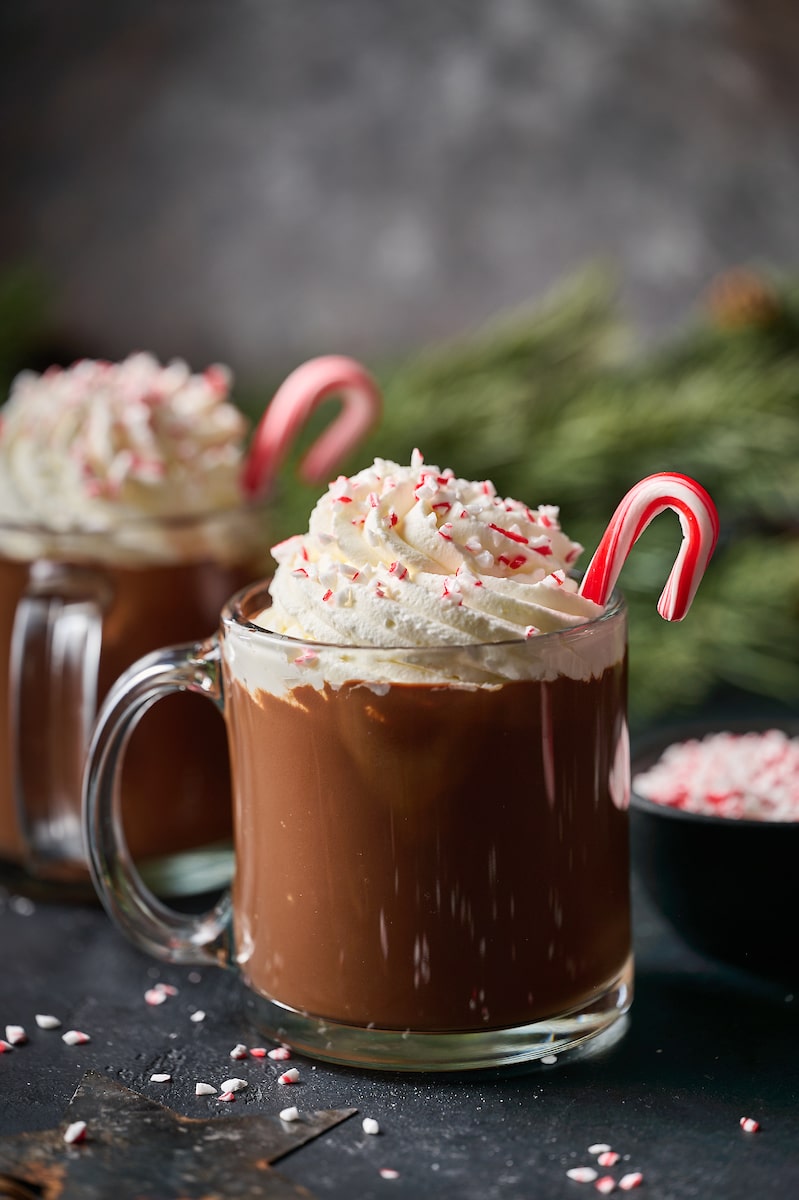 Peppermint Hot Chocolate
What's more comforting than a cozy mug of hot cocoa? This boozy peppermint version is like ultra thick and creamy… it almost feels like your drinking liquified chocolate!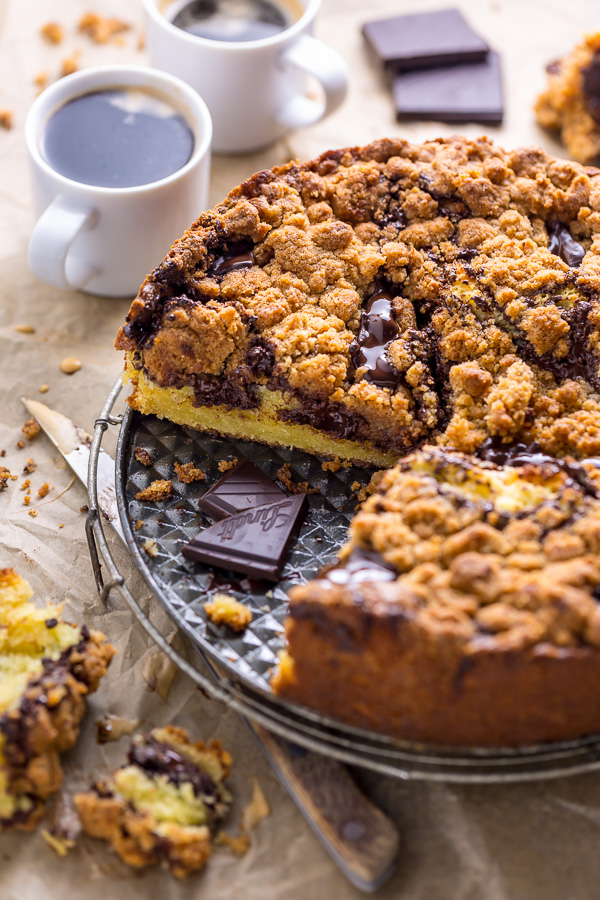 Chocolate Swirl Coffee Cake
This classic crumb cake comes with a secret ingredient: CHOCOLATE! A great brunch cake to serve with a fresh pot of coffee.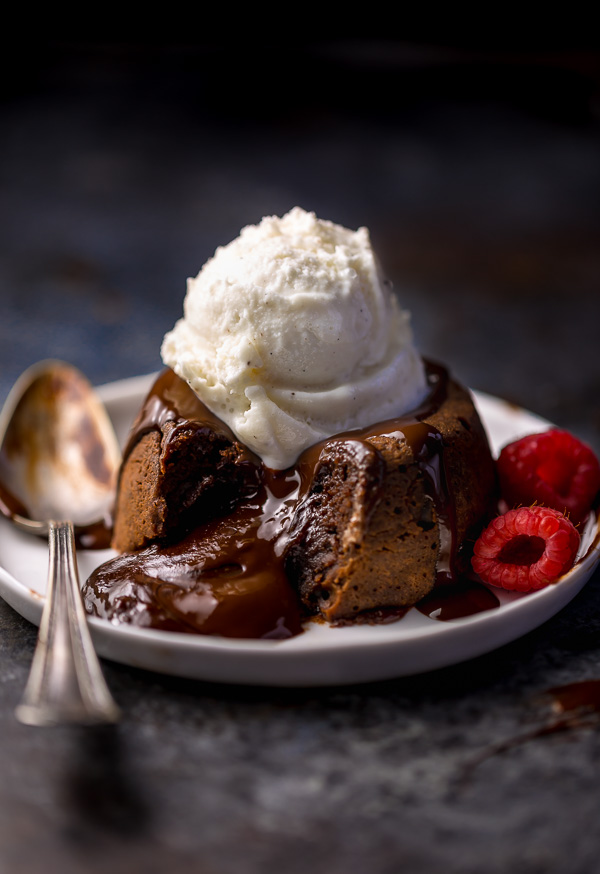 Grand Marnier Molten Chocolate Cakes
These lava cakes are for adults only! Spiked with grand marnier, they're rich, decadent, and delicious with ice cream or whipped cream on top.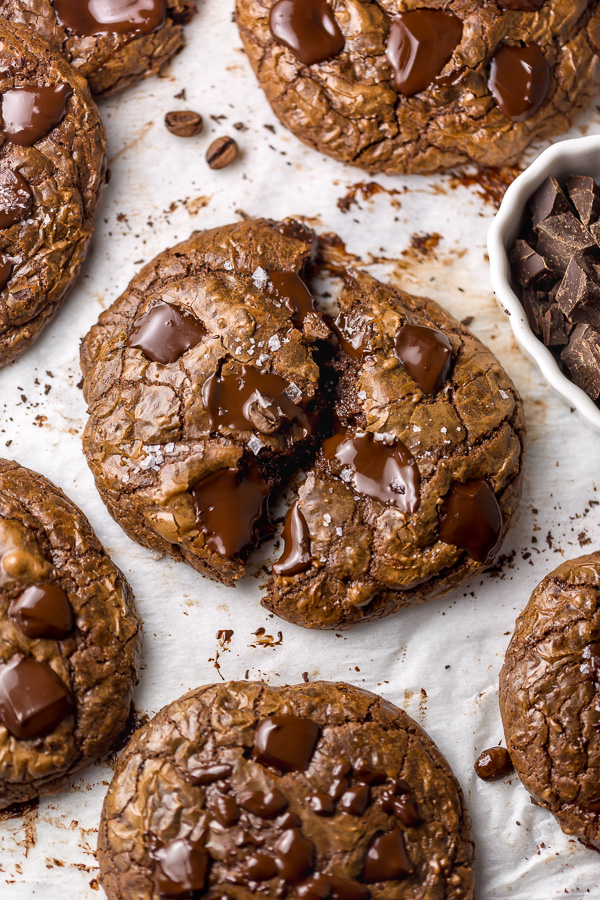 Espresso Chocolate Fudge Cookies
These jumbo cookies have a crackly shiny top and tons of flavor thanks to espresso powder and semi-sweet chocolate chips! Bonus: No cookie dough chilling required!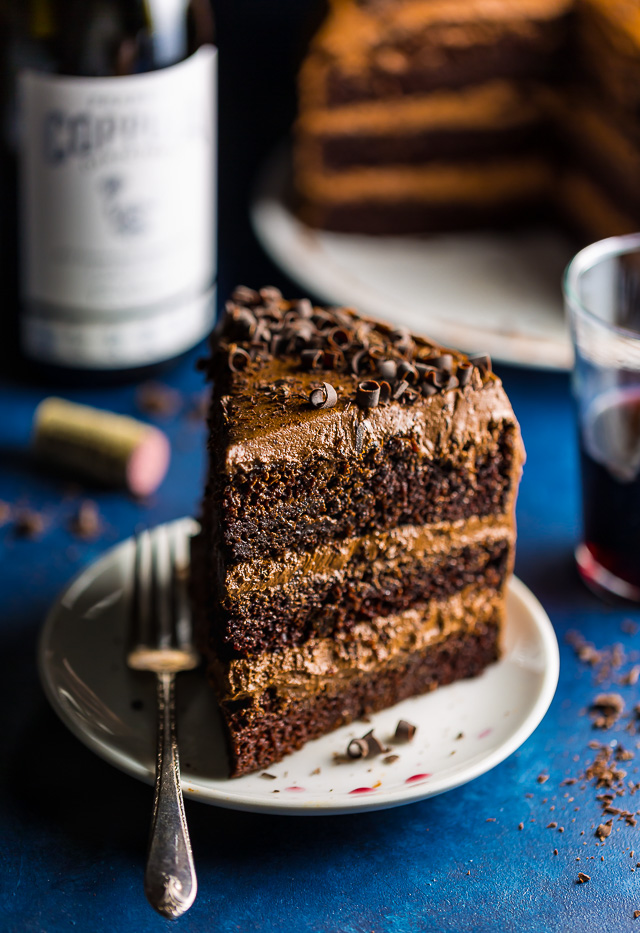 Red Wine Chocolate Cake
Next time you're craving chocolate and red wine, bake this cake! It's exploding with flavor and is perfect for birthday celebrations, girls night, or Christmas!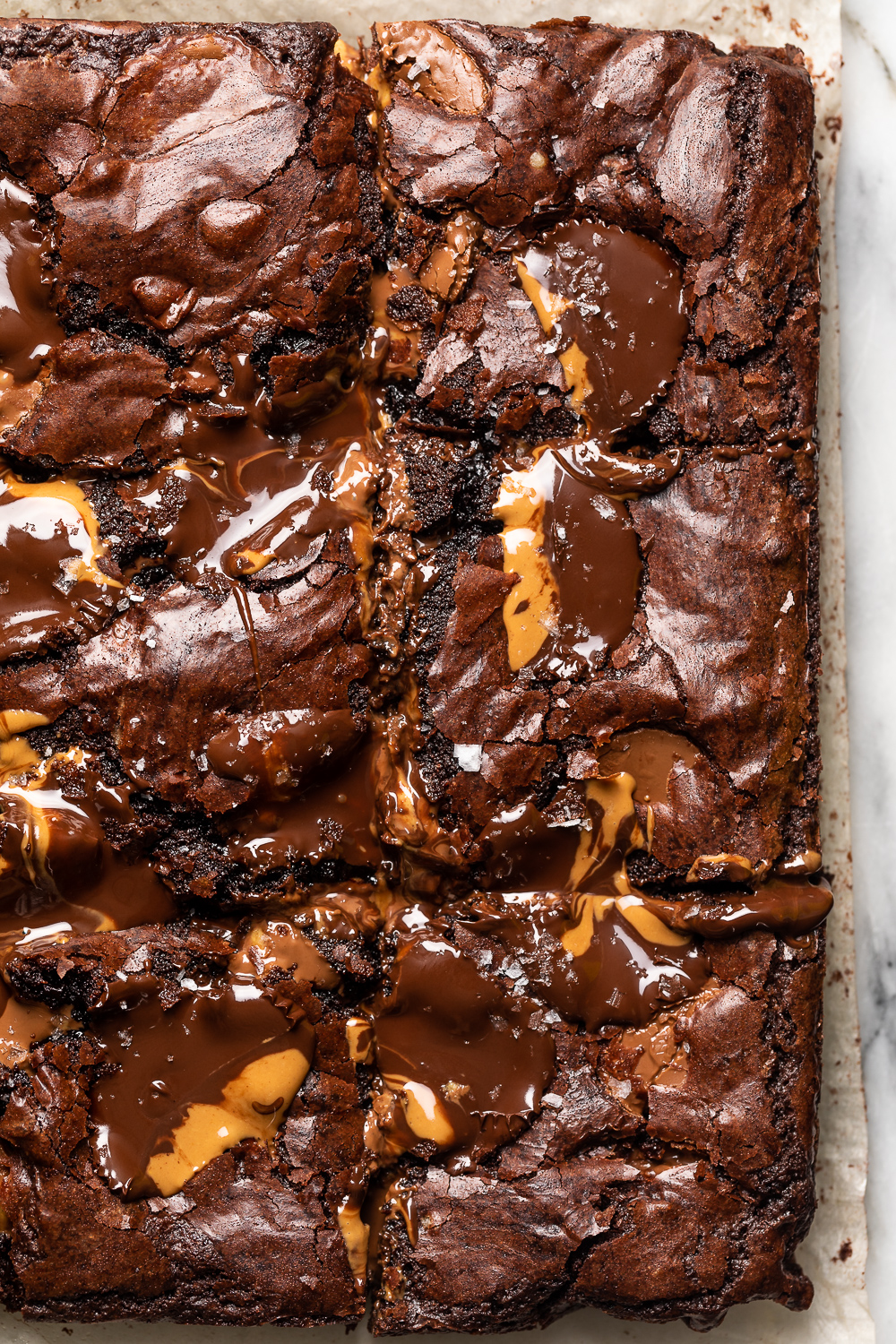 Peanut Butter Cup Brownies
Most brownie recipes call for chocolate chips, but we decided to kick things up a notch and add peanut butter cups instead!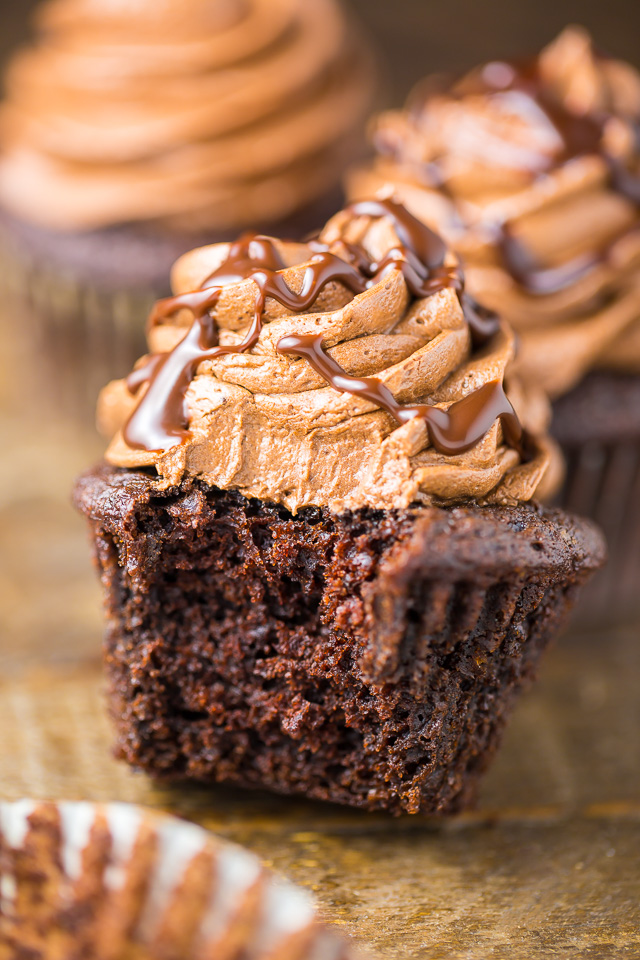 Kahlua Chocolate Cupcakes
Just like the classic chocolate cupcakes you know and love… but with a Kahlua coffee kick!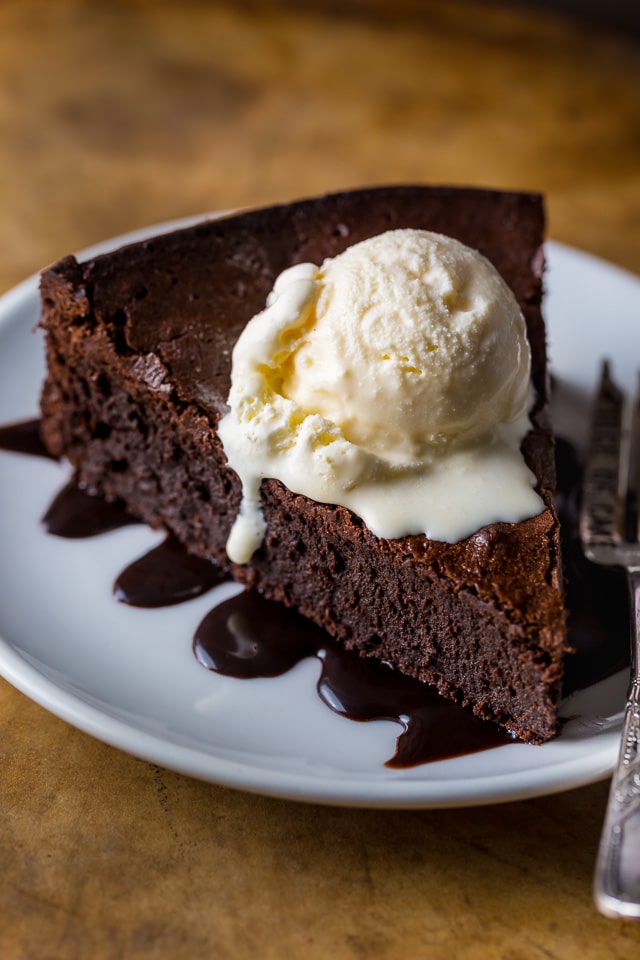 Flourless Chocolate Fudge Cake
Can you believe this cake has NO flour in it? The perfect dinner-party or date-night dessert… especially when served with fresh berries and whipped cream!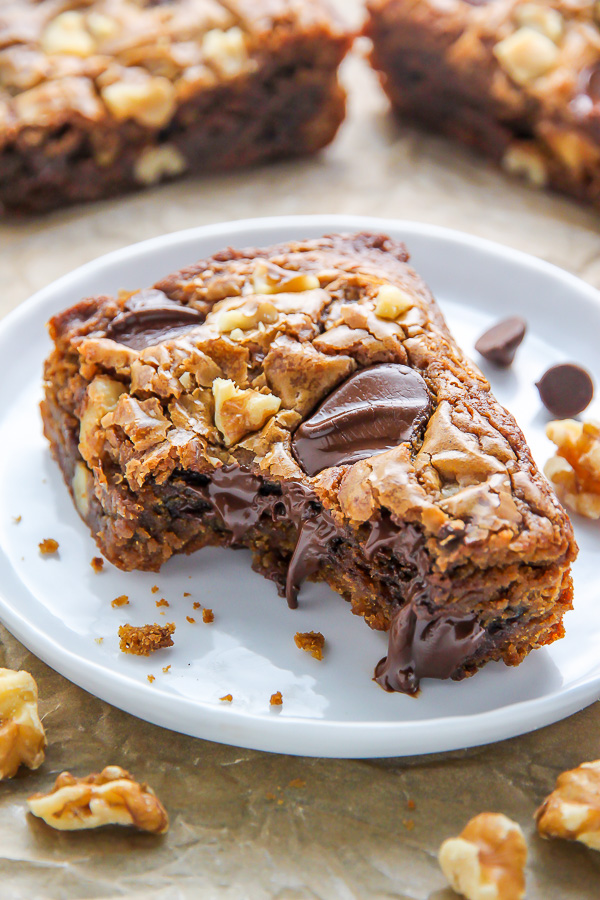 Brown Butter Walnut Chocolate Chunk Blondies
Loaded with gooey chocolate chunks and toasted walnuts, these bars are the ultimate easy treat! These are always a huge hit and best seller at bake sale.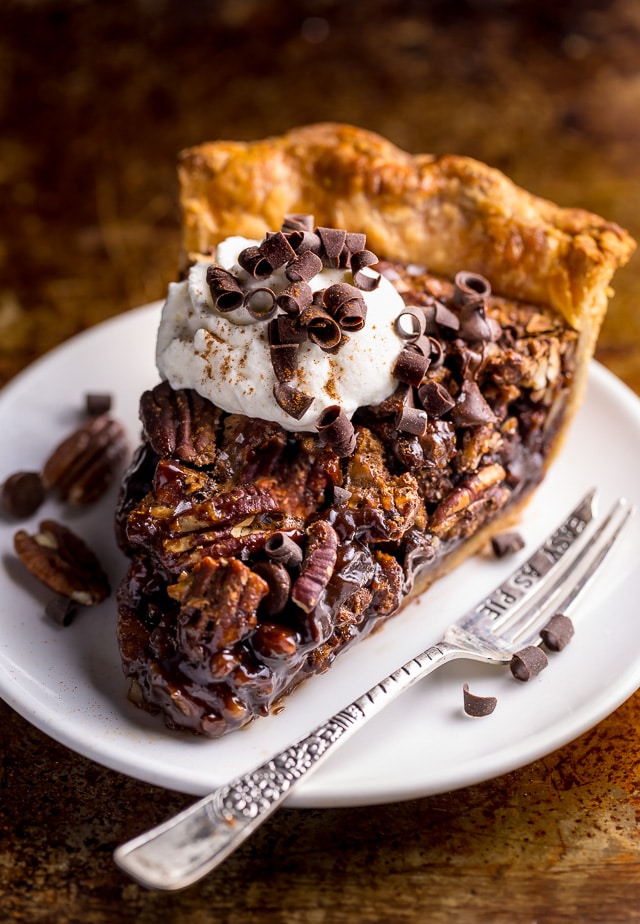 Chocolate Pecan Pie
Serving a crowd of chocolate lovers this Thanksgiving? Skip the regular pecan pie and make this decadent chocolate version instead! I promise, you won't regret it!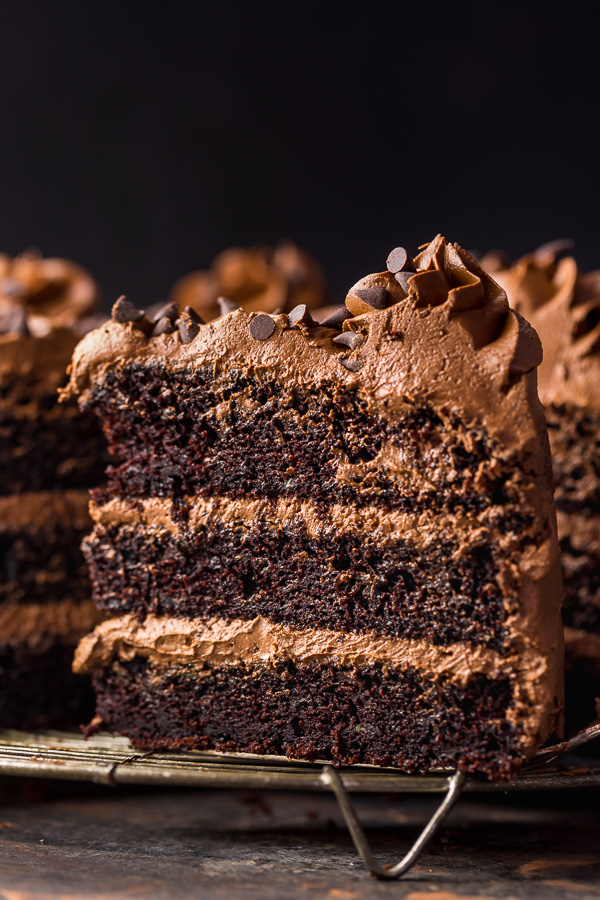 Chocolate Zucchini Cake
Zucchini… in chocolate cake? You better believe it! The zucchini adds so much moisture and richness.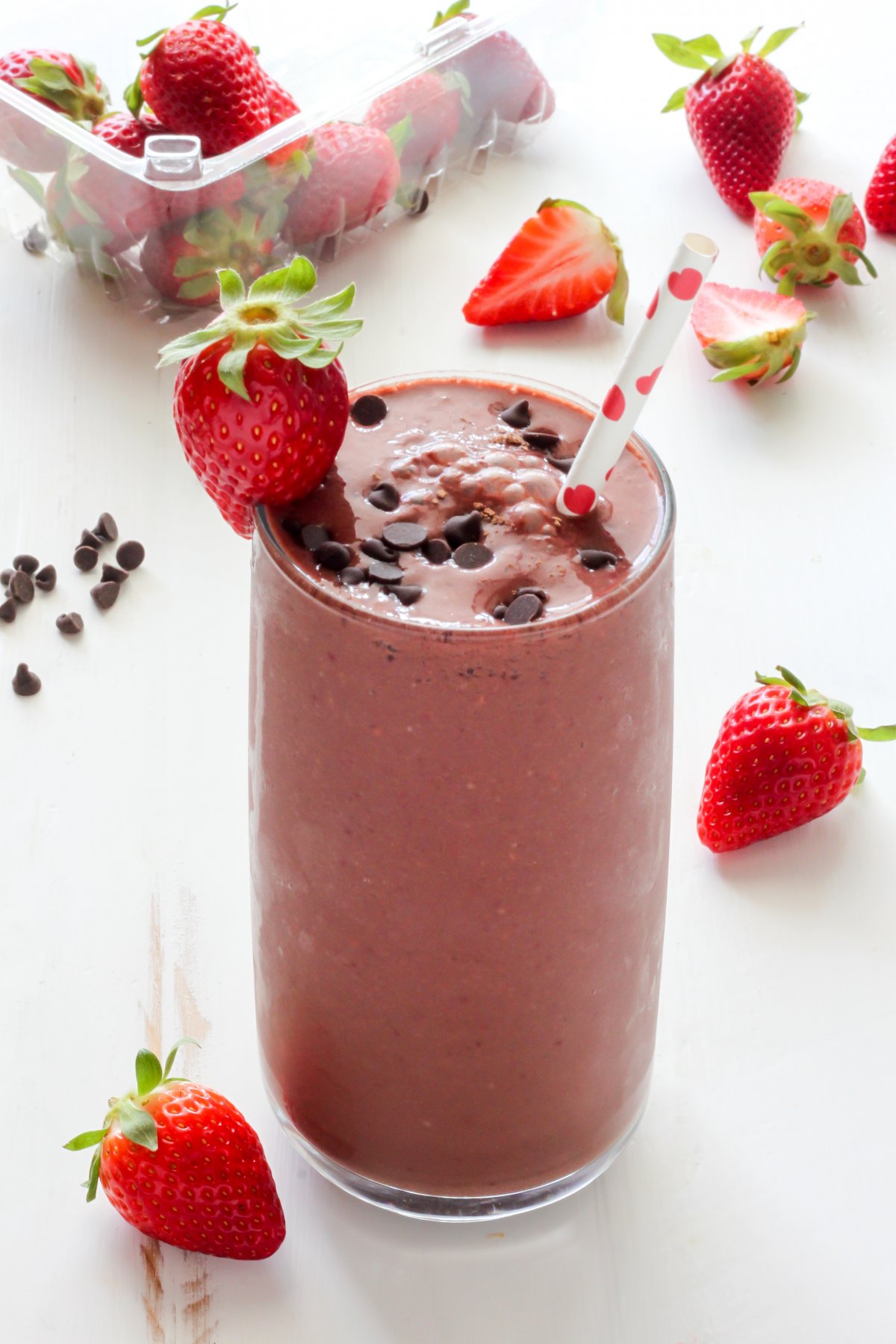 Chocolate Covered Strawberry Smoothie
Looking for a healthier way to get your chocolate? I give you the chocolate covered smoothie!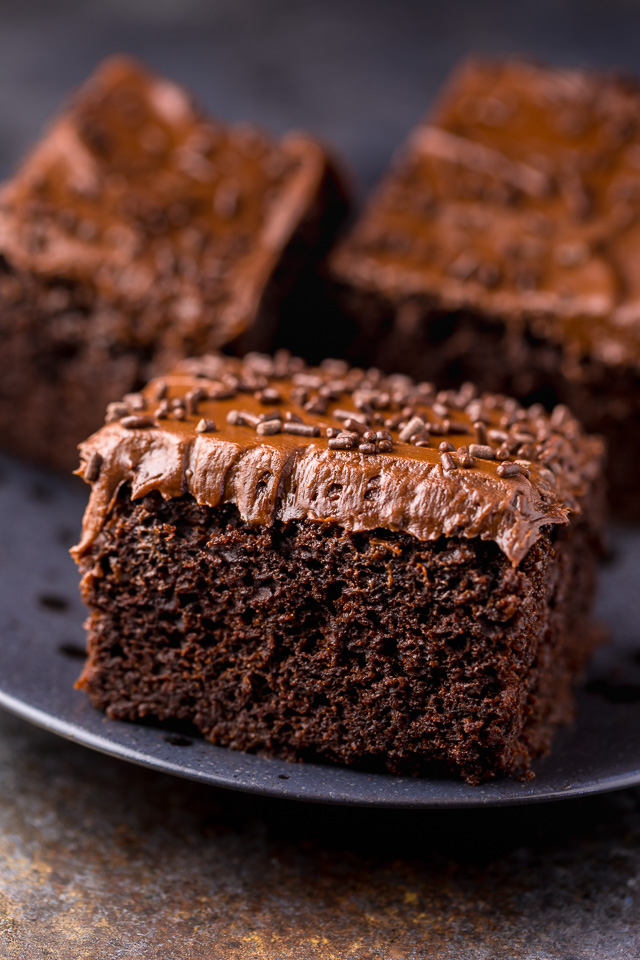 The Best Chocolate Sheet Cake
Need a cake that will easily serve a crowd? This one has you covered! Chocolate sprinkles add even more chocolatey goodness.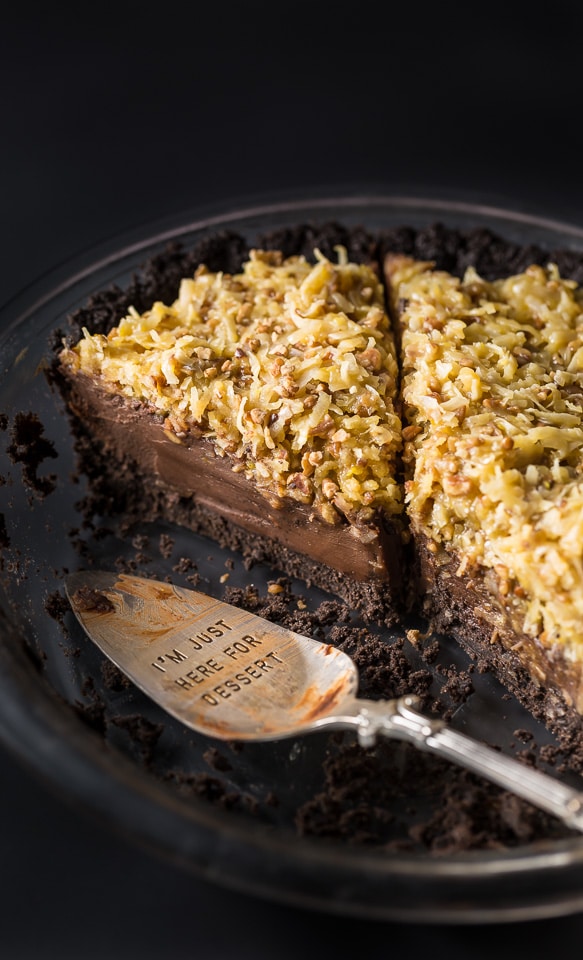 No-Bake German Chocolate Pie
Our favorite thing about this pie? No baking required! Simply assemble, pop it in the fridge, and pull it out when you're ready to serve dessert!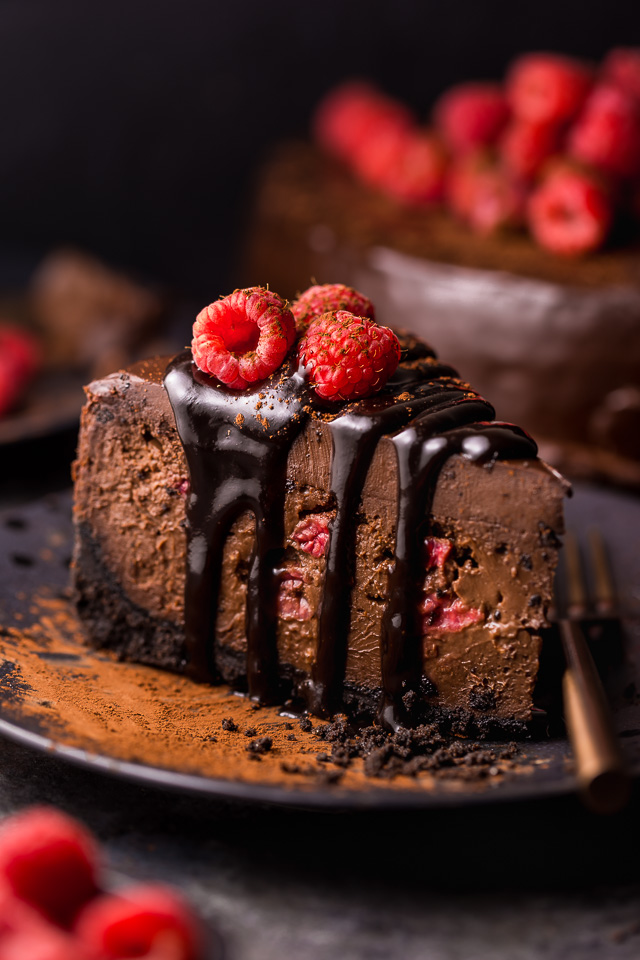 Chocolate Raspberry Cheesecake
This stunning raspberry studded chocolate cheesecake needs at least 6 hours to chill, so be sure to plan in advance! I promise it's worth the wait.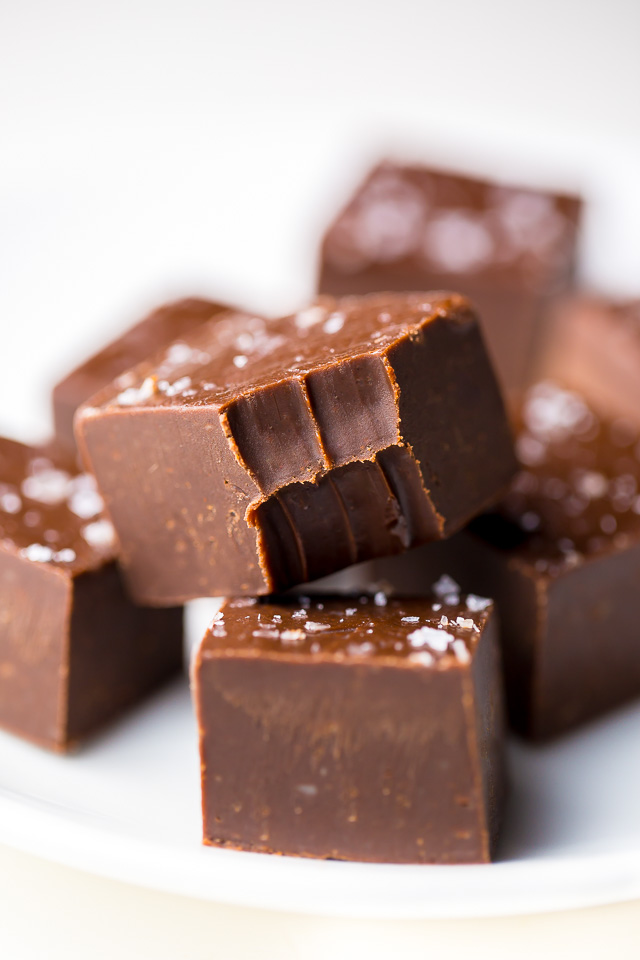 Foolproof Chocolate Fudge
Soft, sweet, and so chocolatey… this homemade fudge is hard to beat!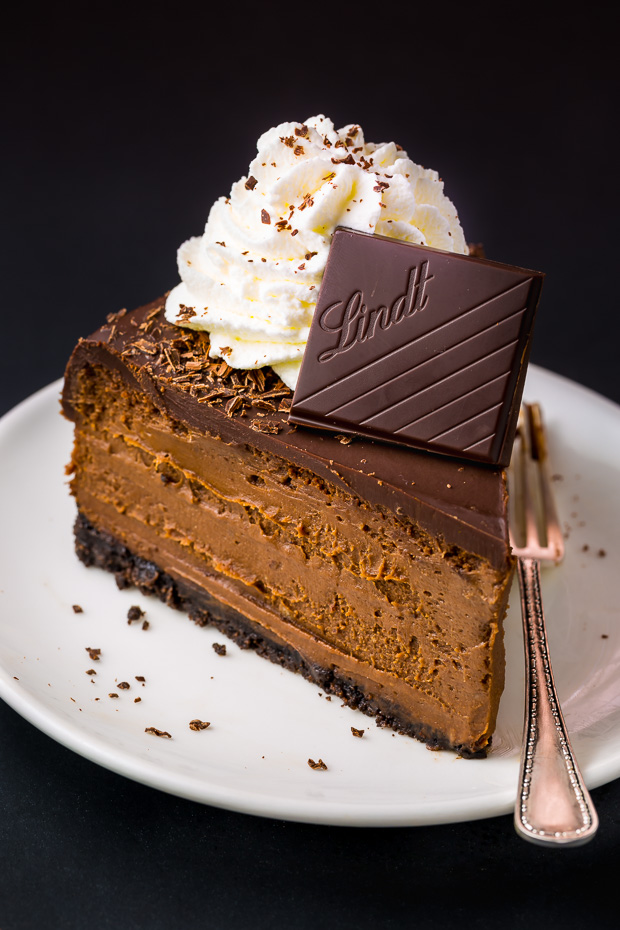 Chocolate Mascarpone Cheesecake
If you've never baked with mascarpone cheese before, you're in for a treat! It makes this chocolate cheesecake extra creamy and flavorful.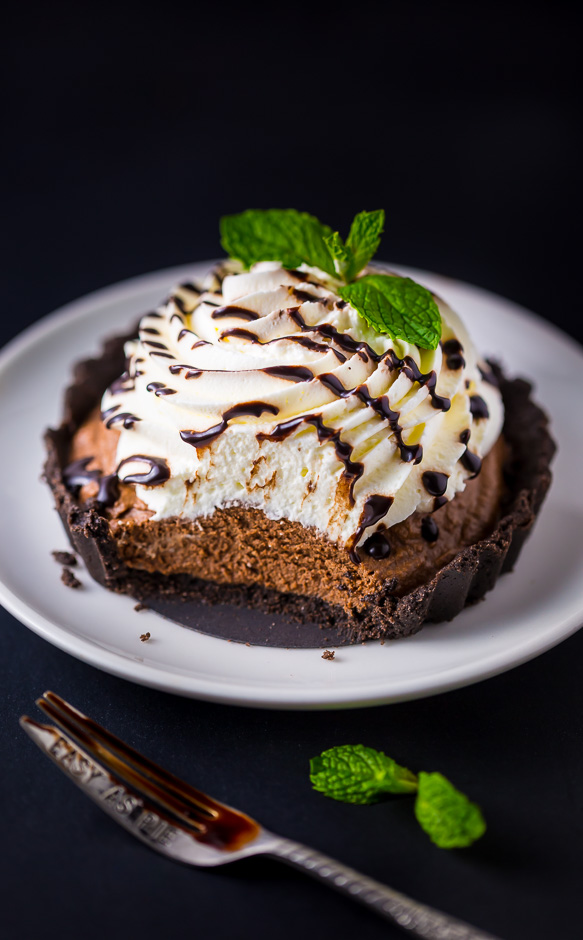 No-Bake Mini Mint Chocolate Cream Pies
From the crunchy chocolate cookie crust to the mint chocolate cream filling, there's so much deliciousness to love about these mini no-bake pies!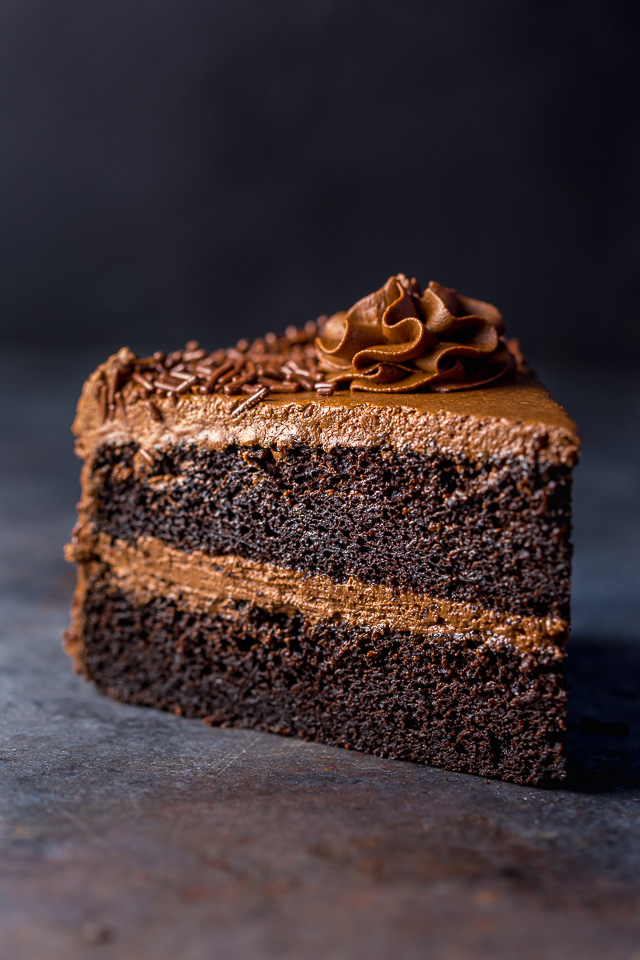 Super Decadent Chocolate Cake with Chocolate Fudge Frosting
An all-time classic, this chocolate cake is the queen of all chocolate desserts! A great birthday cake for the chocolate lover in your life.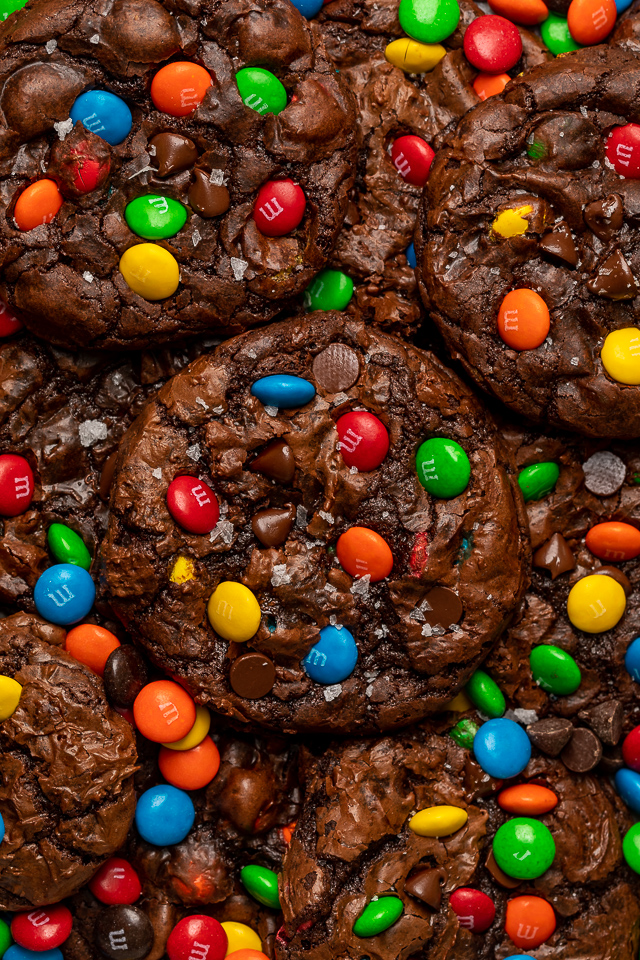 Soft Batch Chocolate M&M Cookies
These ultra soft chocolate fudge cookies are loaded with colorful m&m candies! Use seasonal M&Ms for a fun and festive twist.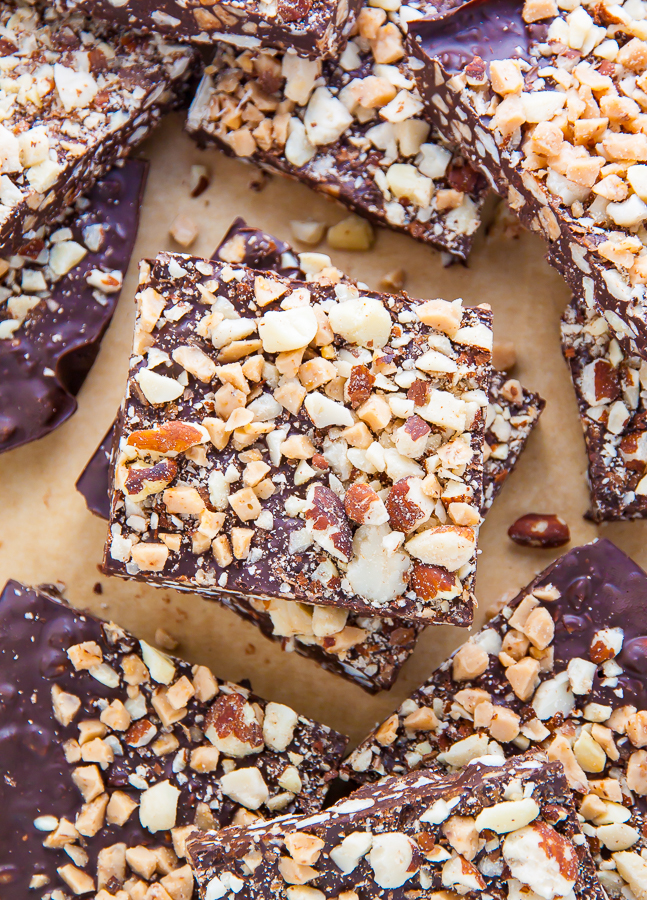 3-Ingredient Roasted Almond Toffee Bark
Need a quick and easy candy recipe? This 3-ingredient chocolate bark has you covered! Infinitely adaptable and perfect for gifting, snacking, or both!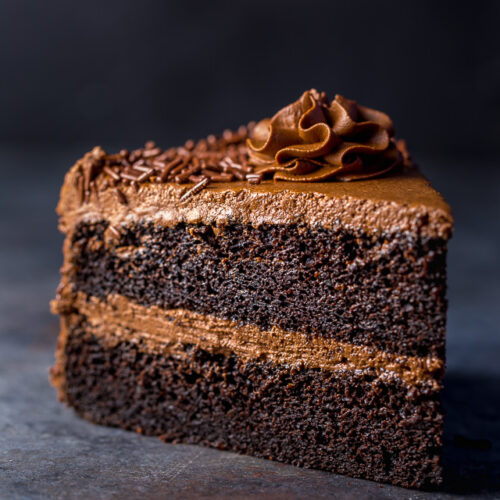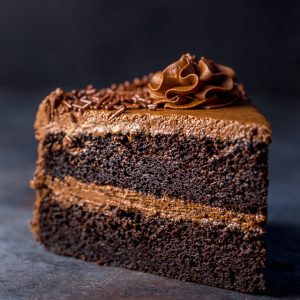 Super Decadent Chocolate Cake with Chocolate Fudge Frosting
This Super Decadent Chocolate Cake with Chocolate Fudge Frosting is the ONLY chocolate cake recipe you'll ever need!
Ingredients
For the Chocolate Cake:
1 cup granulated sugar
1 cup light brown sugar, packed
1 and 3/4 cups all-purpose flour
1 cup unsweetened cocoa powder
2 teaspoons baking soda
1 teaspoon baking powder
3/4 teaspoon salt
2 large eggs + 1 large egg yolk, at room temperature
1 cup sour cream
1/4 cup whole milk
1/2 cup melted coconut oil, canola oil, or vegetable oil
1 tablespoon vanilla extract
1 cup freshly brewed coffee or freshly boiled water
For the Chocolate Fudge Frosting:
8 ounces semi-sweet or bittersweet chocolate, coarsely chopped
20 Tablespoons (12 ounces) unsalted butter, softened
3 and 1/2 cups confectioner's sugar
2 teaspoons vanilla extract
1/4 teaspoon salt
Instructions
For the Chocolate Cake:
Preheat oven to 350°(F). Generously spray two 9-inch round baking pans with non-stick baking spray and set them aside.

In the bowl of a stand mixer fitted with the paddle attachment, or in a large bowl using an electric mixer, combine both sugars, flour, cocoa, baking soda, baking powder and salt on low until ingredients are thoroughly combined. Set aside.

In a separate large mixing bowl, whisk together the eggs, yolk, sour cream, milk, oil and vanilla, beating until well combined. Add the wet ingredients into the dry ingredients and beat on low speed until just incorporated. Carefully add in hot coffee (or water) and continue beating until completely combined; about 1 minute. The batter will quite thin.

Divide batter evenly into prepared pans.

Bake in preheated oven for 30 to 35 minutes, or until wooden toothpick or cake tester inserted in the center of a cake comes out clean or with just a few moist crumbs attached.

Cool cakes for 10 minutes in the pan (placed on top of a cooling rack) before removing from pans and transferring to a cooling rack to cool completely.
For the Chocolate Fudge Frosting:
Place the chocolate in a medium heatproof bowl and place it over a pot of barely simmering water. Heat, stirring frequently, until the chocolate is completely melted. Remove the pan from heat, then carefully remove the bowl from the pot. Set chocolate aside to cool for a few minutes.

In the bowl of a stand mixer fitted with the paddle attachment, or in a large bowl using a handheld electric mixer, beat the butter on medium speed until creamy. Reduce the speed to low and gradually add the confectioner's sugar, one cup at a time, beating well after each addition. Once all of the sugar has been added increase the speed to medium-high and beat for 2 minutes, scraping down the sides of the bowl as needed. Beat in the vanilla and melted chocolate and continue beating until well combined and creamy.
Assembly:
Using a long serrated knife, level the top of each cake.

 Transfer one layer to a large plate or cake stand. Using a long offset spatula, spread a thick layer of frosting on top, then top with the second layer. Continue frosting the top and sides of the cake. Decorate with chocolate chips, sprinkles, chocolate shavings, or leave as is!

Store in the refrigerator, loosely covered, for up to 2 days.
Notes
This post was updated and republished 4/12/2017.